Top Tourist Attractions in Austin
Explore the Texas State Capitol
If you're planning a trip to Austin, Texas, make sure to visit the iconic Texas State Capitol. This stunning building houses the offices and chambers of the Texas Legislature and the office of the Governor. Take a guided tour to learn about the rich history and architecture of this magnificent landmark. Don't forget to explore the beautiful grounds, which offer a peaceful retreat from the hustle and bustle of the city.
Experience the live music scene on Sixth Street
No trip to Austin is complete without experiencing the vibrant live music scene on Sixth Street. This famous area is lined with bars, clubs, and music venues, each offering a unique musical experience. From blues and rock to country and jazz, you'll find a variety of genres to suit your taste. Grab a drink, listen to some talented musicians, and immerse yourself in the energetic atmosphere that makes Austin the Live Music Capital of the World.
Discover the beauty of Lady Bird Lake
If you're looking for a nature escape in the heart of the city, head to Lady Bird Lake. This picturesque reservoir offers a plethora of outdoor activities, such as kayaking, paddleboarding, and cycling. Take a leisurely stroll along the scenic trails or rent a kayak to explore the lake and enjoy breathtaking views of the Austin skyline. Don't forget to pack a picnic and relax in one of the many shaded areas.
Whether you're a music lover, history enthusiast, or nature seeker, Austin has something to offer everyone. So, plan your trip and get ready to explore the top tourist attractions that make Austin a truly unique destination.
Austin's Unique Neighborhoods
Get to know the eclectic South Congress (SoCo) district
Austin, Texas is known for its vibrant and diverse neighborhoods, and one of the most popular amongst locals and visitors alike is the South Congress district, commonly referred to as SoCo.
SoCo offers a unique blend of boutique shops, vintage stores, art galleries, and some of the best culinary experiences in the city. This neighborhood is famous for its lively atmosphere and vibrant music scene, with live music performances frequently taking place in various venues.
Strolling along South Congress Avenue, you'll find an array of local businesses, ranging from quirky and eccentric boutiques to upscale restaurants and food trucks offering a variety of cuisines. The street is also home to the iconic "I Love You So Much" wall mural, a favorite spot for Instagram-worthy pictures.
Experience the hip and trendy vibe of East Austin
If you're looking for a neighborhood that exudes a hip and trendy atmosphere, East Austin is the place to be.
This neighborhood has undergone a significant transformation in recent years, evolving into a hotspot for artists, creatives, and young professionals. East Austin is known for its lively nightlife, with numerous bars, breweries, and music venues showcasing local talent.
In addition to its vibrant nightlife, East Austin is also home to an array of unique restaurants, food trucks, and coffee shops that offer diverse and flavorful cuisines. The neighborhood's vibrant street art scene adds to its charm, with colorful murals and graffiti art adorning many of the buildings.
Whether you're exploring the eclectic South Congress district or immersing yourself in the hip and trendy vibe of East Austin, each neighborhood offers its own distinct charm and a chance to discover the true essence of Austin's vibrant culture. So, don't miss out on exploring these unique neighborhoods during your visit to the capital of Texas.
Outdoor Activities in Austin
Enjoy outdoor activities in Zilker Park
When visiting Austin, you must not miss out on the fun-filled outdoor activities in Zilker Park. This 350-acre park offers something for everyone, from picnicking and hiking to kayaking and paddleboarding. Take a leisurely stroll along the beautiful trails, or rent a kayak or paddleboard and explore the picturesque Colorado River. Zilker Park also hosts various events and festivals throughout the year, so be sure to check the schedule for any exciting happenings during your visit.
Discover the natural beauty of Barton Springs Pool
For a refreshing outdoor adventure, head to Barton Springs Pool. This three-acre natural springs pool is a popular spot for locals and tourists alike. Take a dip in the cool, clear water and soak up the sun on the surrounding grassy areas. The pool is fed by underground springs, which means the water is always clear and maintains a temperature of around 68 to 70 degrees Fahrenheit, making it an ideal spot for swimming year-round. Don't forget to explore the nearby Barton Creek Greenbelt, a 13-mile stretch of trails perfect for hiking, biking, and rock climbing.
Whether you're a nature lover or simply enjoy being outdoors, Austin has plenty to offer. From the picturesque Zilker Park to the refreshing Barton Springs Pool, you'll have no shortage of outdoor activities to enjoy during your visit. So pack your sunscreen, grab your hiking shoes, and get ready to explore the natural beauty of Austin!
Austin's Cultural Scene
Welcome to the vibrant city of Austin, Texas! Austin may be known for its music festivals and thriving tech industry, but there is so much more to explore in its rich cultural scene.
Explore the historic and cultural district of Downtown Austin
Downtown Austin is a treasure trove of history and culture. Take a stroll along Congress Avenue and marvel at the beautiful architecture of the historic buildings. Visit the Texas State Capitol, where you can learn about Texas history and admire the stunning grounds. Don't forget to explore the lively 6th Street, known for its live music venues and vibrant nightlife. With its eclectic mix of shops, restaurants, and galleries, Downtown Austin offers a unique cultural experience.
Visit the renowned Blanton Museum of Art
Art enthusiasts shouldn't miss the opportunity to visit the Blanton Museum of Art. Located on the campus of the University of Texas at Austin, the museum houses an impressive collection of over 19,000 artworks, ranging from European masters to modern and contemporary works. With a diverse range of exhibitions and events, the Blanton Museum offers a captivating experience for art lovers of all ages.
Experience the local theater scene at the Long Center
For those who appreciate live performances, the Long Center for the Performing Arts is a must-visit. This state-of-the-art venue hosts a variety of performances, including Broadway shows, ballet, and symphony concerts. Immerse yourself in the local theater scene and be captivated by the talent and creativity that Austin has to offer.
With its vibrant cultural district, world-class museums, and flourishing theater scene, Austin is a city that celebrates and embraces its rich heritage and artistic diversity. Explore the cultural treasures that await you in this dynamic Texas city.
Day Trips from Austin
Take a trip to the charming town of Fredericksburg
Looking for a charming getaway from the hustle and bustle of Austin? Look no further than Fredericksburg, a quaint town with a rich history and German heritage. Just a little over an hour's drive from Austin, Fredericksburg offers a unique blend of small-town charm and cultural experiences.
Explore the historic Main Street, lined with art galleries, boutiques, and delicious German eateries. Don't forget to check out the local wineries and breweries, where you can taste some of the finest Texas wines and craft beers. If you're a history enthusiast, visit the National Museum of the Pacific War or take a tour of the Lyndon B. Johnson State Park and Historic Site.
Discover the natural wonders of the Hamilton Pool Preserve
If you're in need of a natural escape, head to the Hamilton Pool Preserve, located just 23 miles west of Austin. This hidden gem is a natural swimming hole formed by a collapsed grotto. The crystal-clear waters surrounded by towering limestone cliffs create a picturesque backdrop for a day of relaxation and fun.
Take a dip in the refreshing water, go hiking on the scenic trails, or have a picnic in the lush surroundings. Keep in mind that due to its popularity, reservations are required during peak season, so be sure to plan ahead.
Experience the vibrant music scene in Luckenbach
No trip to Austin is complete without experiencing its famous music scene, and a day trip to Luckenbach is a must for any music lover. Located about an hour's drive from Austin, this tiny town is known for its legendary dance hall and live music performances that celebrate the spirit of Texas.
Sit back and enjoy the tunes of local musicians, or if you're feeling adventurous, grab your dancing shoes and join in on the fun. Luckenbach is a true slice of Texas culture that shouldn't be missed.
Whether you're in the mood for history, nature, or music, Austin and its surrounding areas have something for everyone. So pack your bags, hit the road, and start exploring these exciting day trip destinations.
Austin's Festivals and Events
If you're looking for a lively and vibrant city to visit, Austin, Texas should be at the top of your list. Known as the Live Music Capital of the World, Austin is famous for its diverse and exciting festivals and events. Whether you're a music lover, a foodie, or just looking for a good time, Austin has something to offer everyone. Here are three must-attend festivals and events in Austin:
Attend the popular South by Southwest (SXSW) festival
Every year, Austin plays host to the renowned South by Southwest festival, commonly known as SXSW. This multi-faceted event brings together music, film, and technology enthusiasts from around the world. Attendees can experience live performances from both established and up-and-coming musicians, discover groundbreaking films, and gain insights from innovative tech leaders. SXSW is an excellent opportunity to immerse yourself in the vibrant culture of Austin and connect with like-minded individuals.
Experience the Austin City Limits Music Festival
For music lovers, the Austin City Limits (ACL) Music Festival is an event not to be missed. Held annually in Zilker Park, this festival showcases a diverse range of musical genres, featuring both local and international artists. With multiple stages and a picturesque setting, ACL offers an unforgettable experience for attendees. Dance to your favorite bands, discover new talent, and enjoy the beautiful outdoor atmosphere that Austin has to offer.
Celebrate Bat Fest at the Congress Avenue Bridge
Austin is home to the largest urban bat colony in North America, and every August, the city comes alive to celebrate these fascinating creatures at Bat Fest. Held at the iconic Congress Avenue Bridge, this event includes live music, food vendors, arts and crafts, and, of course, the breathtaking sight of thousands of bats emerging from under the bridge at sunset. Bat Fest is a unique and unforgettable experience that highlights the natural wonders of Austin.
When planning your visit to Austin, be sure to check out these festivals and events to make the most of your trip.
Shopping in Austin
Discover unique boutiques on South Congress Avenue
If you're a shopaholic, South Congress Avenue is the place to be in Austin! This charming street is lined with a plethora of unique boutiques, vintage shops, and trendy stores. As you stroll along, you'll find one-of-a-kind fashion pieces, local artwork, handmade jewelry, and quirky gifts. Make sure to check out popular shops like By George, Allen's Boots, and Feathers Boutique, where you can find everything from designer clothing to eclectic home decor. Don't forget to indulge in some delicious ice cream from Amy's Ice Creams or grab a bite to eat at one of the trendy food trucks nearby. Shopping on South Congress Avenue is a must-do experience for any fashion-forward traveler.
Visit the upscale Domain for high-end shopping
If you're looking for a more upscale shopping experience, head over to the Domain. This outdoor lifestyle center is home to an array of high-end stores and luxury brands. From designer boutiques like Louis Vuitton and Tiffany & Co. to popular department stores like Neiman Marcus and Macy's, you'll find all the latest fashion trends and upscale products here. In addition to the fabulous shopping options, the Domain also offers an array of dining choices, entertainment venues, and beautiful open-air spaces for you to relax and unwind. Whether you're looking for a new designer handbag or simply want to browse through high-quality merchandise, the Domain is the perfect destination for luxury shopping in Austin.
Remember to bring your comfortable shoes and your credit card because you won't be able to resist the incredible shopping scene in Austin!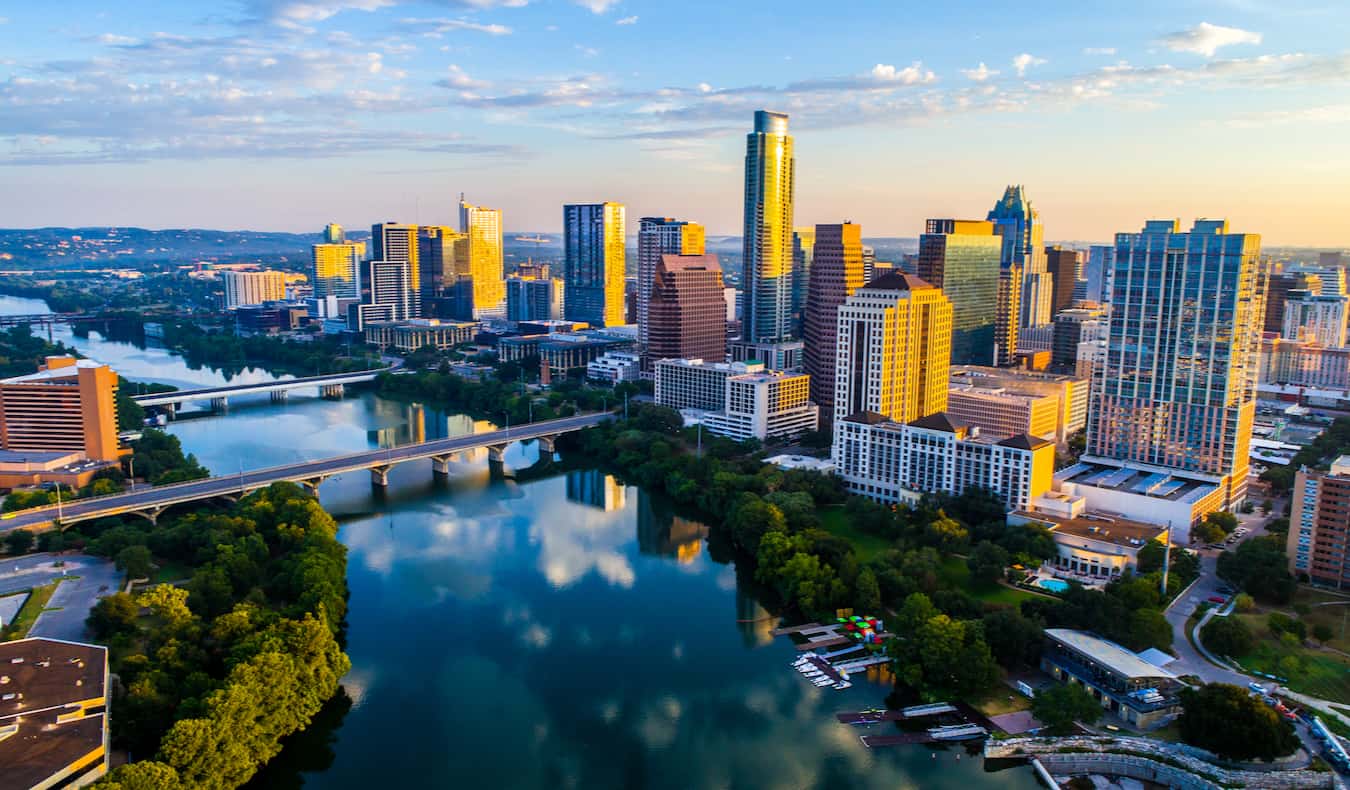 Conclusion
So, you're planning a trip to Austin? Get ready to immerse yourself in a city filled with vibrant music, delicious food, and a lively arts scene. Whether you're a music enthusiast, foodie, outdoor adventurer, or history buff, Austin has something for everyone. Here are a few final tips to make the most of your visit:
Frequently Asked Questions about visiting Austin
What is the best time to visit Austin? The best time to visit Austin is during the spring (March to May) and fall (September to November) months when the weather is pleasant and there are plenty of outdoor activities and festivals happening.

Where should I stay in Austin? Downtown Austin is a popular choice for its proximity to attractions, restaurants, and live music venues. The South Congress (SoCo) neighborhood is known for its trendy shops and eateries, while the East Side offers a hip and creative vibe.

What are some must-visit attractions in Austin? Don't miss out on exploring the iconic State Capitol, taking a stroll along Lady Bird Lake, visiting the lively South Congress Avenue, and experiencing the vibrant live music scene on Sixth Street.

Where can I find the best Tex-Mex food in Austin? Head to places like Matt's El Rancho, Torchy's Tacos, or Güero's Taco Bar for a taste of Austin's famous Tex-Mex cuisine.

Is it easy to get around Austin? Austin is a relatively easy city to navigate. Renting a car is recommended if you plan on exploring the surrounding areas, but the city also offers rideshare services, public transportation, and bike-sharing options.
Remember to pack your sunscreen, comfortable walking shoes, and an appetite for adventure. Enjoy your trip to Austin, and get ready to experience the unique charm that this city has to offer!
Some of the links provided are affiliate links that I earn a commission for, on any purchases made, at no extra cost to you. This helps me immensely to continue to do what I love.
I am a participant in the affiliate programs including CJ, AWIN and Amazon Services LLC Associates Program. Affiliate programs are designed to provide a means for creators and publishers to earn fees by linking to merchant websites. Thank you 🙏
Stress Free Travel Packing Are you planning your next big adventure? Whether you're heading off on a tropical vacation or a business trip, one thing…