Exploring Dublin's History and Culture
Dublin, the capital city of Ireland, is a vibrant destination known for its rich history and cultural offerings. Whether you are a history buff or simply looking to immerse yourself in a thriving cultural scene, Dublin has something for everyone.
Dublin's Historical Landmarks
Dublin is steeped in history, and its historical landmarks serve as a testament to its past. From the iconic Dublin Castle, which dates back to the 13th century, to the majestic St. Patrick's Cathedral, there are many impressive sights to explore. Other must-visit landmarks include Trinity College, home to the famous Book of Kells, and the Guinness Storehouse, a homage to Ireland's world-renowned beer.
Vibrant Cultural Scene in Dublin
Dublin is a city that embraces its cultural heritage with open arms. The city is famous for its lively nightlife, with pubs and bars offering traditional Irish music and dance performances. Theatrical enthusiasts will be delighted by the abundance of theaters and performance venues, including the historic Abbey Theatre. Additionally, Dublin hosts numerous festivals throughout the year, celebrating music, literature, film, and more.
Dublin's Museums and Galleries
Dublin is a haven for art and history lovers, with its impressive collection of museums and galleries. The National Museum of Ireland houses artifacts showcasing the country's heritage, while the Dublin City Gallery The Hugh Lane is a must-visit for contemporary art enthusiasts. The iconic Kilmainham Gaol offers a haunting glimpse into Ireland's troubled past, while the Chester Beatty Library showcases a collection of rare manuscripts and artworks from around the world.
Whether you're fascinated by Dublin's historical landmarks, eager to immerse yourself in its vibrant cultural scene, or looking to explore its diverse museums and galleries, the city promises a rich and rewarding experience. Dublin's history and culture are waiting to be discovered, offering visitors a unique perspective on Ireland's past and present.
Experiencing Dublin's Food and Drink
Delicious Traditional Irish Cuisine
Dublin is a city that is rich in culinary traditions, and one of the best ways to experience this is through its traditional Irish cuisine. From hearty stews and wholesome Irish breakfasts to delicious seafood and mouthwatering desserts, there is something to satisfy every palate.
When it comes to traditional Irish dishes, staples like Irish stew, colcannon (mashed potatoes and cabbage), and boxty (traditional Irish potato pancakes) cannot be missed. These dishes showcase the simplicity and wholesome flavors that make Irish cuisine so popular.
Pubs and Nightlife in Dublin
Dublin is also famous for its vibrant pub culture and lively nightlife scene. In fact, the city is home to numerous historic pubs that have been serving locals and tourists alike for centuries. Visiting one of these pubs is not just about enjoying a pint of Guinness, but also about immersing yourself in the warm and friendly atmosphere that is unique to Dublin.
Whether you prefer the buzz of Temple Bar or the more laid-back atmosphere of a local pub, there is no shortage of options to choose from. From traditional Irish music sessions to live performances by local artists, the pubs of Dublin offer a truly authentic experience that cannot be replicated anywhere else.
Food and Farmers Markets in Dublin
For those who want to explore Dublin's food scene beyond traditional Irish cuisine, the city also offers a variety of food and farmers markets. These markets are a great way to discover local produce, artisanal products, and international flavors.
Places like the Temple Bar Food Market and the Dublin Flea Market are popular destinations for food enthusiasts and bargain hunters alike. Here, you can sample a wide range of cuisines, from Mexican street food to vegan delicacies, and also browse through unique arts and crafts.
So, whether you're a foodie, a music lover, or simply looking to immerse yourself in the vibrant culture of Dublin, there is no shortage of options when it comes to experiencing the city's food and drink scene. From traditional Irish cuisine to lively pubs and bustling markets, Dublin has something to offer everyone.
Outdoor Activities and Natural Beauty in Dublin
Exploring Dublin's Parks and Gardens
If you're looking to immerse yourself in nature while in Dublin, you're in luck! The city is home to several beautiful parks and gardens that offer a tranquil escape from the hustle and bustle. Stroll through the famous Phoenix Park, which is one of the largest enclosed public parks in Europe. Enjoy the serene surroundings and keep an eye out for the resident deer roaming freely. The National Botanic Gardens is another must-visit, boasting stunning flower displays and an impressive array of plant species.
Coastal Walks and Beaches near Dublin
Dublin's coastline is a treasure trove of natural beauty, offering breathtaking views and refreshing sea air. Take a leisurely stroll along the iconic Howth Cliff Walk and marvel at the stunning cliffs and panoramic views of Dublin Bay. If you're in the mood for a beach day, head to the delightful seaside town of Portmarnock, known for its pristine sandy beaches. Whether you want to sunbathe, swim, or enjoy a picnic, Dublin's coastal areas have something for everyone.
Sports and Recreational Activities in Dublin
Dublin offers a plethora of sports and recreational activities for enthusiasts of all kinds. Golf lovers can tee off at world-class courses like the famous Portmarnock Golf Club, while adventure seekers can try their hand at kayaking in the picturesque Grand Canal. For those who prefer a more leisurely activity, why not rent a bike and explore the city's many bike-friendly routes? From hiking to horse riding and everything in between, Dublin has options to keep you active and entertained.
So, whether you're a nature lover, beach enthusiast, or sports fanatic, Dublin has plenty to offer in terms of outdoor activities and natural beauty. Don't miss the chance to explore the city's parks and gardens, take in the breathtaking coastal views, and partake in the diverse range of sports and recreational pursuits available. Get out there and make the most of Dublin's outdoor wonders!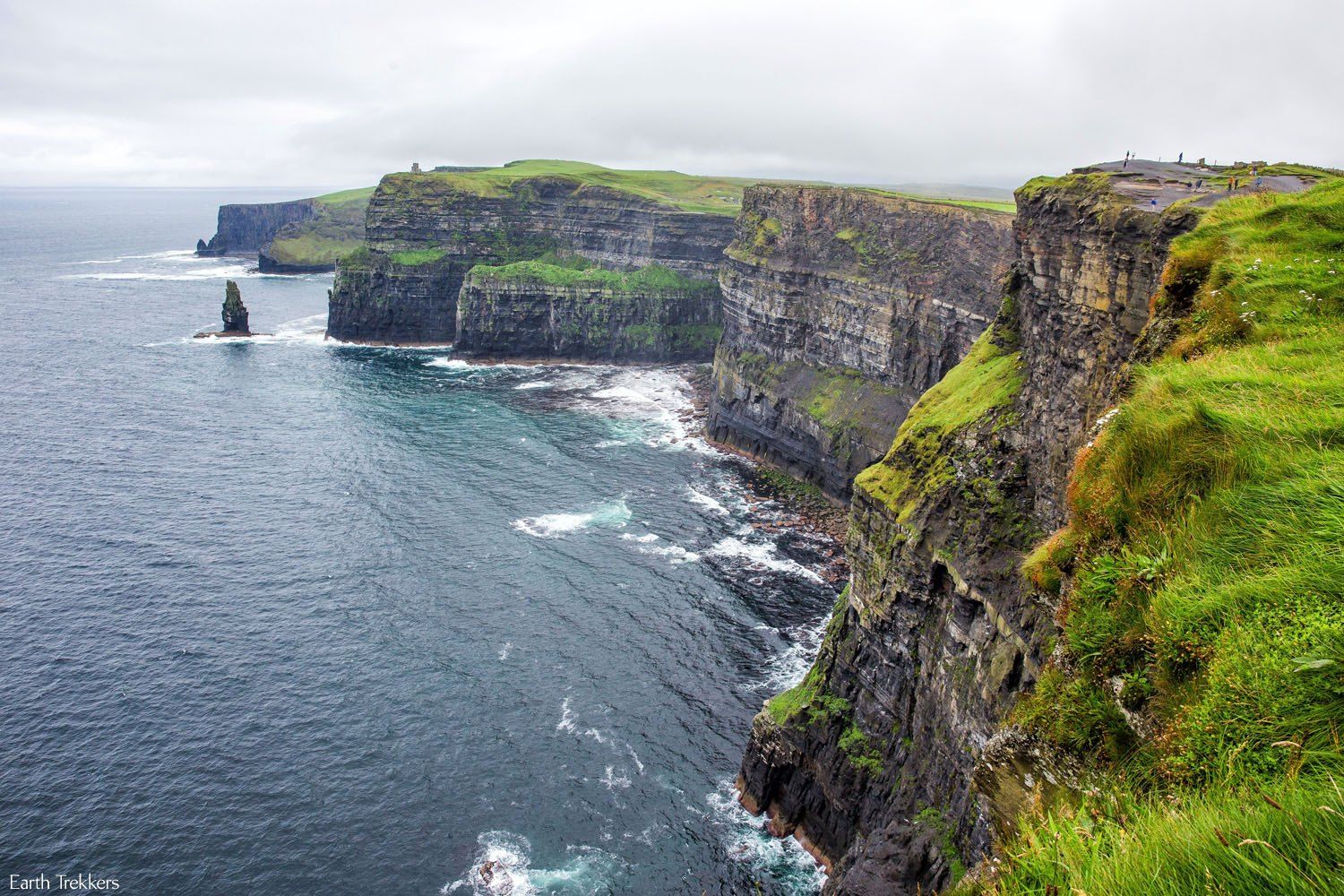 Day Trips from Dublin
If you're planning a trip to Dublin, make sure to take advantage of the city's proximity to some amazing day trip destinations. Here are three must-visit places that are just a short drive away:
Visiting the Cliffs of Moher
Just a two-hour drive from Dublin, the Cliffs of Moher are a natural wonder that should not be missed. These dramatic cliffs rise over 700 feet above the Atlantic Ocean, offering breathtaking views and photo opportunities. Take a walk along the cliff edge, visit the visitor center to learn more about the area's history and geology, or take a boat tour to see the cliffs from a different perspective. Whatever you choose, the Cliffs of Moher will leave you in awe of Ireland's stunning landscapes.
Discovering the Historic City of Kilkenny
Take a trip back in time by visiting the medieval city of Kilkenny, just an hour and a half drive from Dublin. Wander through the narrow streets lined with colorful buildings, visit Kilkenny Castle to learn about its fascinating history, and explore the city's many shops, restaurants, and pubs. Don't forget to stop by St. Canice's Cathedral and climb to the top of the round tower for panoramic views of the city. Kilkenny is a charming destination that offers a unique glimpse into Ireland's past.
Exploring the Wicklow Mountains
Escape the hustle and bustle of the city by heading to the Wicklow Mountains, which are located just a 30-minute drive from Dublin. This picturesque mountain range offers breathtaking scenery, including valleys, lakes, and waterfalls. Take a hike along one of the many trails, visit the stunning Powerscourt Estate and Gardens, or explore the picturesque village of Glendalough with its ancient monastic site. The Wicklow Mountains are a tranquil retreat that allows you to connect with nature and enjoy the beauty of the Irish countryside.
No matter which day trip you choose, you're guaranteed to have a memorable experience outside of Dublin. So grab your camera, pack a picnic, and get ready to explore the wonders of Ireland's stunning landscapes and historic sites.
Practical Information for Dublin Travelers
Getting Around Dublin
When you're in Dublin, getting around the city is a breeze thanks to its efficient public transportation system. The Dublin Bus offers an extensive network of routes that can take you to popular tourist destinations, while the DART (Dublin Area Rapid Transit) train provides a quick and scenic way to explore the coastal areas. If you prefer a more leisurely way of sightseeing, you can also rent a bike and cruise around the city at your own pace.
Accommodation Options in Dublin
When it comes to finding a place to stay in Dublin, you'll be spoilt for choice. From luxurious hotels to cozy bed and breakfasts, the city offers a wide range of accommodation options to suit every budget and preference. If you're looking for a more authentic experience, consider booking a room in a guesthouse or staying in one of the many charming Airbnbs scattered across the city. Just make sure to book in advance, especially during peak tourist seasons.
Useful Tips for a Smooth Dublin Trip
To make the most of your time in Dublin, here are some handy tips:
Plan your itinerary: Dublin has a wealth of attractions and activities to offer, so it's a good idea to plan ahead to ensure you don't miss out on anything you want to see or do. Don't forget to include popular landmarks like Trinity College, Guinness Storehouse, and St. Patrick's Cathedral.

Try the local cuisine: From traditional Irish stew to mouthwatering seafood dishes, Dublin is a food lover's paradise. Be sure to sample some local delicacies, such as fish and chips, Irish soda bread, and of course, a pint of Guinness in one of the city's many pubs.

Embrace the culture: Dublin is known for its vibrant arts and music scene. Take the time to immerse yourself in the city's rich cultural heritage by visiting museums, attending concerts, and exploring the lively Temple Bar district.
With these tips in mind, you're ready to embark on a memorable trip to Dublin. Enjoy exploring all that this eclectic city has to offer!
Conclusion
Planning a trip to Dublin? You're in for a treat! Dublin is a vibrant city with a rich history, lively culture, and friendly locals. Whether you're interested in exploring historical landmarks, enjoying traditional Irish music, or indulging in delicious food and drink, Dublin has something for everyone.
Highlights of Dublin Travel Guide
During your visit to Dublin, be sure to check out the following highlights:
Trinity College and the Book of Kells: Explore the stunning campus of Trinity College and view the ancient Book of Kells, a beautifully illustrated manuscript dating back to the 9th century.

Guinness Storehouse: Discover the history of Ireland's famous Guinness beer and enjoy panoramic views of the city from the Gravity Bar.

Temple Bar: Immerse yourself in Dublin's vibrant nightlife scene in the popular Temple Bar area, known for its pubs, live music, and lively atmosphere.

St. Patrick's Cathedral: Visit the largest cathedral in Ireland and learn about its history, architecture, and connection to the patron saint of Ireland.
Frequently Asked Questions about Dublin Travel
What is the best time to visit Dublin? The best time to visit Dublin is during the summer months of June to August, when the weather is milder and there are many outdoor festivals and events taking place.

Is Dublin an expensive city to visit? Dublin can be quite expensive, especially in terms of accommodation and dining. However, there are also budget-friendly options available, such as staying in hostels and eating at local pubs or affordable restaurants.

What is the public transportation like in Dublin? Dublin has an extensive public transportation system, including buses, trams, and trains. The Leap Card is a convenient option for unlimited travel on all public transportation within the city.

What are some traditional Irish dishes to try in Dublin? Don't miss out on trying traditional Irish dishes such as Irish stew, fish and chips, and a hearty full Irish breakfast featuring bacon, eggs, sausages, black pudding, and more.
In conclusion, Dublin is a fascinating city with a wealth of attractions and activities to enjoy. Whether you're a history buff, a food lover, or simply looking to experience the famous Irish hospitality, Dublin will leave you with unforgettable memories.
Some of the links provided are affiliate links that I earn a commission for, on any purchases made, at no extra cost to you. This helps me immensely to continue to do what I love.
I am a participant in the affiliate programs including CJ, AWIN and Amazon Services LLC Associates Program. Affiliate programs are designed to provide a means for creators and publishers to earn fees by linking to merchant websites. Thank you 🙏
Stress Free Travel Packing Are you planning your next big adventure? Whether you're heading off on a tropical vacation or a business trip, one thing…