The Top Thing to Eat: Budapest
Traditional Hungarian Dishes
Hungarian cuisine offers a delightful array of flavors and dishes that are sure to tantalize your taste buds. Whether you are a foodie or simply looking to indulge in some delicious local cuisine, Budapest has something for everyone.
Goulash and Hungarian soups
When it comes to Hungarian cuisine, goulash is a must-try dish. This hearty beef stew is made with tender chunks of meat, potatoes, and an infusion of paprika for that distinct Hungarian flavor. Another popular choice is the traditional Hungarian soup, such as the creamy and flavorful Fisherman's Soup or the savory Potato Soup.
Langos and Hungarian street food
For a quick and satisfying snack, make sure to try Langos, a deep-fried flatbread topped with various savory toppings like cheese, sour cream, and garlic. This Hungarian street food is a true delight. Don't forget to explore the local markets where you can find a variety of street food options, including sausages, chimney cakes (Kürtőskalács), and stuffed cabbage (Töltött káposzta).
Palacsinta and Hungarian desserts
To satisfy your sweet tooth, indulge in some Hungarian desserts like Palacsinta. These thin and delicate pancakes can be filled with various sweet fillings such as Nutella, jam, or walnuts. Be sure to also try the famous Dobos torte, a rich and decadent layered cake, or the delicious Hungarian strudel, filled with apples, cherries, or poppy seeds.
Whether you are a meat lover, a fan of street food, or have a sweet tooth, Budapest offers a wide range of traditional Hungarian dishes that will leave you wanting more. So, don't miss the opportunity to immerse yourself in the culinary delights of this vibrant city.
Budapest Food Markets and Street Food
Visiting Budapest? One of the best ways to experience the city's vibrant food scene is by exploring its food markets and indulging in the delicious street food. Here are some top recommendations for food enthusiasts:
Great Market Hall and local produce
Located in the heart of Budapest, the Great Market Hall (Nagyvásárcsarnok) is a must-visit for food lovers. This historic and iconic market is known for its stunning architecture, bustling atmosphere, and a wide variety of local produce, including fresh fruits, vegetables, meats, and dairy products. Don't miss the opportunity to try traditional Hungarian dishes like lángos (fried dough topped with sour cream and cheese) or goulash soup.
Karavan Street Food Market and international flavors
For those seeking a diverse range of flavors, head to Karavan Street Food Market. Located in the popular Jewish Quarter, this lively market offers a fantastic selection of international street food. From mouthwatering burgers to tasty tacos, you'll find something to satisfy every craving. Don't forget to try the Hungarian specialty, Kürtőskalács, a delicious chimney cake coated in sugar and filled with various toppings.
Food trucks and outdoor food markets
Budapest is also home to a thriving food truck scene and numerous outdoor food markets. Street Food Karavan and Street Food Thursdays are popular destinations for food truck enthusiasts, offering a variety of cuisines in a relaxed outdoor setting.
If you prefer a more local experience, make sure to visit smaller street markets like Hold Utcai Piac or Szimpla Farmers' Market. These markets showcase the best of Budapest's artisanal food products, including homemade pastries, cheeses, sausages, and organic produce.
In conclusion, exploring Budapest's food markets and street food scene is a must-do for any food lover visiting the city. From local Hungarian delicacies to international flavors, there is something to satisfy every palate. So grab your appetite and embark on a culinary adventure in Budapest!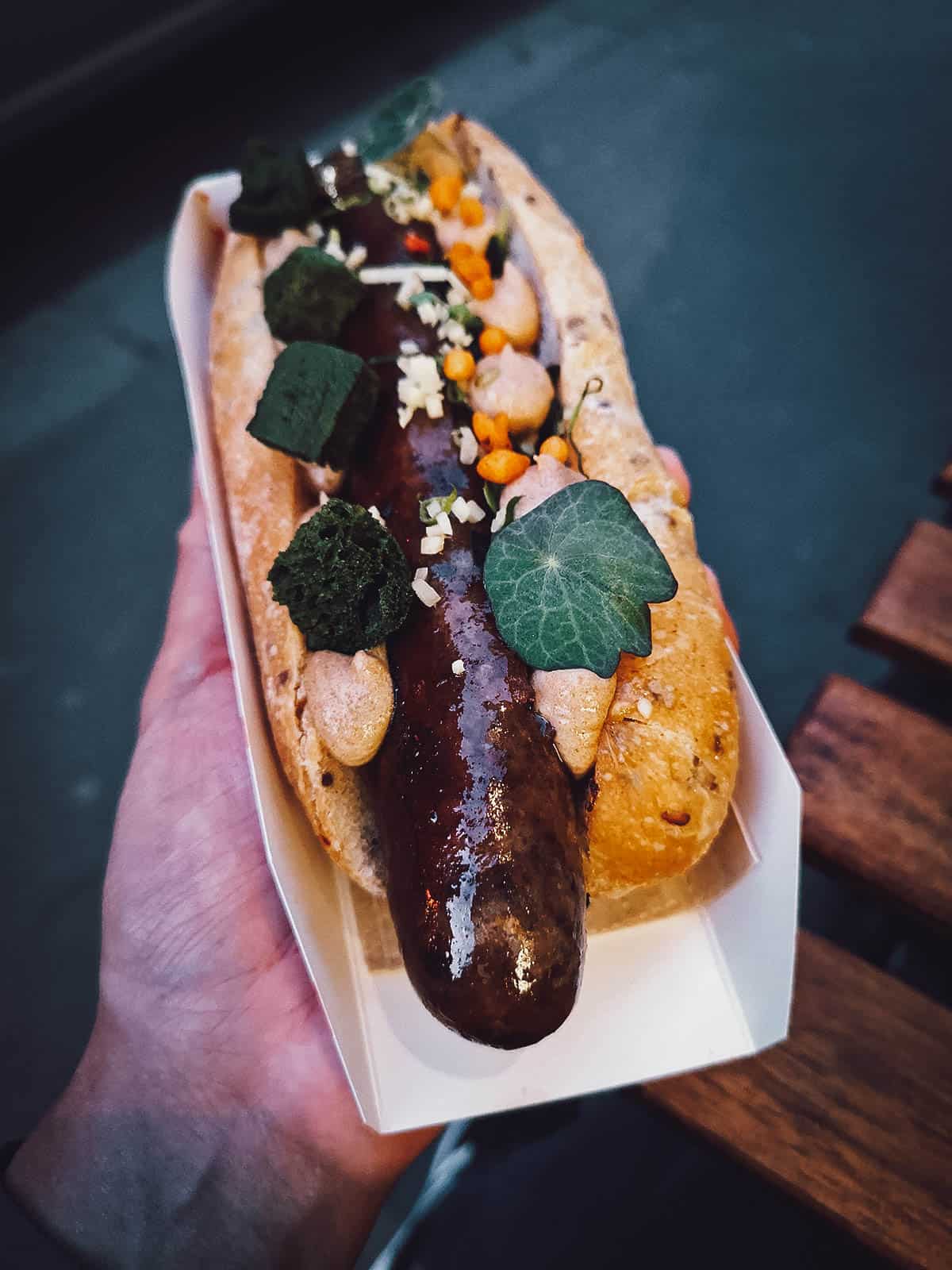 Hungarian Cuisine with a Modern Twist
Hungary is not only known for its rich history and breathtaking architecture but also for its delicious and unique cuisine. While traditional Hungarian dishes like goulash and paprika chicken are still widely popular, Budapest has also embraced the concept of contemporary Hungarian cuisine with a modern twist.
Contemporary Hungarian cuisine and fusion restaurants
Budapest is home to a vibrant food scene where creative chefs are blending traditional Hungarian flavors with international influences. These fusion restaurants offer a unique dining experience that combines the best of both worlds. From Hungarian-Austrian fusion to Asian-Hungarian fusion, there is something for every palate.
Innovative dishes and the emerging food scene
The emerging food scene in Budapest is truly exciting, with innovative dishes that push the boundaries of traditional Hungarian cuisine. Chefs are experimenting with new ingredients and techniques to create dishes that are not only visually stunning but also bursting with flavors. From molecular gastronomy to farm-to-table concepts, Budapest has it all.
Popular restaurants for modern Hungarian cuisine
If you want to experience the best of modern Hungarian cuisine, there are several restaurants in Budapest that you must visit. From Michelin-starred establishments to trendy eateries, these restaurants are known for their innovative menus and impeccable service. Some popular choices include Onyx, Costes, and Borkonyha WineKitchen.
In conclusion, Budapest offers a delightful culinary experience for those who are looking to explore Hungarian cuisine with a modern twist. The fusion of traditional Hungarian flavors with international influences creates a unique and unforgettable dining experience. Whether you are a foodie or simply looking to try something new, Budapest's modern Hungarian cuisine is sure to satisfy your taste buds.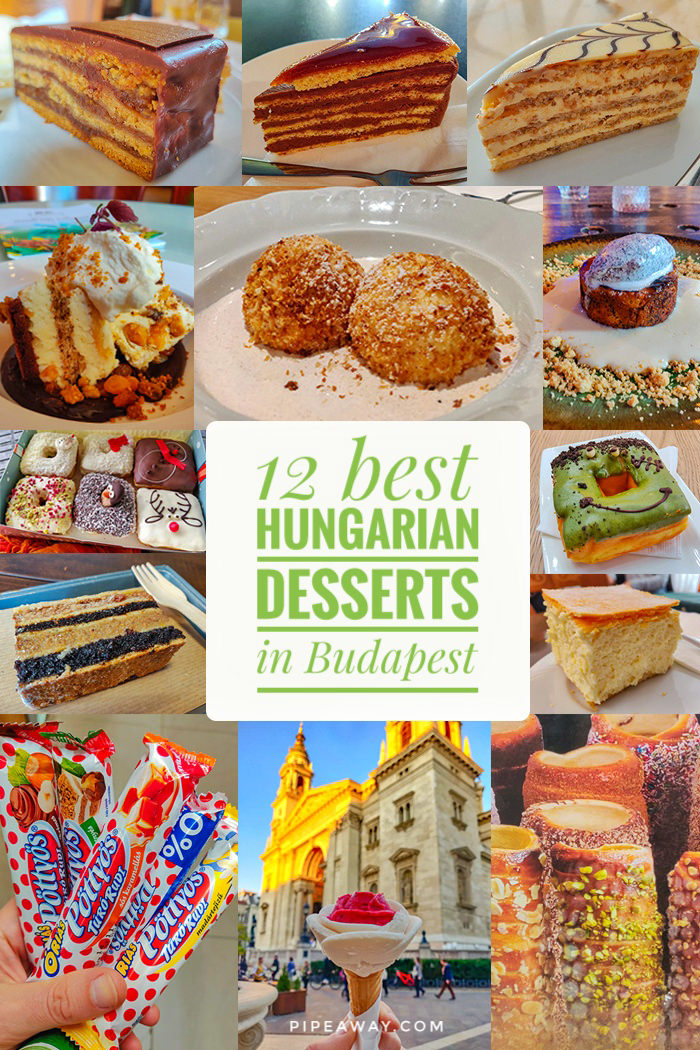 Sweet Treats and Desserts
Indulging in delicious food is one of the highlights of any travel experience. And when it comes to Budapest, the city is brimming with delectable options, especially when it comes to sweet treats and desserts.
Strudel and Hungarian pastries
A trip to Budapest is incomplete without trying the famous Hungarian strudel and pastries. From flaky puff pastry filled with sweet fillings like apple, cherry, or cheese, to decadent cakes like Dobos torte and Esterhazy torte, Hungarian pastries are a must-try. Visit traditional pastry shops like Rétesvár or Auguszt to sample these delightful treats.
Chimney cake and Lángos variations
If you have a craving for something sweet and doughy, look no further than chimney cake and lángos. Chimney cake, or kürtőskalács, is a popular street food made from sweet yeast dough that is rolled in sugar and baked over an open flame. Lángos, on the other hand, is a deep-fried dough topped with a variety of mouthwatering toppings like garlic butter, sour cream, and grated cheese.
Retro candy shops and gelato spots
For those with a sweet tooth, Budapest offers a plethora of retro candy shops and gelato spots. Step back in time as you explore vintage candy stores like Sugar! and Retrock, where you can find nostalgic candy from your childhood. And when it comes to gelato, Gelarto Rosa and Daubner are known for their creamy handcrafted flavors that will satisfy your cravings.
Whether you have a penchant for flaky pastries, crave traditional Hungarian sweets, or want to indulge in creamy gelato, Budapest has something to offer every dessert lover. So, make sure to explore these sweet treats and desserts to enhance your culinary adventure in the city.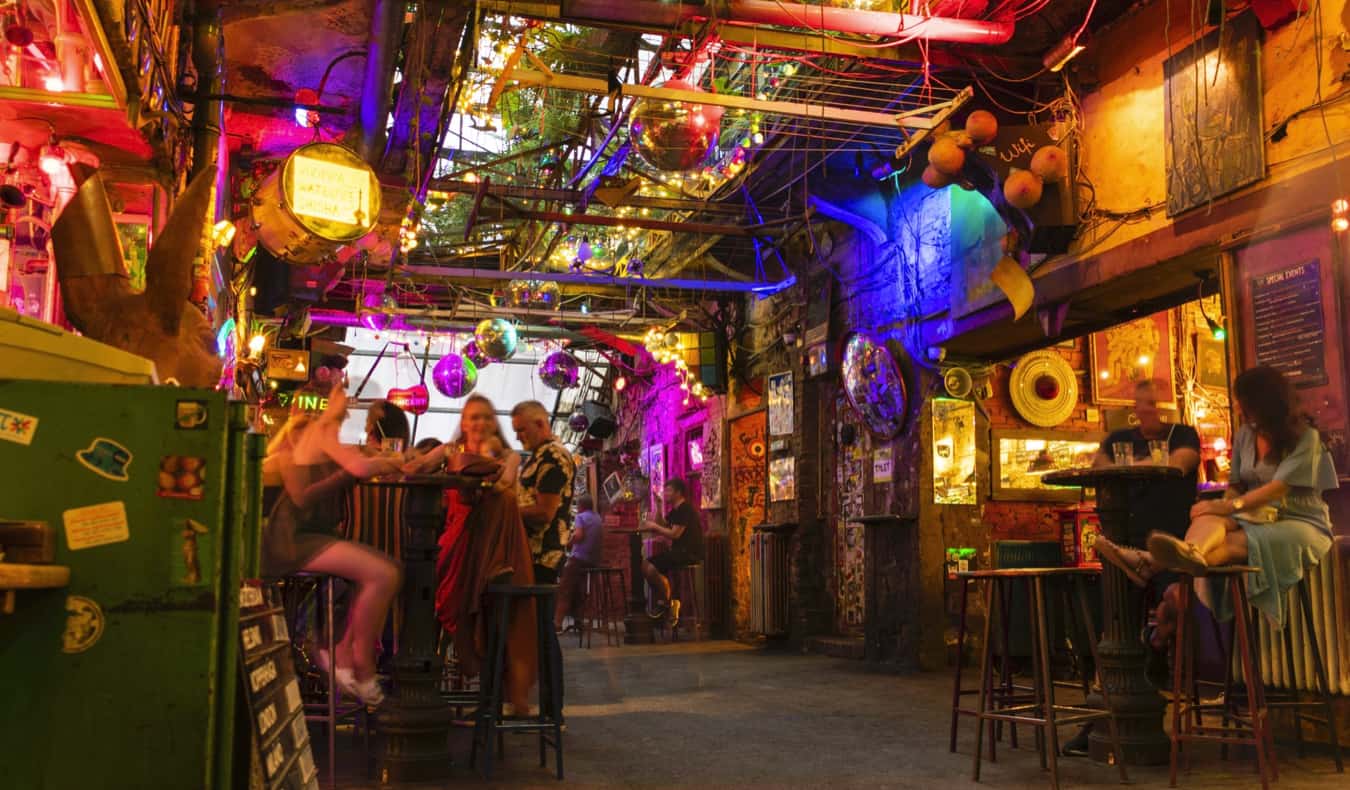 Dining Experiences and Local Hangouts
When visiting Budapest, indulging in the local culinary scene is a must. From traditional Hungarian dishes to international cuisines, the city offers a diverse range of options to satisfy any palate. Here are some top things to eat in Budapest:
Ruin bars and unique dining concepts
Budapest's ruin bars are an iconic part of the city's nightlife and dining scene. These bars are located in abandoned buildings and courtyards, giving them a unique and eclectic atmosphere. Alongside the lively ambiance, you can find various food stalls and pop-up restaurants serving everything from gourmet burgers to international street food.
Café culture and historic coffeehouses
Budapest has a rich café culture rooted in its history. Historic coffeehouses line the streets, offering a perfect spot to relax and enjoy a hot beverage and a slice of cake. Opt for a traditional Hungarian chimney cake, known as Kürtőskalács, or try a slice of Dobos torte, a decadent layered chocolate cake. These establishments are not just about the food; they provide an immersive experience that takes you back to Budapest's golden era.
Riverfront restaurants and rooftop bars
For a memorable dining experience with a view, head to the riverfront restaurants along the Danube. With stunning panoramic views of the city and the river, these establishments offer a perfect setting for a romantic dinner or a leisurely lunch. If you prefer a more elevated experience, visit one of Budapest's rooftop bars, where you can enjoy cocktails and panoramic views of the city's skyline.
In summary, Budapest offers a wide range of dining experiences to suit various tastes and preferences. Whether you choose to explore the unique atmosphere of ruin bars, dive into the café culture, or indulge in riverfront dining, the city ensures a culinary adventure you won't forget. So, go ahead and embark on a food journey through Budapest's vibrant and diverse culinary scene.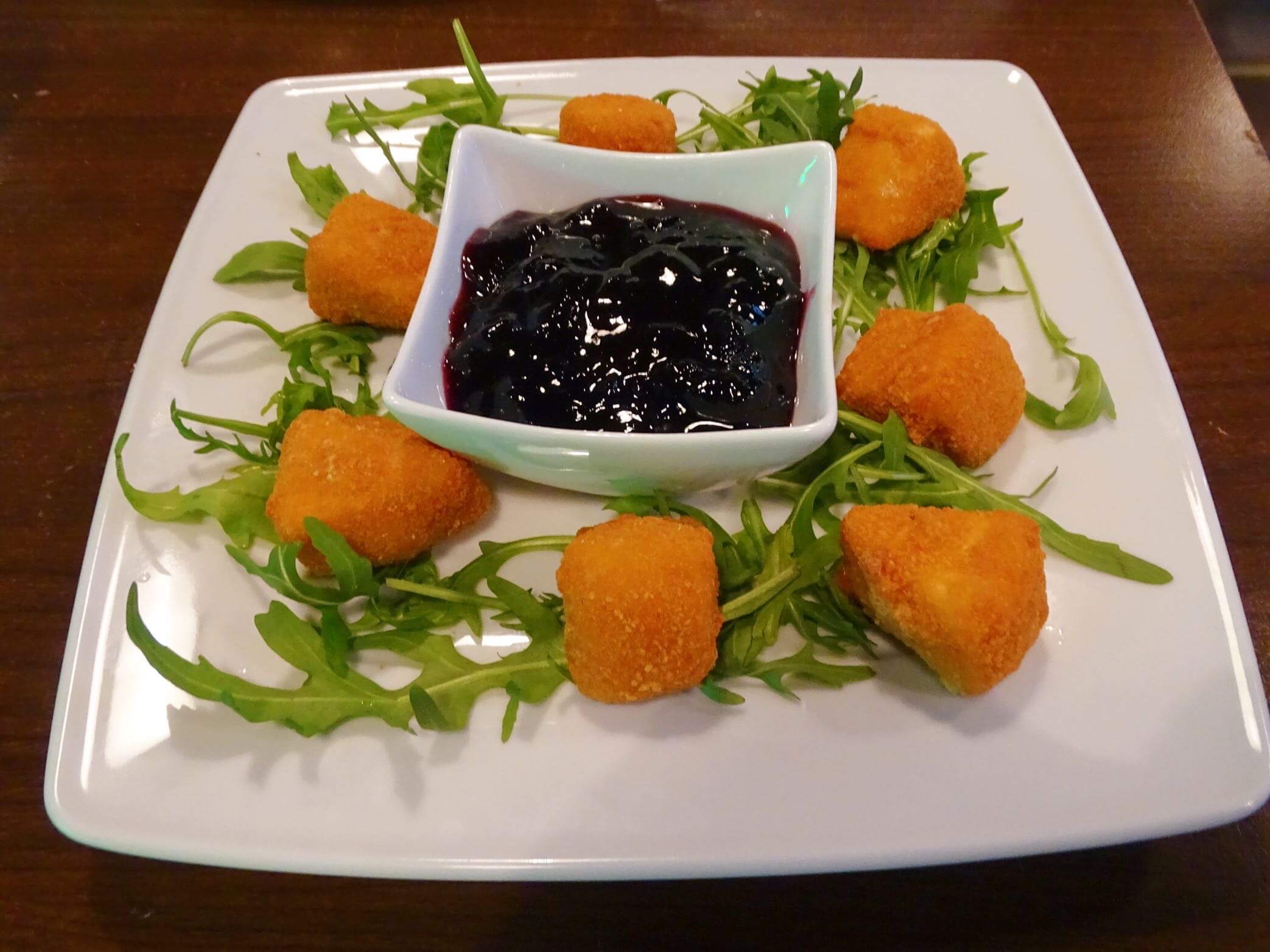 Conclusion
In conclusion, Budapest offers a vibrant and diverse food scene that is sure to satisfy any palate. From traditional Hungarian dishes to international flavors, there is something for everyone to enjoy. Don't miss out on trying the famous goulash, langos, or chimney cake. And be sure to explore the local marketplaces and food halls for a true taste of Budapest's culinary offerings. Whether you're a food lover or a curious traveler, Budapest's food scene is not to be missed.
Summarizing the top things to eat in Budapest
Goulash: A traditional Hungarian soup made with tender beef, onions, and paprika.
Langos: A deep-fried dough topped with various ingredients like cheese, sour cream, and garlic.
Chimney Cake: A sweet, spiral-shaped pastry covered in sugar and topped with different flavors like cinnamon or chocolate.
Hungarian Sausages: Delicious sausages made from a blend of meats and spices, often served with sauerkraut or mustard.
Strudel: A classic Hungarian pastry filled with sweet or savory ingredients like apples or cheese.
Tips for exploring the local food scene
Venture beyond touristy areas: To experience the best local flavors, explore neighborhoods away from the main tourist areas.
Try street food: Budapest is known for its delicious street food vendors offering a variety of snacks and meals.
Visit local markets: Central Market Hall and other local markets are great places to taste a wide range of Hungarian and international foods.
Ask the locals: Don't be afraid to ask locals for recommendations, they know the best hidden gems.
Take a food tour: Joining a food tour is a great way to discover the city's culinary secrets with a knowledgeable guide.
Frequently Asked Questions about Budapest's food culture.
What is Hungarian cuisine known for? Hungarian cuisine is known for its hearty dishes, rich flavors, and the use of paprika.
Are vegetarian and vegan options available in Budapest? Yes, Budapest offers a variety of vegetarian and vegan options, from traditional Hungarian dishes to international cuisines.
Can I find international cuisine in Budapest? Yes, Budapest has a thriving international food scene with restaurants serving a wide range of cuisines from around the world.
How much should I budget for food in Budapest? Budapest offers a range of dining options to fit any budget. You can find affordable street food as well as high-end restaurants.
Are reservations necessary at restaurants in Budapest? It depends on the restaurant and the time of year. It's always a good idea to make a reservation for popular restaurants or during peak tourist seasons.
Some of the links provided are affiliate links that I earn a commission for, on any purchases made, at no extra cost to you. This helps me immensely to continue to do what I love.
I am a participant in the affiliate programs including CJ, AWIN and Amazon Services LLC Associates Program. Affiliate programs are designed to provide a means for creators and publishers to earn fees by linking to merchant websites. Thank you 🙏
Stress Free Travel Packing Are you planning your next big adventure? Whether you're heading off on a tropical vacation or a business trip, one thing…