Public Transportation in Berlin
Types of public transportation in Berlin
When it comes to getting around Berlin, you have a wide range of public transportation options at your disposal. The city offers an extensive network of U-Bahn (subway), S-Bahn (urban rail), tram, and bus services. Each mode of transport has its own benefits, so it's good to familiarize yourself with them before starting your journey.
The U-Bahn is ideal for traveling longer distances within the city. It operates from 4:30 am until roughly 1:00 am, and trains run frequently. The S-Bahn, on the other hand, is perfect for venturing beyond the city center, connecting central Berlin with the surrounding suburbs. Trams are another convenient option, especially if you're exploring areas with no subway or train access. Buses, on the other hand, provide flexibility and more extensive coverage throughout the city.
Using the Berlin WelcomeCard for convenient travel
To make your travel even easier, consider getting a Berlin WelcomeCard. Available in various options, this card not only provides unlimited access to public transportation but also offers discounts on popular attractions and museums. It's a great way to save money and explore the city at your own pace. Simply activate the card upon arrival and start using it immediately.
Navigating the U-Bahn, S-Bahn, and Tram systems
Navigating Berlin's public transportation system may seem daunting at first, but it's actually quite straightforward. The U-Bahn, S-Bahn, and tram systems all operate under a zone-based fare system. Make sure to purchase the right ticket for your desired zones and validate it before boarding. Tickets can be bought at ticket machines located in all stations or via mobile apps.
When traveling on the U-Bahn or S-Bahn, pay attention to the train direction indicated on the platform signs. Take note of the final destination displayed on the front of the train as well. The tram system also has clear signage, with each line having a designated number and direction.
Remember to keep your ticket handy throughout your journey, as random ticket inspections are common. Failure to provide a valid ticket can result in a hefty fine.
With an efficient and well-connected public transportation system, navigating Berlin is a breeze. Whether you're exploring the iconic landmarks, visiting museums, or indulging in the city's vibrant culture, you can rely on the U-Bahn, S-Bahn, trams, and buses to get you where you need to go. So hop on, sit back, and enjoy the
Exploring Berlin by Foot
Highlights of walking tours in Berlin
When visiting Berlin, one of the best ways to experience the city is by exploring it on foot. Walking tours allow you to immerse yourself in the vibrant atmosphere, discover hidden gems, and get a closer look at the city's rich history and culture.
There are several walking tours available in Berlin that cater to different interests. Whether you're interested in history, street art, or food, there's a tour for you. Some popular walking tours include:
The Berlin Wall Tour: This tour takes you along the remains of the Berlin Wall, providing insights into the city's divided past and the stories behind the wall's graffiti and artwork.

The Historical Berlin Tour: This tour covers iconic landmarks such as Brandenburg Gate, Checkpoint Charlie, and the Reichstag building, and delves into the city's history from Prussian times to World War II and the Cold War.

The Alternative Berlin Tour: For those interested in street art, alternative culture, and Berlin's vibrant nightlife, this tour explores the city's underground scene, including the famous East Side Gallery.
Top attractions within walking distance
One of the advantages of exploring Berlin on foot is that many of the city's top attractions are within walking distance of each other. Here are some must-see sights that you can easily access on foot:
Museum Island: This UNESCO World Heritage site is home to five world-class museums, including the Pergamon Museum and the Neues Museum, which houses the famous bust of Nefertiti.

Alexanderplatz: Located in the heart of Berlin, Alexanderplatz is a bustling square surrounded by shops, restaurants, and iconic landmarks such as the TV Tower and the Red Town Hall.

Tiergarten: Berlin's largest park, the Tiergarten, is a green oasis in the middle of the city. Take a leisurely stroll through the park and enjoy its beautiful landscapes, statues, and even a beer garden.
Tips for comfortable and safe walking
To make the most of your walking experience in Berlin, here are some tips for a comfortable and safe journey:
Wear comfortable shoes: Berlin is a city made for walking, so make sure to wear comfortable shoes that can handle long distances.

Stay hydrated: Carry a water bottle with you, especially during the summer months when the weather can be hot and humid.

Be aware of your surroundings: Like in any big city, it's important to be aware of your surroundings and keep an eye on your belongings.

Follow traffic rules: When crossing the street, make sure to use designated crosswalks and obey traffic signals to ensure your safety.
Exploring Berlin on foot allows you to experience the city in a unique and immersive way. So put on your walking shoes, grab a map, and get ready to discover all that Berlin has to offer!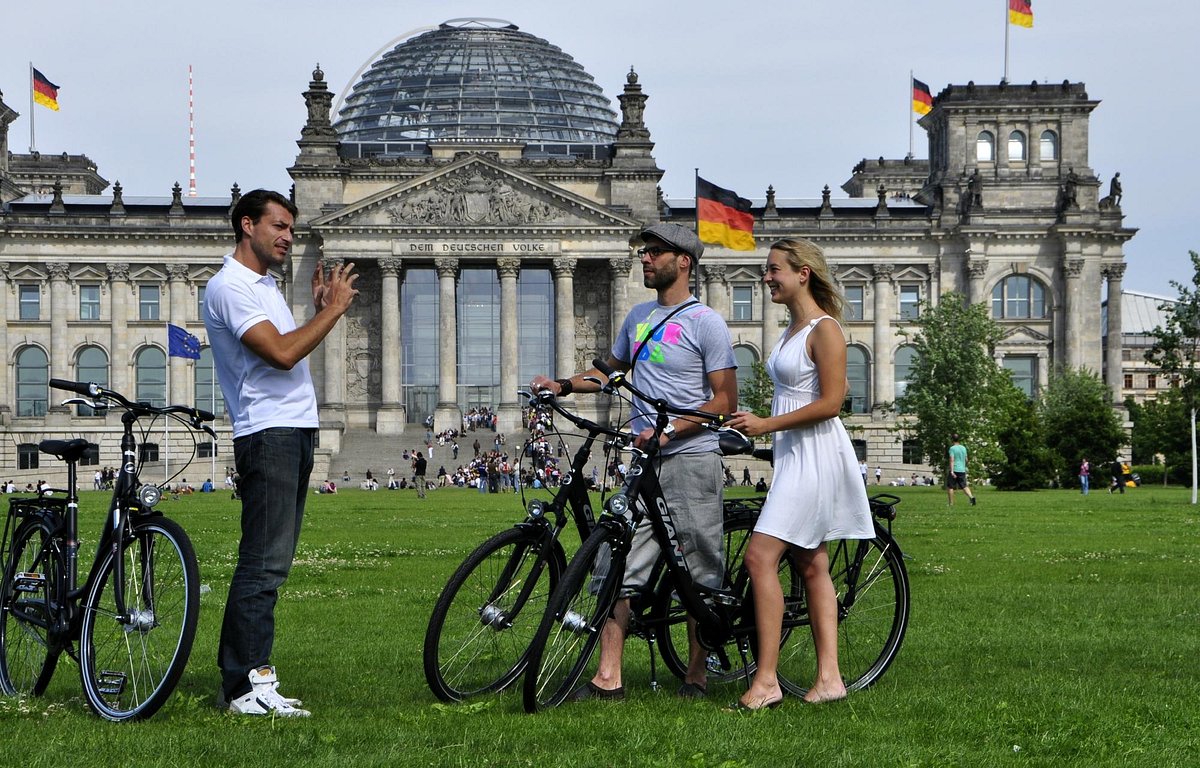 Cycling in Berlin
Renting a bike in Berlin
If you're looking for a fun and active way to explore Berlin, renting a bike is an excellent option. There are several bike rental shops throughout the city, making it easy to find a bike that suits your needs. Many shops offer both short-term and long-term rental options, allowing you to choose the duration that works best for you. Renting a bike is a convenient and affordable choice, especially if you plan on cycling for multiple days during your visit to Berlin.
Cycling routes and popular paths
Berlin is known for its extensive cycling infrastructure and a vast network of cycling paths. There are countless cycling routes to choose from, whether you want to explore the city center, visit iconic landmarks, or venture into the beautiful surrounding countryside. Some popular routes include the Berlin Wall Trail, which follows the path of the former wall and takes you through the city's history, and the Tiergarten Loop, which provides a scenic ride through Berlin's largest park. You can also cycle along the Spree River or explore the vibrant neighborhoods of Kreuzberg and Friedrichshain.
Benefits of exploring Berlin by bike
Exploring Berlin by bike offers numerous benefits. Firstly, it allows you to cover more ground and see more of the city in a shorter time. Berlin is a vast city, and cycling enables you to easily navigate between neighborhoods and attractions. It also provides a unique perspective, giving you the opportunity to discover hidden gems and local spots that you may not come across otherwise. Cycling is also a fun and environmentally friendly way to travel, providing exercise and fresh air while reducing your carbon footprint. Lastly, cycling in Berlin is relatively safe, as the city is bike-friendly and drivers are accustomed to sharing the road with cyclists.
So, if you're visiting Berlin and want to experience the city in a unique and active way, consider renting a bike and exploring the many cycling routes and paths available. It's a fantastic way to immerse yourself in the vibrant atmosphere of the city while enjoying the freedom and flexibility that cycling provides.
Conclusion
In conclusion, navigating the bustling city of Berlin can be made easier by utilizing the various transportation options available. From the extensive public transportation network to bike rentals, car-sharing services, and walking, there is a mode of transportation suitable for every traveler. By planning your itinerary carefully and taking advantage of the convenience and efficiency of public transport, you can make the most of your time in Berlin and explore all that this vibrant city has to offer.
Summary of transportation options in Berlin
Public Transportation: Berlin's public transportation network, including buses, trains, trams, and the U-Bahn and S-Bahn metro systems, offers extensive coverage and is a cost-effective and efficient way to get around the city.
Bike Rentals: Berlin is a bike-friendly city, and renting a bike can be a fun and eco-friendly way to explore the streets and parks at your own pace.
Car-Sharing Services: If you prefer the convenience of a car, services like Car2Go and DriveNow provide flexible car rentals for short trips within the city.
Walking: Berlin is a walkable city, and many of the major attractions are within reasonable walking distance of each other, allowing you to soak in the vibrant atmosphere and discover hidden gems along the way.
Recommended itineraries for getting around efficiently
The "Museum Island" Itinerary: Start your day at Alexanderplatz and take a short walk to Museum Island, home to five world-renowned museums. After exploring the museums, you can continue your journey by taking a leisurely stroll along the Spree River or hopping on a nearby tram to explore other parts of the city.
The "Historical Landmarks" Itinerary: Begin at Brandenburg Gate and walk through the historic Unter den Linden boulevard, passing notable landmarks such as the Berlin Cathedral and the Reichstag building. From there, you can catch a train or tram to Potsdamer Platz and continue your exploration of Berlin's history.
The "Parks and Gardens" Itinerary: Start at Tiergarten Park and rent a bike to explore this lush green oasis. From there, you can cycle to other parks such as the Volkspark Friedrichshain or the Treptower Park, enjoying the fresh air and the picturesque landscapes.
Frequently Asked Questions about transportation in Berlin
Q: Is it necessary to rent a car in Berlin?
A: It is not necessary to rent a car in Berlin, as the public transportation system is highly efficient and covers most parts of the city. Additionally, parking can be expensive and limited in certain areas.
Q: Can I use credit cards to pay for public transportation?
A: Yes, most ticket machines and services in Berlin accept credit cards. It is also possible to use contactless payment methods like Google Pay or Apple Pay.
Q: Are there any discounts available for public transportation in Berlin?A: Yes, there are various ticket options available, including day passes and group tickets, which offer discounts for multiple journeys or for traveling with a group.
Remember to plan your transportation options ahead of time, familiarize yourself with the routes and schedules, and make the most of the convenient transportation options available to explore the diverse neighborhoods and attractions of Berlin. Happy travels!
Some of the links provided are affiliate links that I earn a commission for, on any purchases made, at no extra cost to you. This helps me immensely to continue to do what I love.
I am a participant in the affiliate programs including CJ, AWIN and Amazon Services LLC Associates Program. Affiliate programs are designed to provide a means for creators and publishers to earn fees by linking to merchant websites. Thank you 🙏
Stress Free Travel Packing Are you planning your next big adventure? Whether you're heading off on a tropical vacation or a business trip, one thing…