Public Transportation Options
Whether you're a local or visiting Dallas for the first time, getting around the city can be a breeze with its public transportation options. Here are some convenient ways to navigate Dallas without the hassle of driving and parking.
1. Dallas Area Rapid Transit (DART) Rail
DART Rail is a popular choice for traveling within and around Dallas. With its extensive network, you can easily reach popular attractions, shopping districts, and downtown areas. The rail system operates seven days a week, with frequent trains and convenient schedules. You can purchase tickets at station ticket vending machines or through the GoPass app. The DART Rail is a reliable and efficient option for exploring Dallas.
2. DART Bus System
If you prefer a bus option, the DART Bus System is a comprehensive network that covers various neighborhoods in Dallas. The bus system is a cost-effective way to travel, with regular routes and convenient schedules. You can use the GoPass app or pay with exact change onboard the bus. The DART Bus System is a great choice for reaching destinations not serviced by the DART Rail.
3. Trinity Railway Express (TRE)
For those looking to travel beyond Dallas or explore neighboring cities like Fort Worth, the Trinity Railway Express (TRE) is a fantastic option. The TRE provides a commuter rail service connecting Dallas and Fort Worth, making it easy to explore both cities without the need for a car. The TRE operates on weekdays and offers a comfortable and convenient transportation option for commuters and tourists alike.
With these public transportation options, you can navigate Dallas with ease and explore all the city has to offer. Whether you choose the DART Rail, DART Bus System, or the TRE, you'll find a reliable and efficient way to get around and make the most of your time in Dallas. So sit back, relax, and enjoy the ride!
Car Rental Services
1. Major Car Rental Companies in Dallas
If you're planning to explore the vibrant city of Dallas in your own time and convenience, renting a car is a great option. Here are a few major car rental companies in Dallas that you can choose from:
Budget
Avis
Enterprise
Hertz
National Car Rental
These rental companies offer a wide range of vehicle options, from economy cars to luxury vehicles, allowing you to select the perfect car that suits your needs and budget. It's recommended to make a reservation in advance to ensure availability and to take advantage of any promotions or discounts that may be available.
2. Tips for Renting a Car in Dallas
Before renting a car in Dallas, consider the following tips to make your experience smoother:
Compare prices: Shop around and compare prices from different car rental companies to get the best deal.
Check rental policies: Familiarize yourself with the rental policies, including age restrictions, additional fees, and insurance coverage.
Choose the right vehicle: Consider the number of passengers and luggage you will have to ensure you choose a suitable car.
Fill up before returning: Most car rental companies require you to return the car with a full tank of gas to avoid additional charges.
3. Parking in Dallas: Guidelines and Locations
When it comes to parking in Dallas, here are a few guidelines and locations to keep in mind:
Street parking: Look for parking meters or pay stations and follow the instructions to pay for your parking spot.
Parking garages: There are numerous parking garages available in Dallas, both in public areas and near popular attractions.
Public transportation: Consider utilizing the DART (Dallas Area Rapid Transit) system to navigate around the city and avoid the hassle of finding parking.
Remember to familiarize yourself with any parking restrictions or time limits to prevent receiving a parking ticket.
Ride-sharing Services
1. Uber
If you're looking for a convenient way to get around Dallas, Uber is a top choice. With just a few taps on your smartphone, you can request a ride and have a driver pick you up in minutes. Uber offers several services, including UberX for affordable rides, UberXL for larger groups, and UberBlack for a more luxurious experience. Plus, you can track your driver's location and estimated time of arrival, so you'll always know when to expect them.
2. Lyft
Similar to Uber, Lyft is another popular ride-sharing option in Dallas. Lyft offers a variety of ride options, including Lyft Shared for a more affordable ride if you don't mind sharing with other passengers, Lyft XL for larger groups, and Lyft Lux for a higher-end experience. The Lyft app allows you to easily book a ride, track your driver, and even choose your preferred music playlist.
3. Tips for Using Ride-sharing Services in Dallas
Plan ahead: To avoid surge pricing during peak hours or events, consider scheduling your rides in advance.
Verify the driver and vehicle: Always double-check the driver's name, photo, and license plate before getting in the car to ensure your safety.
Confirm the destination and route: Although ride-sharing apps provide a navigation system, it's a good idea to familiarize yourself with the route to ensure you're heading in the right direction.
Rate your ride: After your trip, provide feedback and rate your driver. This helps maintain a high-quality experience for both drivers and riders.
Whether you choose Uber or Lyft, both options offer a convenient and reliable way to navigate the streets of Dallas. So sit back, relax, and let the ride-sharing service take you to your destination hassle-free.
Bicycling in Dallas
1. Dallas Bike Share Program
If you're looking for a convenient and eco-friendly way to get around Dallas, look no further than the Dallas Bike Share Program. This program offers a fleet of bicycles that can be rented by the hour or through a monthly or annual membership. With numerous bike stations located throughout the city, you'll have easy access to bikes whenever and wherever you need them. Simply download the app, find the nearest bike station, and unlock your ride with a simple scan.
2. Bike Lanes and Trails in Dallas
Dallas is continually expanding its network of bike lanes and trails, making it safer and more convenient for cyclists to navigate the city. Some of the notable bike lanes include the Katy Trail, a 3.5-mile trail that winds through scenic areas and connects to popular destinations like the Dallas Arts District and Uptown. The Santa Fe Trail and White Rock Creek Trail are also popular choices for cyclists.
3. Safety Guidelines for Bicycling in Dallas
To ensure a safe and enjoyable biking experience, it's important to follow some basic safety guidelines. First and foremost, always wear a helmet to protect yourself in case of falls or accidents. Be sure to obey all traffic laws and signals, just like you would if you were driving a car. Use hand signals to indicate your intentions to motorists, and always be aware of your surroundings.
Biking in Dallas can be a fun and convenient way to explore the city. Whether you're commuting to work, running errands, or simply enjoying a leisurely ride, take advantage of the Dallas Bike Share Program and the city's expanding network of bike lanes and trails. Remember to prioritize safety and enjoy the ride!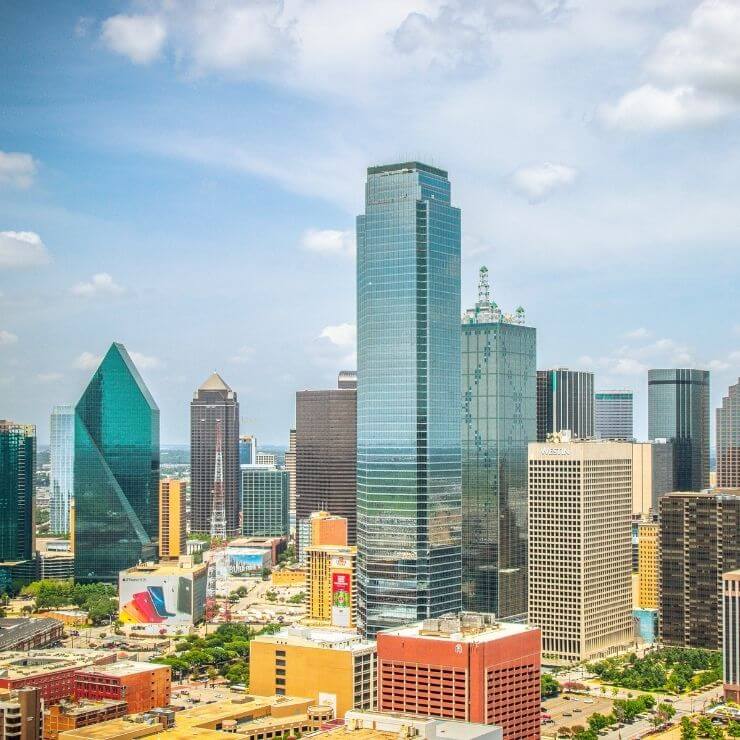 Walking and Pedestrian-Friendly Areas
When visiting Dallas, there are plenty of options available for getting around on foot, and exploring the city's vibrant neighborhoods. Here are some key points to consider:
1. Exploring Downtown Dallas on Foot
Downtown Dallas is a walker's paradise, with a compact layout and plenty of attractions within walking distance. Start your journey at the historic Dealey Plaza, where you can learn about the city's history. Continue walking to the Dallas Arts District, home to world-class museums, galleries, and performance venues. Don't miss the iconic Reunion Tower for panoramic views of the city skyline. End your stroll at the bustling West End Historic District, known for its lively restaurants and entertainment options.
2. Popular Walking Trails and Parks in Dallas
If you enjoy outdoor activities, Dallas offers a variety of walking trails and parks where you can take in the natural beauty of the city. The Katy Trail is a popular choice, stretching for 3.5 miles and featuring beautiful landscaping and scenic views. Another great option is the Trinity River Greenbelt, which offers over 15 miles of trails, picnic areas, and opportunities for birdwatching. For a peaceful escape, visit the Dallas Arboretum and Botanical Garden, with its stunning gardens and lakeside trails.
3. Safety Tips for Pedestrians in Dallas
While walking around Dallas, it's important to prioritize your safety. Here are some tips to keep in mind:
Use designated pedestrian crossings when crossing busy streets.
Pay attention to traffic lights and obey traffic signals.
Be aware of your surroundings, especially when walking at night.
Dress appropriately and wear comfortable shoes for walking long distances.
Stay on designated walking paths and avoid walking on busy roadways.
Carry a map or use a navigation app to stay on track.
By exploring Dallas on foot, you'll have the opportunity to discover its hidden gems and experience the city's unique charm. So grab your walking shoes and get ready to explore all that Dallas has to offer!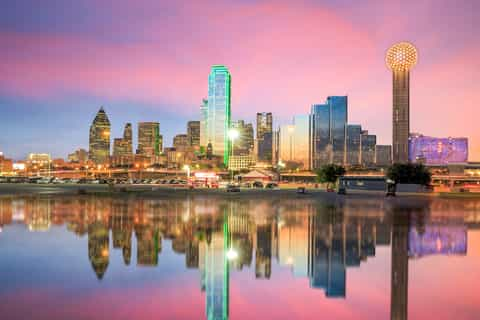 Sightseeing Tours and Shuttle Services
1. Guided Sightseeing Tours in Dallas
When exploring Dallas, one of the best ways to get around and see the sights is by taking a guided sightseeing tour. These tours are typically led by knowledgeable tour guides who will show you the best attractions and provide interesting facts and stories about the city's history and culture. Whether you're interested in visiting famous landmarks like the Dealey Plaza or exploring the vibrant arts scene in the Deep Ellum district, there's a sightseeing tour for everyone. Some popular tour options include bus tours, walking tours, and even segway tours for a unique and fun experience. So sit back, relax, and let the experts take you on a memorable journey through Dallas.
2. Hop-On Hop-Off Shuttle Services
If you prefer a more flexible way to explore the city, hop-on hop-off shuttle services are a great option. These convenient shuttle services allow you to travel at your own pace and visit the attractions that interest you the most. Simply hop on the shuttle, and when you reach a location that catches your eye, hop off and explore. Once you're ready to move on, just wait for the next shuttle to arrive. This is a fantastic way to see multiple attractions in a day without the hassle of driving and parking. Plus, most shuttle services provide informative audio commentary, so you can learn about the city's history and landmarks as you travel.
No matter which option you choose, sightseeing tours and shuttle services in Dallas offer a convenient and enjoyable way to get around and experience everything the city has to offer. So grab your camera, put on your walking shoes, and get ready to discover the vibrant heart of Texas.
Airport Transportation
1. Dallas-Fort Worth International Airport (DFW)
If you are traveling to or from Dallas-Fort Worth International Airport (DFW), there are several transportation options available to get you to your destination efficiently and comfortably.
Taxis and Rideshares: Taxis and rideshare services like Uber and Lyft are readily available at DFW Airport. You can easily request a ride using their mobile apps, and drivers will pick you up curbside at designated locations.

Shuttle Services: There are numerous shuttle companies operating at DFW Airport that provide shared rides to major destinations in Dallas. These shuttles offer a cost-effective option for those traveling with a group or looking to save money.

Car Rentals: DFW Airport has multiple car rental agencies located onsite. If you prefer the flexibility and independence of having your own vehicle, you can rent a car directly from the airport.
2. Dallas Love Field Airport (DAL)
For travelers arriving at or departing from Dallas Love Field Airport (DAL), there are also various transportation choices to consider.
Taxis and Rideshares: Taxis and rideshare services are available at DAL Airport, just like at DFW. You can easily request a ride using the mobile apps of services like Uber and Lyft.

Shuttle Services: Similar to DFW, there are shuttle companies that operate at DAL Airport. These shuttles offer shared rides to different locations in Dallas and provide a convenient and affordable option for transportation.

Public Transportation: Dallas Love Field Airport is conveniently connected to the DART (Dallas Area Rapid Transit) system. You can take the DART Rail from the airport to various destinations in the city, including downtown Dallas.
Whether you choose a taxi, rideshare, shuttle, or public transportation, Dallas offers a variety of options to get around the city and make your travels hassle-free.
Some of the links provided are affiliate links that I earn a commission for, on any purchases made, at no extra cost to you. This helps me immensely to continue to do what I love.
I am a participant in the affiliate programs including CJ, AWIN and Amazon Services LLC Associates Program. Affiliate programs are designed to provide a means for creators and publishers to earn fees by linking to merchant websites. Thank you 🙏
Stress Free Travel Packing Are you planning your next big adventure? Whether you're heading off on a tropical vacation or a business trip, one thing…