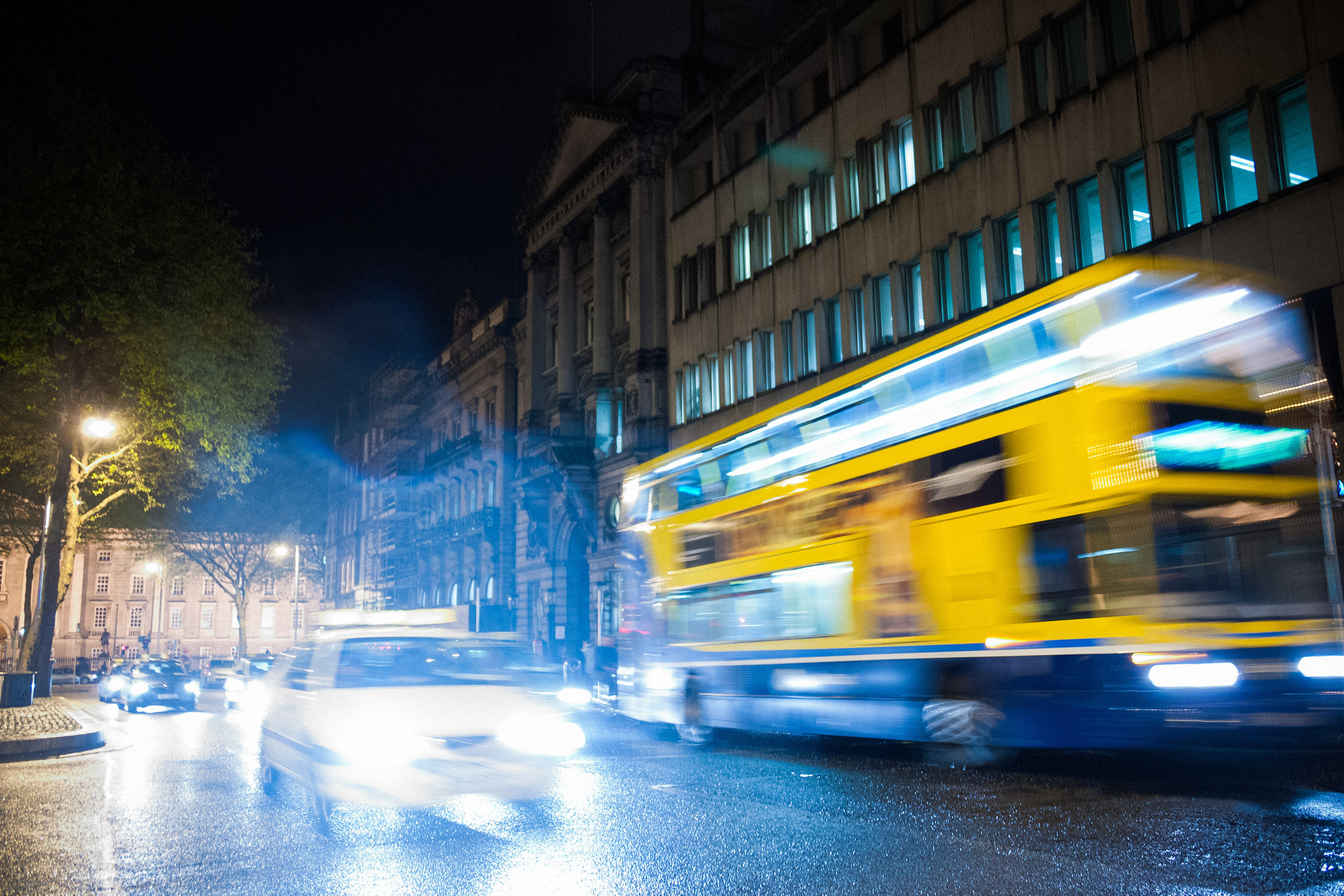 Public Transportation in Dublin
Navigating a new city can be daunting, but fear not! Dublin has an efficient public transportation system that can help you get around easily. Here are three options you can consider:
1. Dublin Bus: Routes, fares, and schedules
Dublin Bus is the city's primary bus service, covering most areas of Dublin. With numerous routes and frequent services, it's a convenient way to explore the city. You can easily plan your journey using the Dublin Bus app or website. Fares are reasonably priced, and you can pay with cash or use a Leap card for discounts. Don't forget to check the bus schedules to ensure you have an idea of when your bus will arrive.
2. The DART: Exploring Dublin's coastal areas
If you're looking to explore Dublin's coastal regions, the DART (Dublin Area Rapid Transit) is your best option. This electric rail network connects the city center with scenic spots along the coast, such as Howth and Bray. With stunning views of the sea, it's a delightful way to travel.
3. LUAS: Dublin's tram system and how to use it effectively
LUAS is Dublin's tram system that operates in different parts of the city, including the city center and suburbs. It's a quick and efficient mode of transportation, especially during rush hour. You can find LUAS stops throughout the city, and the fares are similar to the Dublin Bus. It's advisable to get a Tap and Go card or Leap card for seamless and discounted travel.
With these public transportation options at your disposal, exploring Dublin becomes a breeze. Just remember to plan your journey, check the schedules, and have your payment method ready. Enjoy your time in the vibrant city of Dublin!
Exploring Dublin on Foot
1. Dublin's scenic walking routes and neighborhoods
When visiting Dublin, one of the best ways to immerse yourself in the city's charm and character is by exploring it on foot.
Dublin offers several scenic walking routes and neighborhoods that showcase its rich history and vibrant culture. Take a stroll along the famous River Liffey, which runs through the heart of the city, and enjoy the stunning views of iconic landmarks such as Ha'penny Bridge and Samuel Beckett Bridge. Don't miss a visit to Temple Bar, the lively cultural quarter known for its colorful pubs, art galleries, and street performances.
If you're looking for a more peaceful atmosphere, head to St. Stephen's Green, a beautiful park located in the city center. Take a leisurely walk around the park and enjoy the serene surroundings. The nearby Grafton Street is also a must-visit pedestrianized shopping street with a great selection of shops, cafes, and street performers.
2. Must-visit parks and green spaces in Dublin
Dublin is known for its numerous parks and green spaces that offer a refreshing break from the hustle and bustle of the city.
Phoenix Park is a vast urban park and a popular spot for locals and tourists alike. Take a walk or rent a bike to explore the park's sprawling landscapes, historical monuments, and even spot some wild deer. Another stunning park is the National Botanic Gardens, where you can enjoy the beauty of various plant species and relax in the tranquility of the gardens.
3. Self-guided walking tours in Dublin's city center
If you want to delve deeper into Dublin's history and culture, consider taking one of the self-guided walking tours available in the city center.
You can explore the famous Georgian architecture in Merrion Square and Fitzwilliam Square, or visit Trinity College, Ireland's oldest university, and see the stunning Book of Kells. Learning about Dublin's literary heritage is also a must, and you can follow the Dublin Literary Pub Crawl, which takes you to the favorite haunts of famous Irish writers.
Remember to wear comfortable shoes, bring a map or use a navigation app, and take your time to enjoy the sights and sounds of Dublin as you explore the city on foot.
Dublin by Bike
1. Overview of Dublin's bike-sharing system
Dublin offers a convenient and eco-friendly way to explore the city – the bike-sharing system. With numerous bike stations located throughout the city, you can easily rent a bike and pedal your way to your destination. The bike-sharing system provides a cost-effective and efficient way to get around, avoiding traffic congestion and parking hassles. Simply register online or download the bike-sharing app, locate the nearest station, and unlock your bike for a fun-filled adventure in Dublin.
2. Best cycling routes and trails in Dublin
Dublin is a cyclist's paradise, offering a variety of scenic routes and trails to explore. Here are some of the best cycling routes to check out:
Phoenix Park: This expansive park is a cyclist's dream, offering beautiful landscapes, winding paths, and even a herd of wild deer.

Grand Canal Cycleway: Take a ride along the picturesque Grand Canal, passing by charming neighborhoods and historic landmarks.

Coastal Route to Howth: Enjoy stunning coastal views as you cycle towards the picturesque fishing village of Howth, known for its beautiful cliffs and delicious seafood.
3. Tips for cycling in Dublin and bike safety precautions
Before setting off on your biking adventure in Dublin, it's essential to keep these tips in mind for a safe and enjoyable experience:
Follow traffic rules: Observe traffic signs and signals, and always cycle in the designated bike lanes.

Wear a helmet: Protect your head and ensure your safety by wearing a helmet.

Be visible: Equip your bike with lights and wear reflective clothing, especially if cycling during low-light conditions.

Lock your bike: Always secure your bike when leaving it unattended to prevent theft.
By following these tips and exploring the many cycling routes and trails in Dublin, you'll have an unforgettable experience discovering the city's charm and beauty on two wheels. So, hop on a bike and start pedaling your way through Dublin's vibrant streets and breathtaking landscapes.
Getting Around Dublin by Taxi or Ride-Sharing
1. Finding and hailing taxis in Dublin
If you're looking for a convenient and traditional way to get around Dublin, taxis are a great option. Here are a few tips to help you find and hail a taxi in the city:
Designated taxi ranks: You can find taxi ranks at major transportation hubs, popular tourist areas, and outside hotels. Simply look for the designated sign and wait in line for the next available taxi.

Taxi apps: Many taxi companies in Dublin have their own apps that allow you to book a taxi from your smartphone. These apps often provide useful features such as estimated fare, real-time tracking, and the option to pay with your card.

Hailing on the street: If you're in an area without a designated taxi rank, you can try hailing a taxi on the street. Look for taxis with the "for hire" sign illuminated on their roof. Raise your hand and make eye contact with the driver to indicate that you need a ride.
2. Popular ride-sharing apps in Dublin
If you prefer the convenience of ride-sharing, there are several popular apps available in Dublin:
Uber: Uber is a well-known ride-sharing platform that operates in Dublin. Simply download the Uber app, sign up for an account, and start booking rides.

Bolt: Bolt is another popular ride-sharing app in Dublin. It offers a similar service to Uber and is a convenient option for getting around the city.
3. Important information and etiquette for using taxis
When using taxis in Dublin, it's important to keep a few things in mind:
Tipping: It's common to tip taxi drivers in Dublin. A general guideline is to tip around 10% of the total fare.

Payment options: Most taxis in Dublin accept both cash and card payments. However, it's always a good idea to check with the driver before getting in.

Seatbelts: It is mandatory for both front and rear seat passengers to wear seatbelts in taxis.

Accessibility: If you require an accessible taxi, it's recommended to book in advance to ensure availability.
Overall, taxis and ride-sharing apps are convenient and efficient ways to navigate Dublin. Whether you prefer the traditional charm of a taxi or the ease of a ride-sharing app, you'll have plenty of options to choose from for getting around the city.
Day Trips from Dublin
1. Excursions to the stunning Wicklow Mountains
If you're looking to escape the hustle and bustle of Dublin, a day trip to the Wicklow Mountains is a must. Just a short drive south of the city, you'll find yourself surrounded by breathtaking natural beauty. From lush forests to picturesque waterfalls, the Wicklow Mountains offer a peaceful retreat.
How to get there: You can take a guided tour or rent a car to explore the Wicklow Mountains at your own pace. The drive from Dublin is approximately one hour, making it an easy day trip.
2. How to visit the historic city of Kilkenny from Dublin
If you're a history enthusiast, a visit to the historic city of Kilkenny is a must. Known for its medieval buildings, including Kilkenny Castle and St. Canice's Cathedral, this charming city offers a glimpse into Ireland's rich past.
How to get there: The easiest way to reach Kilkenny from Dublin is by train or bus. The journey takes approximately two hours, making it a feasible day trip. Once in Kilkenny, you can explore the city on foot, taking in the sights and enjoying the local cuisine.
3. Exploring the scenic coastal towns near Dublin
If you're a fan of coastal landscapes, a trip to the scenic towns near Dublin is a must. From the charming fishing village of Howth to the popular seaside town of Bray, there are plenty of options to choose from.
How to get there: Both Howth and Bray are easily accessible by train from Dublin. The journey takes less than an hour, making it a convenient day trip. Once there, you can stroll along the rugged cliffs, watch the fishermen at work, or simply relax on the beach.
No matter which day trip you choose, you're sure to have an unforgettable adventure exploring the stunning landscapes and historic towns near Dublin. So pack your bags, grab your camera, and get ready to discover the beauty that Ireland has to offer.
1. Tips for navigating Dublin's transportation options
When it comes to getting around Dublin, you have several transport options to choose from. Here are some tips to help you navigate the city efficiently:
Use the Dublin Bus: Dublin has an extensive bus network that covers most neighborhoods. Download the Dublin Bus app to plan your route, track buses in real-time, and get accurate arrival times.

Take the DART: The Dublin Area Rapid Transit (DART) is a great option for traveling along the coastline. It connects the city center with charming coastal towns like Howth and Bray.

Try the Luas: The Luas is Dublin's light rail system, consisting of two lines: the Red Line and the Green Line. It's a convenient way to travel within the city center and its surrounding areas.
2. Personal recommendations for getting around Dublin efficiently
For a more personalized experience, here are some recommendations from frequent visitors to Dublin:
Walk: Dublin is a compact city with many attractions within walking distance of each other. Consider using your own two feet to explore the city, especially in the city center.

Rent a bike: Dublin's bike-sharing system, known as Dublinbikes, allows you to rent a bike for a short period. It's a fun and eco-friendly way to get around, especially during the warmer months.

Take a taxi: Taxis are readily available in Dublin and can be a convenient option, especially if you're traveling with luggage or heading to destinations outside the city center. Ensure the taxi is licensed and uses a meter.
3. Frequently Asked Questions about transportation in Dublin
Are Dublin's public transport services reliable? Yes, Dublin's public transport services, such as the buses and trains, are generally reliable. However, like any city, disruptions and delays can occur, especially during peak hours.

Do I need to purchase a separate ticket for each mode of transport? If you're using Dublin's integrated ticketing system, you can use one ticket for multiple modes of transport such as buses, the DART, and the Luas within a certain timeframe. This makes it easier and more cost-effective to travel around the city.

Is driving a car recommended in Dublin? Driving in Dublin can be challenging due to traffic congestion and limited parking. It's generally more convenient to use public transport or alternative modes of transportation mentioned earlier.
Remember, exploring Dublin can be an exciting adventure. With these tips and recommendations, you'll be able to navigate the city easily and make the most of your time in the Irish capital.
Some of the links provided are affiliate links that I earn a commission for, on any purchases made, at no extra cost to you. This helps me immensely to continue to do what I love.
I am a participant in the affiliate programs including CJ, AWIN and Amazon Services LLC Associates Program. Affiliate programs are designed to provide a means for creators and publishers to earn fees by linking to merchant websites. Thank you 🙏
Stress Free Travel Packing Are you planning your next big adventure? Whether you're heading off on a tropical vacation or a business trip, one thing…