Introduction
If you're planning a trip to Lisbon, you're in for a treat! The city is known for its beautiful architecture, vibrant culture, and delicious food. But before you start exploring, it's important to know how to get around. Fortunately, Lisbon has a reliable and efficient public transportation system that can take you to all the must-see spots. Here's a guide to help you navigate the city like a local.
Overview of Lisbon's metro system
The metro system in Lisbon is a popular choice for travelers due to its extensive coverage and convenience. It consists of four lines (blue, green, red, and yellow) that connect the city center with various neighborhoods and attractions. The trains are clean, safe, and run frequently throughout the day. Plus, they are equipped with air conditioning, making them a comfortable mode of transportation, especially during the hot summer months. You can purchase a rechargeable Viva Viagem card, which allows you to use the metro as well as buses, trams, and ferries.
Bus routes and schedules in the city
Lisbon's bus system is another excellent option for getting around. With a vast network of routes covering the entire city, buses can take you to places that are not accessible by metro. The buses are equipped with air conditioning and offer a comfortable ride. You can find bus timetables and routes at bus stops or online. Keep in mind that Lisbon's bus schedule may vary on weekends and holidays, so it's always a good idea to check ahead of time.
Tram options for getting around Lisbon
No visit to Lisbon is complete without a ride on one of its iconic trams. The historic yellow trams are not only a convenient mode of transportation but also a tourist attraction in themselves. Tram 28 is particularly popular as it takes you through the narrow and winding streets of the historic Alfama and Baixa districts. Trams operate from early morning until late at night, allowing you to explore the city at your own pace.
So, whether you prefer the speed of the metro, the versatility of the bus, or the charm of the tram, Lisbon's public transportation system has got you covered. Just grab a map, plan your route, and get ready to discover all the wonders this beautiful city has to offer!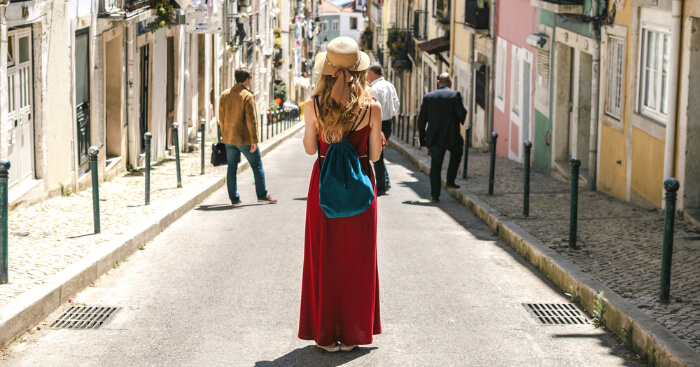 Exploring Lisbon on Foot
Must-visit landmarks and attractions within walking distance
When visiting Lisbon, you'll be delighted to find that many of its most famous landmarks and attractions are easily accessible by foot. Here are a few places you won't want to miss:
Belém Tower: This iconic tower is a UNESCO World Heritage site and offers stunning views of the Tagus River. It's just a short walk from the city center.

Jeronimos Monastery: Located in Belém, this magnificent monastery is another must-visit. Its intricate architecture and rich history make it a popular attraction.

Chiado: Explore the charming neighborhood of Chiado, known for its trendy shops, cafes, and vibrant atmosphere. It's a great place to soak up the local culture.
Walking tours and routes for sightseeing
To make the most of your time in Lisbon, consider taking a walking tour or following one of the city's designated sightseeing routes. These will allow you to discover hidden gems and learn about the city's history and culture. Here are a few options to consider:
Alfama Walking Tour: Explore Lisbon's oldest neighborhood with a guided tour, and discover its narrow alleys, colorful houses, and stunning viewpoints.

Bairro Alto: This lively neighborhood is known for its vibrant nightlife and charming streets. Take a leisurely stroll through Bairro Alto to experience its unique atmosphere.

Rossio to Praça do Comércio: This route takes you from Rossio Square, a bustling hub in the city center, to Praça do Comércio, a grand square by the river. Along the way, you'll pass by historic landmarks and enjoy beautiful views.
Tips for navigating the city streets on foot
Navigating Lisbon's streets on foot is a fantastic way to immerse yourself in the city. Here are a few tips to ensure a smooth and enjoyable experience:
Wear comfortable shoes: Lisbon is known for its hilly terrain, so be sure to wear comfortable footwear that can handle the uneven streets.

Use a map or GPS: While exploring the city, it's helpful to have a map or GPS to guide you and ensure you don't get lost.

Stay hydrated: Carry a water bottle with you, especially during the hot summer months, to stay hydrated and energized.

Take breaks: Lisbon's many outdoor cafes and viewpoints offer perfect spots to rest and take in the city's beauty. Don't be afraid to pause and relax along the way.
Remember, Lisbon is a city meant to be explored on foot. So don't be afraid to wander off the beaten path and discover your own hidden gems. Happy exploring!
Alternative Transportation in Lisbon
Using electric scooters and bikes in Lisbon
Looking for an eco-friendly and efficient way to explore the beautiful city of Lisbon? Renting electric scooters or bikes may be the perfect solution for you. With an extensive network of bike lanes and bike-sharing services, getting around Lisbon on two wheels has never been easier. You can rent electric scooters or bikes from various companies like Lime, Bolt, or Gira, and simply use your smartphone to unlock and ride them. It's a fun and sustainable way to navigate the city while avoiding traffic and enjoying the scenic views.
Ferry and boat options for crossing the river
If you want to venture across the Tagus River to visit attractions like Cristo Rei or the charming town of Cacilhas, taking a ferry or boat is a fantastic choice. Several ferry and boat services operate in Lisbon, offering affordable and convenient transportation options. You can catch a ferry from Terreiro do Paço or Cais do Sodré and enjoy a pleasant ride with stunning views of the city skyline. It's a unique experience that allows you to see Lisbon from a different perspective.
Tuk-tuks and other unique ways to get around Lisbon
For a more unconventional and exciting way to explore Lisbon, hop on a tuk-tuk or try other unique modes of transportation. Tuk-tuks are three-wheeled vehicles that can navigate the narrow streets of the city, taking you on a personalized tour of the main attractions. You can also find vintage trams that still operate in certain parts of Lisbon, offering a nostalgic and authentic experience. Additionally, if you're feeling adventurous, you can rent a Segway or even try a traditional horse-drawn carriage ride in historic areas like Alfama.
By utilizing these alternative transportation methods, you'll not only have an enjoyable and memorable experience but also contribute to sustainable tourism. So, when you visit Lisbon, consider these options to get around the city in a fun, eco-friendly, and unique way.
Planning Day Trips from Lisbon
Day trip destinations near Lisbon
Are you planning a trip to Lisbon and wanting to explore beyond the city? Lucky for you, there are several charming towns and cities located near Lisbon that are perfect for day trips.
Sintra: Known for its fairytale-like castles and palaces, Sintra is a must-visit destination. Explore the colorful Pena Palace and the enchanting Quinta da Regaleira.

Cascais: This coastal town offers beautiful beaches and a vibrant atmosphere. Take a stroll along the marina, visit the historic center, and relax by the sea.

Óbidos: Step into a medieval wonderland in Óbidos. Walk along the ancient walls, admire the charming houses, and try the local cherry liqueur, Ginja.

Évora: Known for its well-preserved Roman ruins and medieval architecture, Évora is a UNESCO World Heritage Site. Don't miss the 2nd-century Roman Temple and the Gothic Cathedral.
Transportation options for visiting nearby towns and cities
Getting around Lisbon and its surroundings is relatively easy and convenient.
Train: The train network connects Lisbon to various nearby towns and cities. Trains are a popular choice for day trips, offering comfort and scenic views. Some popular train routes include Sintra, Cascais, and Óbidos.

Bus: Buses are another affordable option for day trips. They provide convenient connections to destinations such as Sintra, Cascais, and Évora.

Rental Car: If you prefer flexibility and independence, renting a car is a great option. It allows you to explore at your own pace and visit off-the-beaten-path destinations.
Tips for organizing and maximizing your day trips
To make the most of your day trips from Lisbon, consider the following tips:
Plan in advance: Research the destinations, check the schedules, and plan your itinerary accordingly.

Start early: To avoid crowds and make the most of your time, start your day trips early in the morning.

Stay organized: Keep track of train or bus schedules and make sure to allow enough time for transfers.

Pack essentials: Bring sunscreen, a hat, water, and comfortable walking shoes. Some destinations may require uphill walking or uneven terrain.

Be flexible: While it's good to have a plan, leave some room for spontaneity. Explore hidden gems and try local cuisine along the way.
By making the most of your day trips from Lisbon, you'll have the opportunity to experience the diverse beauty and rich history that Portugal has to offer.
Conclusion
Summary of the best transportation options in Lisbon
Exploring Lisbon is an exciting adventure, and getting around the city is made easy with various transportation options. The best ways to navigate Lisbon include the efficient metro system, the charming trams, and the convenient bus network. Additionally, walking is a great way to discover the city's hidden gems.
Recommendations for getting around efficiently and exploring the city
To make the most of your time in Lisbon, here are some recommendations for getting around efficiently and exploring the city:
Plan your routes: Before heading out, consider the places you want to visit and plan the most efficient routes using public transportation. This will save you time and ensure you maximize your sightseeing.

Use a rechargeable card: Invest in a rechargeable transportation card like the Viva Viagem card, which can be used for all public transportation modes. This will make your trips more convenient and cost-effective.

Embrace the trams: Lisbon's trams are not only a means of transportation but also an iconic symbol of the city. Hop on Tram 28 for a scenic journey through historic neighborhoods like Alfama and Graça.

Take advantage of Lisbon's compact size: The city center is relatively small and walkable. Consider exploring neighborhoods on foot to fully immerse yourself in the local atmosphere and discover hidden gems along the way.
Frequently Asked Questions about transportation in Lisbon
Is the Lisbon metro easy to navigate? Yes, the metro system in Lisbon is user-friendly, with clear signage and announcements in English. It is a convenient and efficient way to travel across the city.

Are taxis readily available in Lisbon? Taxis can be easily found in Lisbon, especially at taxi stands or hailed on the street. It's advisable to use licensed taxis with running meters and avoid unmarked vehicles.

Can I use Uber or other ride-sharing services in Lisbon? Yes, ride-sharing services like Uber are available in Lisbon and provide an alternative way to get around the city. Just ensure you have a reliable internet connection to book your rides.

Are there any transportation discounts available for tourists? Yes, Lisbon offers discounted transportation passes for tourists, such as the Lisboa Card. These cards provide unlimited travel on public transportation and include free or reduced admission to many attractions.
Exploring Lisbon is a delightful experience, and with these transportation tips, you can navigate the city with ease and make the most of your time discovering its vibrant culture and historical landmarks.
Some of the links provided are affiliate links that I earn a commission for, on any purchases made, at no extra cost to you. This helps me immensely to continue to do what I love.
I am a participant in the affiliate programs including CJ, AWIN and Amazon Services LLC Associates Program. Affiliate programs are designed to provide a means for creators and publishers to earn fees by linking to merchant websites. Thank you 🙏
Stress Free Travel Packing Are you planning your next big adventure? Whether you're heading off on a tropical vacation or a business trip, one thing…