Traditional Canadian Cuisine
Poutine: A Canadian delicacy
If you're visiting Ottawa, you can't miss indulging in the quintessential Canadian comfort food – poutine. This delicious dish originated in Quebec but has become a staple across the country, including Ottawa. Poutine consists of crispy french fries smothered in rich gravy and topped with cheese curds. The combination of flavors and textures is pure heaven. You can find poutine at various restaurants and food trucks throughout the city, each with its own twist on this classic dish. Don't leave Ottawa without trying this culinary delight!
BeaverTails: Unique Canadian pastries
Another must-try treat in Ottawa is BeaverTails. These unique pastries are shaped like a beaver's tail (hence the name) and are a beloved Canadian dessert. Made from fried dough, they are crispy on the outside and soft on the inside. BeaverTails are typically topped with a variety of delicious toppings such as cinnamon sugar, Nutella, or maple butter. They are perfect for satisfying your sweet tooth while exploring the city. Look for one of the BeaverTails trucks or visit their local shop to experience this Canadian delicacy.
Maple Syrup: Ottawa's sweetest treat
No visit to Ottawa would be complete without indulging in the city's sweetest treat – maple syrup. As the capital of Canada, Ottawa is located in the heart of maple country, making it an ideal place to sample this delicious local specialty. You can find maple syrup in various forms, from pure maple syrup to maple-infused products like candies, maple butter, and maple sugar. Be sure to visit local farmers' markets or specialty shops to purchase authentic maple syrup to take home as a souvenir or to drizzle over pancakes or waffles during your stay.
Ottawa offers a wide range of traditional Canadian cuisine that you simply must try while visiting. From savory poutine to sweet BeaverTails and maple syrup, exploring Ottawa's culinary delights is a must-do for any food lover. So, grab a fork and indulge in the flavors of Canada's capital city.
As you explore the vibrant city of Ottawa, you'll be delighted to find a wide range of international flavors at your fingertips. From Ethiopian cuisine to Indian and Thai dishes, Ottawa offers a culinary experience that will satisfy any food lover.
Ethiopian Cuisine: Authentic flavors of East Africa
If you're looking to try something new and exotic, Ethiopian cuisine is a must-try. Known for its unique flavors and vibrant spices, Ethiopian dishes are a culinary adventure. Injera, a spongy sourdough bread, is a staple in Ethiopian cuisine and is often served with a variety of stews and sautéed vegetables. Don't miss out on the opportunity to try Doro Wat, a spicy chicken stew, and Kitfo, a flavorful minced beef dish.
Indian Cuisine: Spicy and aromatic dishes
Indian cuisine is a culinary art that will leave your taste buds dancing with delight. Indulge in the aromatic flavors of traditional curries, biryanis, and tandoori dishes. Ottawa is home to a variety of Indian restaurants that offer a wide range of vegetarian and non-vegetarian options. Treat yourself to some butter chicken, samosas, or a flavorful masala dosa.
Thai Cuisine: A burst of flavors from Southeast Asia
If you're craving bold and vibrant flavors, Thai cuisine is the way to go. From spicy curries to tangy salads, Thai dishes are a harmonious blend of sweet, sour, salty, and spicy flavors. Treat yourself to some Pad Thai, Tom Yum soup, or Green Curry. Ottawa has several Thai restaurants that offer authentic dishes made with fresh ingredients and traditional techniques.
Whether you're a food enthusiast or someone simply looking to try new flavors, Ottawa has a fantastic selection of international cuisines to satisfy your cravings. Explore the city's diverse culinary scene and embark on a delicious journey around the world
Farm-to-Table Dining in Ottawa
Local Farmers' Markets: Fresh produce and artisanal products
If you're looking for a taste of Ottawa's vibrant food scene, head to the local farmers' markets. Here, you'll find a wide array of fresh produce and artisanal products straight from local farms. Ottawa boasts several farmers' markets, including the popular ByWard Market and the Parkdale Market. These markets offer a delightful mix of fruits, vegetables, meats, cheeses, baked goods, and much more. Not only will you be supporting local farmers, but you'll also get to savor the flavors of freshly harvested ingredients.
Farm-to-Table Restaurants: Sustainable and seasonal menus
Ottawa is home to many farm-to-table restaurants that pride themselves on serving sustainable and seasonal menus. These establishments prioritize working directly with local farmers and producers to source their ingredients. By dining at these restaurants, you can taste the difference that high-quality, farm-fresh ingredients can make in a dish. Some popular farm-to-table restaurants in Ottawa include Fauna, Allium, and Wilf & Ada's. Whether you're in the mood for a delicious brunch, a hearty lunch, or an elegant dinner, these restaurants offer a variety of delectable options to satisfy your cravings.
Craft Breweries: Perfect pairings for farm-fresh meals
To complement your farm-to-table meal, why not enjoy a craft beer brewed right here in Ottawa? The city boasts a vibrant craft beer scene with numerous breweries offering unique and flavorful brews. Many of these breweries place an emphasis on using local ingredients, making them the perfect pairing for your farm-fresh meal. Some notable breweries to check out include Dominion City Brewing Co., Beyond the Pale Brewing Company, and Tooth and Nail Brewing Company. So raise a glass, support local brewers, and savor the delicious combination of farm-fresh cuisine and locally crafted beer.
Whether you're a foodie or simply looking for a memorable dining experience, Ottawa has plenty to offer in terms of farm-to-table dining. From exploring the farmers' markets to indulging in delicious farm-fresh meals at restaurants and enjoying a locally brewed beer, you're sure to find something to satisfy your appetite for quality, sustainable, and flavorful cuisine.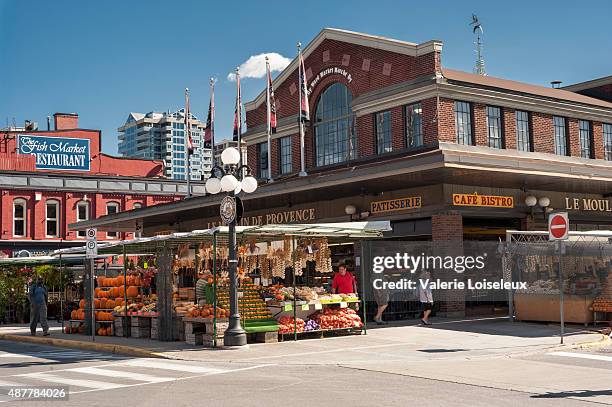 Hidden Gems and Foodie Favorites
ByWard Market: Ottawa's culinary epicenter
If you're looking for a diverse range of food options, ByWard Market is the place to be. This bustling neighborhood in downtown Ottawa is known for its vibrant food scene, with a wide variety of restaurants, cafes, and food stalls to choose from.
Whether you're in the mood for fresh seafood, delicious pastries, or international cuisine, ByWard Market has it all. Don't miss out on trying the local specialties like poutine, a Canadian classic made with french fries, cheese curds, and gravy. And if you're a fan of desserts, be sure to stop by BeaverTails, a popular spot for indulging in sweet treats.
Shawarma Palace: The best shawarma in town
If you're craving Middle Eastern flavors, head to Shawarma Palace for the best shawarma in Ottawa. This local favorite offers a wide range of mouthwatering options, from juicy chicken or beef shawarma wrapped in warm pita bread to flavorful falafel wraps. With generous portions and a friendly atmosphere, Shawarma Palace is a must-visit for any food lover.
Wellington West: Rising food scene and trendy eateries
Wellington West is an up-and-coming neighborhood in Ottawa with a growing reputation for its food scene. Here, you'll find a mix of trendy restaurants, cozy cafes, and artisanal shops. From farm-to-table eateries to craft breweries, Wellington West has something for everyone.
Be sure to check out the diverse range of international cuisines available, including Thai, Indian, and Italian. And don't forget to explore the neighborhood's local farmers' market, where you can find fresh produce and unique food products.
So, whether you're a foodie looking to explore Ottawa's culinary delights or a visitor searching for hidden gems, these three destinations should definitely be on your list. From the bustling ByWard Market to the mouthwatering shawarmas at Shawarma Palace and the trendy eateries of Wellington West, Ottawa has something to satisfy every palate.
Conclusion
Explore Ottawa's diverse and delicious food scene
If you're a food lover, Ottawa is a city that you don't want to miss. From international cuisines to local delicacies, there is something to satisfy every palate. Make sure to try the iconic BeaverTails, delicious poutine, and mouthwatering Shawarma. Don't forget to indulge in some sweet treats at the local bakeries and patisseries. Ottawa's food scene is diverse, vibrant, and constantly evolving, so be prepared to discover new flavors and culinary experiences.
Tips for planning your food adventures in the city
Research and plan ahead: Before your trip, do some research on the best restaurants, food markets, and food events in Ottawa. This will help you create a food itinerary and ensure you don't miss any must-try establishments.

Embrace the local cuisine: While exploring Ottawa's food scene, be sure to try the local specialties and traditional dishes. This will give you a true taste of the city's culinary culture.

Ask locals for recommendations: Locals are often the best source of insider knowledge when it comes to food. Don't hesitate to ask for recommendations or strike up conversations with the locals to discover hidden gems and off-the-beaten-path eateries.
Frequently Asked Questions about dining in Ottawa
Q: What is the best time to visit Ottawa for food lovers?
A: Ottawa hosts numerous food festivals throughout the year, so there isn't a specific best time. However, the summer months are particularly vibrant, with outdoor food markets and food-related events taking place.
Q: Are there vegetarian or vegan options in Ottawa?
A: Absolutely! Ottawa is known for its diverse culinary scene, and that includes a wide range of vegetarian and vegan options. Many restaurants offer plant-based dishes, and there are dedicated vegan and vegetarian establishments as well.
Q: Can I find international cuisines in Ottawa?A: Yes, Ottawa is home to a variety of international cuisines, including Italian, Indian, Thai, Middle Eastern, and more. You'll have plenty of options to satisfy your cravings for different flavors from around the world.
Exploring Ottawa's food scene is a delightful adventure that will introduce you to a world of flavors. Whether you're seeking local specialties or international cuisines, Ottawa has it all. So come hungry and ready to indulge in the city's diverse and delicious offerings.
Some of the links provided are affiliate links that I earn a commission for, on any purchases made, at no extra cost to you. This helps me immensely to continue to do what I love.
I am a participant in the affiliate programs including CJ, AWIN and Amazon Services LLC Associates Program. Affiliate programs are designed to provide a means for creators and publishers to earn fees by linking to merchant websites. Thank you 🙏
Stress Free Travel Packing Are you planning your next big adventure? Whether you're heading off on a tropical vacation or a business trip, one thing…