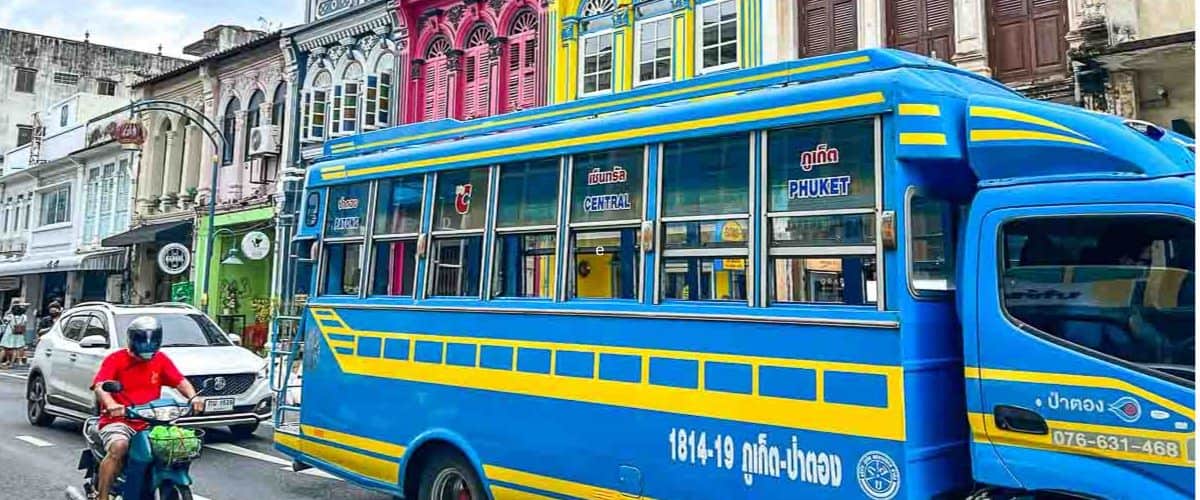 Transportation Options in Phuket
Getting to Phuket
If you're planning a trip to Phuket, you're in for a fantastic experience! The first step is figuring out how to get there. Fortunately, Phuket is well-connected and offers several transportation options.
Air travel and international airports
The most convenient way to reach Phuket is by air. Phuket International Airport (HKT) is the main gateway, serving both domestic and international flights. There are direct flights from major cities across Asia, Europe, and the Middle East. Once you land at the airport, you can easily commute to your hotel using the various transportation options available.
Getting around Phuket
Phuket offers a range of transportation options to help you explore the island and get around conveniently.
Taxis: Taxis are readily available in Phuket. Make sure to negotiate the fare before starting your journey or consider using metered taxis with a fixed rate.

Tuk-tuks: Tuk-tuks are a popular mode of transportation in Phuket. These colorful three-wheeled vehicles can navigate through traffic quickly, making them ideal for short distances.

Motorbike rentals: If you're comfortable riding a motorbike, renting one can give you the freedom to explore Phuket at your own pace. However, ensure you have a valid driver's license and wear a helmet for safety.

Car rentals: Renting a car is another convenient option, especially if you plan to explore beyond the main tourist areas. This gives you the flexibility to visit attractions at your own time and enjoy scenic drives around the island.

Public transportation: Phuket also has a public bus system, which is an affordable option for getting around. However, be prepared for longer travel times and limited routes.
Taxi and ridesharing services
Apart from traditional taxis, Phuket also has ridesharing services like Grab and Uber. These smartphone apps allow you to book a ride with a driver who can take you to your desired destination, providing a convenient and reliable transportation option.
With these transportation options available, getting around Phuket is a breeze. Choose the option that suits your preferences and enjoy exploring the beautiful island to its fullest!
Public Transportation in Phuket
Phuket local buses and routes
If you're looking for an affordable and convenient way to get around Phuket, the local buses are a great option. These buses, known as songthaews, are actually converted pick-up trucks with covered beds and bench seats along the sides. They are easily recognizable by their vibrant colors.
Phuket has two main bus routes that cover most areas of the island. The blue bus route runs from Phuket Town to Patong Beach, while the red bus route goes from Phuket Town to Kamala Beach. The buses run frequently and are a cost-effective way to travel between popular destinations.
Tuk-tuks and motorbike taxis in Phuket
When it comes to short distances or exploring off-the-beaten-path areas, tuk-tuks and motorbike taxis are the go-to options in Phuket. Tuk-tuks are three-wheeled vehicles that can accommodate up to six passengers. They are easily found near tourist areas and are known for their colorful decorations.
Motorbike taxis provide a faster and more flexible transportation option. You can easily spot them on the streets with their drivers wearing brightly colored vests. Just hop on the back of a motorbike and you're good to go.
It's important to note that tuk-tuks and motorbike taxis do not have fixed fares. Negotiating the price before getting on is common practice. Make sure to agree on the fare beforehand to avoid any surprises.
Whether you choose to ride the local buses or opt for tuk-tuks and motorbike taxis, Phuket offers a variety of transportation options to suit your needs and budget. Exploring the island has never been easier, so go ahead and start your adventure in this tropical paradise!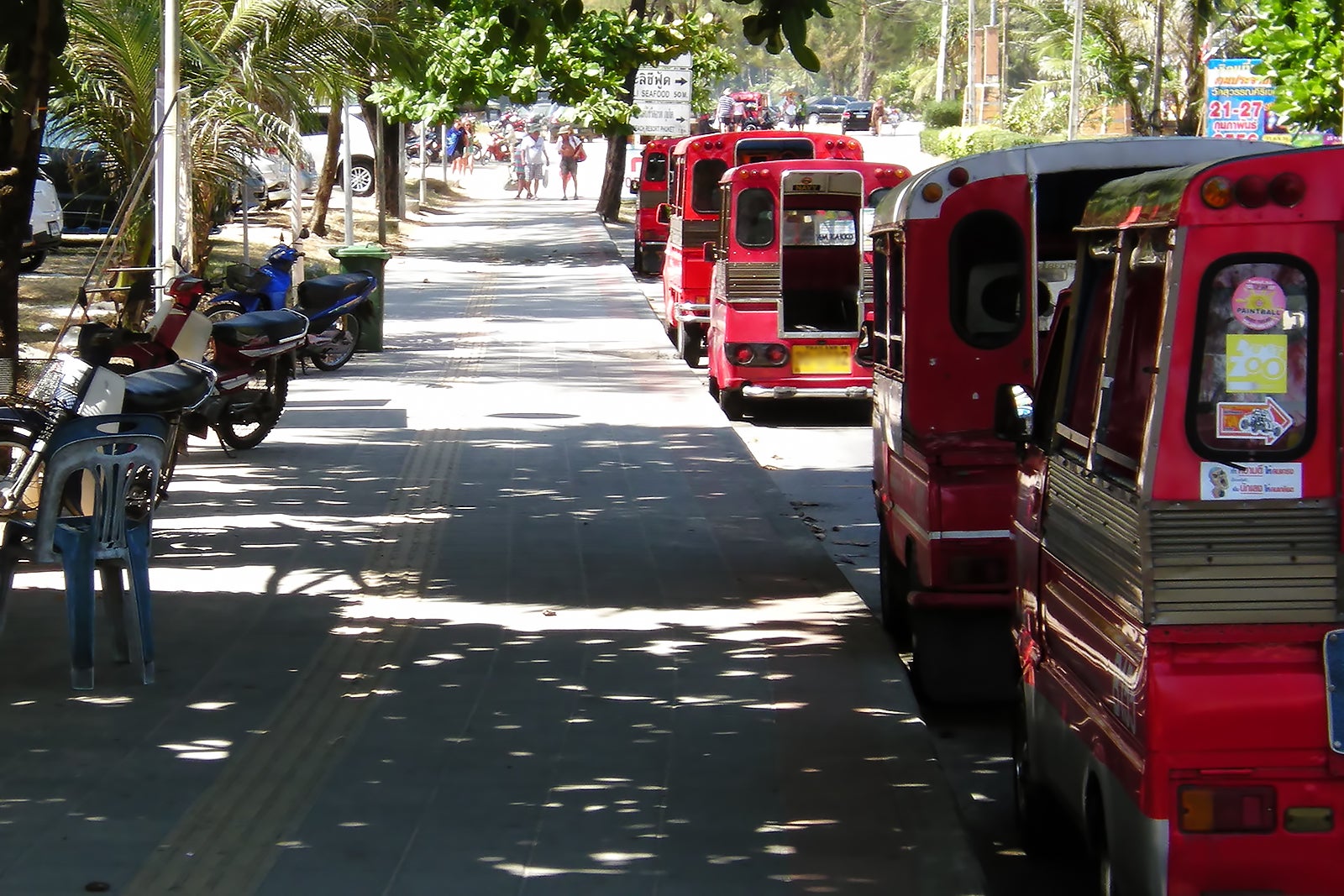 Renting a Vehicle in Phuket
Car rental options and considerations
If you're looking for flexibility and convenience, renting a car in Phuket is a great option. There are numerous car rental agencies to choose from, both international and local. It's important to consider a few things before making your selection:
Price: Compare prices from different rental companies to find the best deal. Keep in mind that rates may vary depending on the season, so booking in advance can save you money.

Insurance: Make sure you understand the insurance coverage provided by the rental company. Additional coverage may be necessary, especially for driving in Thailand.

Vehicle condition: Before signing any rental agreement, inspect the car for any damages and take note of them. This will prevent any potential disputes regarding damages when returning the vehicle.
Motorbike rental in Phuket
Renting a motorbike is a popular option for getting around in Phuket. It offers a sense of freedom and allows you to explore the island at your own pace. However, there are a few things to keep in mind:
License and experience: You must have a valid international or Thai motorbike license to rent and operate a motorbike in Phuket. Additionally, make sure you are comfortable and experienced riding a motorbike in busy traffic.

Safety: Always wear a helmet and drive defensively. Thai roads can be busy and chaotic, so it's important to stay alert and follow traffic rules.
Dos and don'ts
Here are a few dos and don'ts to help you navigate around Phuket:
Do check the fuel: Make sure you have enough fuel before embarking on your journey. Gas stations are plentiful, but it's always a good idea to fill up when you spot one.

Do drive cautiously: Be mindful of pedestrians, other vehicles, and stray animals on the road. Drive at a reasonable speed and avoid reckless behavior.

Don't drink and drive: Thailand has strict laws against driving under the influence. If you plan on drinking, use public transportation or hire a taxi to get around.

Don't leave valuables in the car or motorbike: To prevent theft, always take your belongings with you or lock them in the trunk.
Renting a vehicle in Phuket provides the freedom to explore the island at your own pace. Just remember to drive responsibly and follow the rules of the road for a safe and enjoyable experience.
Exploring Phuket by Foot
When it comes to navigating Phuket, hitting the streets on foot can be a fantastic way to immerse yourself in the vibrant culture and beautiful scenery. So slip on your walking shoes and get ready to explore!
Walking tours in Phuket Town
Take a leisurely stroll through Phuket Town and discover its rich history and charming streets. There are several walking tours available that will guide you through the town's colorful buildings, bustling markets, and ornate temples. Don't forget to stop by the Old Town area, where you can admire the Sino-Portuguese architecture and grab a bite to eat at one of the local cafes.
Beach hopping on foot
With its picturesque coastline, Phuket offers numerous opportunities for beach hopping on foot. Start at Patong Beach, the island's most popular stretch of sand, where you can soak up the sun and enjoy a refreshing dip in the crystal-clear waters. From there, make your way to Karon Beach and Kata Beach, both known for their beautiful scenery and excellent water activities.
Must-visit beaches
While exploring Phuket on foot, be sure to visit some of the must-see beaches that the island has to offer. Freedom Beach, hidden away from the crowds, boasts stunning turquoise waters and powdery white sand. If you're seeking a peaceful escape, check out Yanui Beach, a hidden gem with calm waters and awe-inspiring views. And don't forget to stop by the iconic Promthep Cape, where you can capture breathtaking sunsets and take in panoramic views of the Andaman Sea.
Phuket is a destination that begs to be explored, and getting around on foot allows you to fully appreciate its beauty and charm. So grab a map, lace up your shoes, and set off on an unforgettable adventure through this tropical paradise.
Boat and Ferry Services in Phuket
Phuket to Phi Phi Island
If you're in Phuket and looking to explore the beautiful Phi Phi Island, you're in luck! There are regular boat and ferry services that will take you from Phuket to Phi Phi Island in around 1.5-2 hours. You can choose between speedboats or slow ferries, depending on your preferences and budget. Make sure to check the schedule and book your tickets in advance, especially during peak travel seasons, as these services can get quite busy.
Ferry schedules and options
Apart from Phi Phi Island, Phuket also serves as a gateway to other nearby islands like Koh Yao Yai, Koh Racha, and Krabi. There are various ferry services available that can take you to these destinations. It's advisable to check the ferry schedules in advance as they can vary depending on the season and weather conditions. Some popular ferry companies include Phi Phi Cruiser, Andaman Wave Master, and Ao Nang Travel.
Island hopping tours and private boat charters
For a more personalized and flexible experience, you can opt for island hopping tours or private boat charters. These options allow you to explore multiple islands at your own pace and choose your preferred itinerary. Many tour operators in Phuket offer half-day or full-day tours that include visits to popular locations like James Bond Island, Maya Bay, and Monkey Beach. Private boat charters are a great option for large groups or families looking for a more exclusive and intimate experience.
Remember to plan your boat and ferry trips in advance, check the weather conditions, and be mindful of any travel restrictions or regulations. Phuket is a paradise for island hopping, and with the right transportation options, you can easily explore the stunning islands and beaches in the region.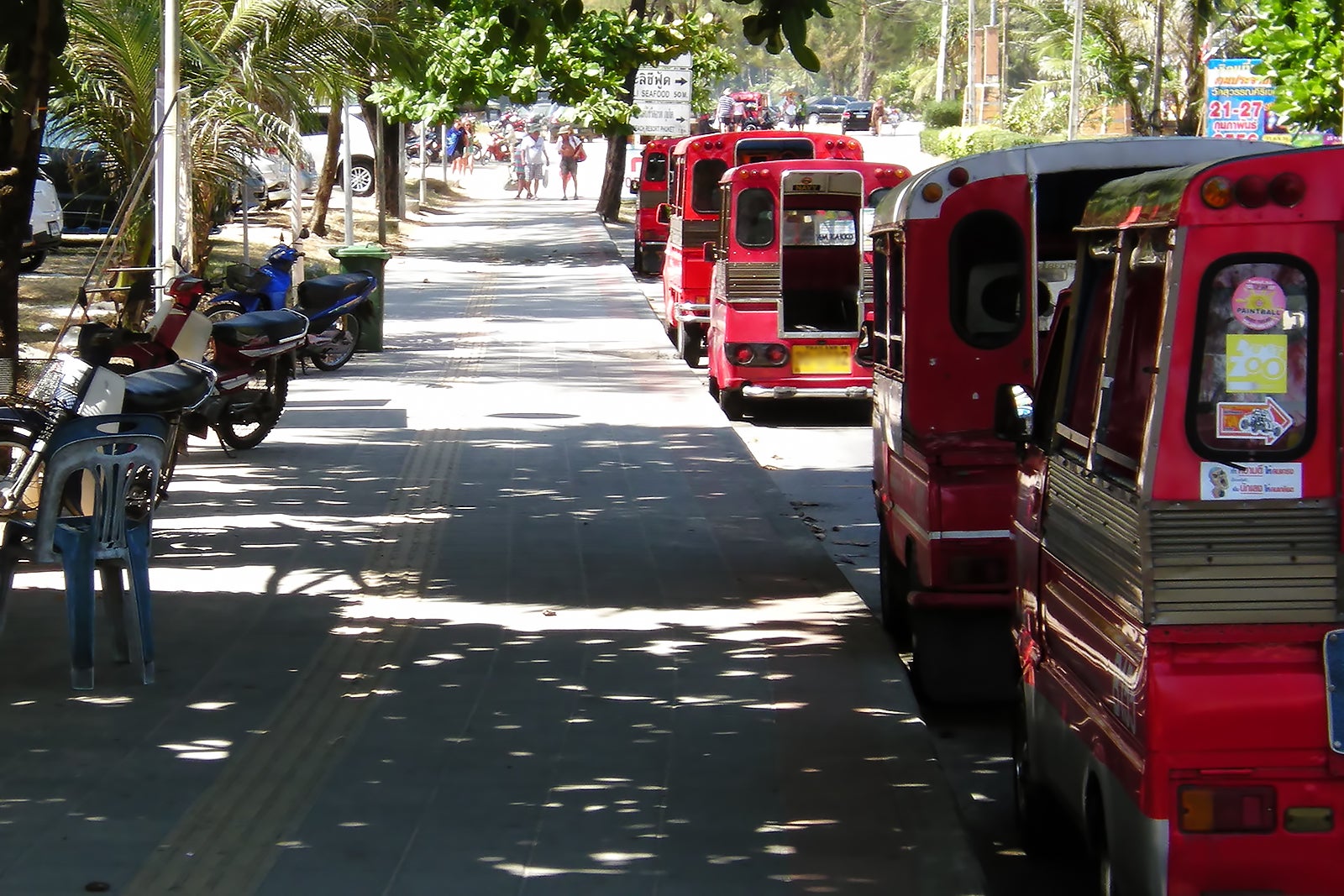 Conclusion
Navigating through a new destination can sometimes be a daunting task, but with the right knowledge and preparation, getting around Phuket can be a breeze. By following these tips and utilizing the recommended transportation modes, you can ensure a smooth and efficient journey during your visit to this beautiful island.
Tips for getting around Phuket efficiently and safely
Plan your routes: Before heading out, familiarize yourself with the map and plan your routes in advance. This will help you save time and avoid getting lost.

Use reliable transportation apps: There are several transportation apps available in Phuket, such as Grab and Go-Jek, which can help you find safe and affordable rides. These apps also provide real-time updates on the drivers and fares.

Avoid rush hours: Phuket can experience heavy traffic during peak hours, so try to plan your travels accordingly. Avoiding rush hours can help you save time and minimize frustration.

Stay vigilant: While Phuket is generally safe, it's always important to remain vigilant and aware of your surroundings. Keep your belongings secure and be cautious when using public transportation.
Recommended transportation modes for different situations
Tuk-tuks: Tuk-tuks are a popular mode of transportation in Phuket, especially for short distances. Negotiate the fare before getting in to avoid any misunderstandings.

Taxis: Taxis are readily available in Phuket and provide a comfortable and convenient option for getting around. Make sure the taxi is equipped with a meter or agree on a fixed fare before starting the journey.

Motorbikes: For a more adventurous experience, you can rent a motorbike in Phuket. Make sure you have the necessary license and wear a helmet at all times.

Buses: Phuket has an extensive bus network that covers various parts of the island. Buses are an affordable option for long-distance travel, but they may not always be the most convenient.
By following these tips and utilizing the recommended transportation modes, you can make the most of your time in Phuket and explore the island with ease. Happy travels!
Some of the links provided are affiliate links that I earn a commission for, on any purchases made, at no extra cost to you. This helps me immensely to continue to do what I love.
I am a participant in the affiliate programs including CJ, AWIN and Amazon Services LLC Associates Program. Affiliate programs are designed to provide a means for creators and publishers to earn fees by linking to merchant websites. Thank you 🙏
Traveling can be stressful, but having the right gear can make all the difference. One essential item for any traveler is a carry-on travel suitcase…