Public Transportation in Seattle
Are you planning a trip to Seattle and wondering how to get around the city efficiently? Look no further than the city's reliable public transportation system. With a mix of buses, light rail, streetcars, and monorail, Seattle offers convenient options to explore the city without the hassle of driving.
Metro bus system in Seattle
The backbone of Seattle's public transportation is the Metro bus system. With over 200 bus routes covering the entire city and its suburbs, you can easily reach almost any destination. The buses are equipped with GPS, ensuring accurate arrival times that can be accessed through mobile apps or online.
Link Light Rail and Sound Transit
For longer journeys or traveling outside of the city center, the Link Light Rail and Sound Transit services are the way to go. The Link Light Rail connects downtown Seattle with the airport, making it a convenient option for travelers. Sound Transit offers commuter trains and buses that connect the city with neighboring areas like Bellevue and Tacoma.
Using the Seattle Streetcar and Monorail
For shorter distances within the city center, the Seattle Streetcar and Monorail are excellent choices. The streetcar system operates two lines, connecting major neighborhoods and attractions like the Capitol Hill, Pioneer Square, and the South Lake Union. The iconic Monorail runs from Westlake Center to Seattle Center, where you can visit the Space Needle and the Museum of Pop Culture.
In summary, Seattle's public transportation system provides a hassle-free way to navigate the city. Whether you prefer buses, light rail, streetcars, or monorail, you have plenty of options to explore the Emerald City and all it has to offer. So sit back, relax, and enjoy your journey!
Exploring Seattle by Foot
Are you ready to discover the vibrant city of Seattle on foot? With its stunning architecture, bustling neighborhoods, and picturesque waterfront, Seattle is a walker's paradise. Whether you're a local looking to explore your own city or a visitor soaking in the sights, walking is one of the best ways to experience the Emerald City.
Highlights of walking tours in downtown Seattle
The Pike Place Market: Start your walking tour at this iconic landmark and immerse yourself in the sights, sounds, and flavors of Seattle. Indulge in fresh produce, artisanal crafts, and world-famous seafood.

Seattle Waterfront: Take a leisurely stroll along the water and enjoy breathtaking views of the Puget Sound. Don't miss the opportunity to visit the Seattle Great Wheel and explore the lively waterfront shops and restaurants.

Pioneer Square: Discover the historic heart of Seattle with its beautifully preserved architecture, art galleries, and charming cafes. Join a guided tour to learn about the city's rich history and cultural heritage.
Popular neighborhoods to explore on foot
Capitol Hill: Known for its vibrant nightlife, eclectic shops, and trendy eateries, Capitol Hill offers a lively and diverse atmosphere. Explore its leafy streets and discover hidden gems.

Fremont: Quirky and artistic, Fremont is home to the famous Fremont Troll and hosts a vibrant Sunday Market. Explore the neighborhood's unique sculptures, boutiques, and art galleries.

Ballard: Experience the maritime charm of Ballard, known for its historic significance and Scandinavian heritage. Discover local breweries, boutique shops, and the popular Ballard Locks.
Tips for walking safely and efficiently in Seattle
Wear comfortable shoes: Seattle is a hilly city, so make sure to wear shoes that are suitable for walking on uneven terrain.
Stay hydrated: Carry a water bottle and stay hydrated, especially during the warmer months.
Plan your route: Use maps or mobile apps to plan your walking routes and explore different neighborhoods efficiently.
Be mindful of traffic: Pay attention to pedestrian signals and crosswalks when navigating busy intersections.
Stay alert: Always be aware of your surroundings, especially in crowded areas, and keep your valuables secure.
So, put on your walking shoes and embark on an unforgettable Seattle adventure on foot!
Getting Around Seattle by Bike
Whether you're a local or a visitor, exploring Seattle by bike is a convenient and eco-friendly way to get around the city. With its bike-friendly infrastructure, bike sharing programs, and scenic routes, Seattle offers a great experience for cyclists of all levels.
Seattle's bike-friendly infrastructure
Seattle boasts an extensive network of bike lanes, trails, and paths. The city has over 120 miles of bike lanes and designated bike routes, making it easy to navigate and travel safely. Additionally, there are bike-friendly bridges, such as the Fremont Bridge, which is equipped with bike lanes and signals. The infrastructure has been designed to ensure the safety and convenience of cyclists, making biking a popular mode of transportation.
Bike sharing programs and rentals
For those who don't own a bike or are visiting Seattle, there are several bike sharing programs available. Companies like Lime, JUMP, and Spin offer affordable and convenient options for renting bikes. Simply download the app, find a bike nearby, unlock it with your phone, and start exploring the city. Many bike rental shops also offer a variety of bikes to choose from, including electric bikes, mountain bikes, and cruisers.
Best routes for cycling and exploring the city
Seattle is known for its stunning views, and there are many scenic routes that cyclists can enjoy. The Burke-Gilman Trail is a popular choice, offering a 27-mile stretch of paved path that takes you through beautiful neighborhoods, parks, and along the shores of Lake Washington and the Puget Sound. Other notable routes include the Alki Trail, which offers breathtaking views of the city skyline, and the Seattle Waterfront, which takes you along the picturesque Elliott Bay.
Exploring Seattle by bike allows you to soak in the city's unique atmosphere, discover hidden gems, and avoid traffic congestion. So grab a bike, put on your helmet, and start pedaling your way through the Emerald City.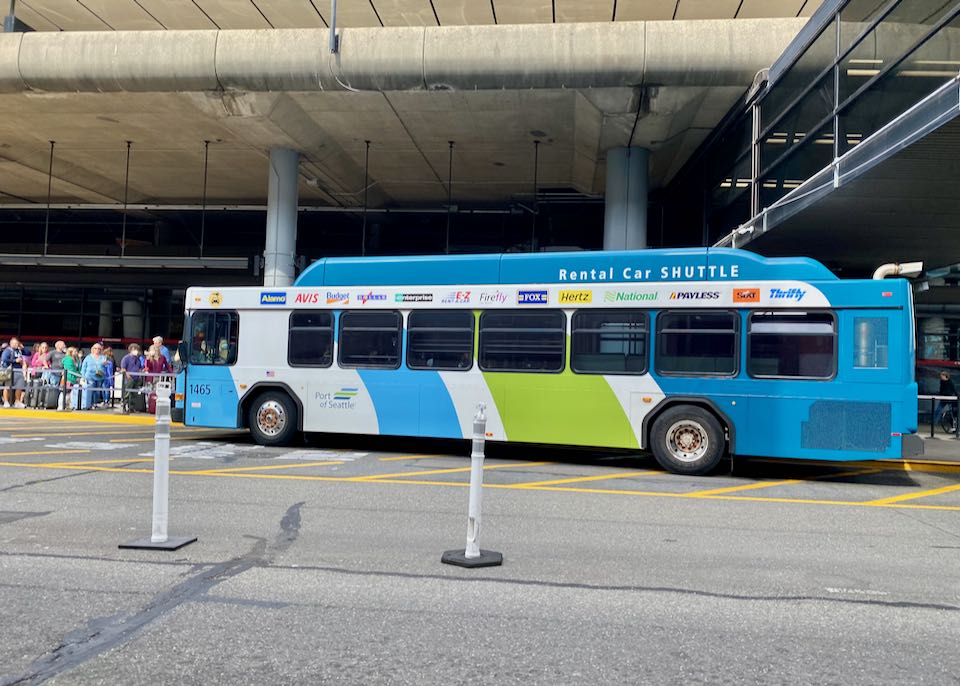 Car Rental and Taxis in Seattle
Navigating Seattle with a rental car
If you're planning a trip to Seattle and want the flexibility to explore the city at your own pace, renting a car is a great option. With a rental car, you can easily navigate through the different neighborhoods and attractions without having to rely on public transportation schedules. Plus, Seattle's well-maintained roads make driving a pleasant experience. Just be aware that parking in the city can be challenging, so it's recommended to plan ahead and utilize paid parking lots or garages.
Popular car rental agencies in the city
Seattle is home to several well-known car rental agencies that offer a wide range of vehicle options to suit your needs. Some of the most popular rental companies include Enterprise, Hertz, Avis, Budget, and Alamo. It's advisable to compare prices, check customer reviews, and book your rental car in advance to ensure availability and secure the best deal.
Alternative transportation options like Uber and Lyft
If you prefer not to rent a car or simply want to avoid the hassle of parking, there are convenient alternatives available in Seattle. Ride-hailing services like Uber and Lyft are widely available and provide a convenient and reliable way to get around the city. Just download the respective apps on your phone, request a ride, and a driver will pick you up at your location. These services are especially useful if you only need transportation for shorter distances or if you plan on enjoying some drinks during your time in the city.
Whether you choose to rent a car or use a ride-hailing service, getting around Seattle is relatively easy. Just make sure to plan your routes, budget for parking or transportation costs, and enjoy exploring the vibrant city and its many attractions.
Ferries and Water Taxis in Seattle
Overview of the Washington State Ferries
If you're looking for a unique and scenic way to get around Seattle, consider taking a ride on the Washington State Ferries. These ferries provide transportation for both passengers and vehicles and offer breathtaking views of the surrounding waters and mountains. With multiple routes available, you can easily explore the area's many islands and attractions. Be sure to check the ferry schedule and plan your trip accordingly to make the most of your experience.
Connecting Seattle to nearby islands
The Washington State Ferries connect Seattle to various nearby islands, including Bainbridge Island, Vashon Island, and the San Juan Islands. Each island has its own charm and attractions, such as beautiful beaches, quaint towns, and picturesque hiking trails. Whether you're looking for a day trip or a weekend getaway, these ferry rides provide a convenient and enjoyable way to explore the region.
Water taxi services and scenic cruises
In addition to the Washington State Ferries, Seattle also offers water taxi services and scenic cruises. The water taxis provide a quick and efficient way to commute between downtown Seattle and neighborhoods like West Seattle and Vashon Island. On the other hand, scenic cruises offer a leisurely way to see the city's skyline and landmarks from the water. Whether you're a local or a visitor, these options allow you to experience Seattle's unique waterfront culture.
With its stunning natural beauty and vibrant cityscape, Seattle offers a variety of transportation options that go beyond the typical buses and trains. So next time you're in the Emerald City, consider hopping on a ferry or water taxi for an unforgettable adventure.
Exploring the Outskirts of Seattle
If you find yourself in Seattle and want to explore the beautiful surroundings, you have several options to get around. Whether you prefer public transportation or driving, there are fantastic day trips you can take to make the most of your time in the Emerald City.
Day trips from Seattle by public transportation
Seattle has an excellent public transportation system that allows you to visit nearby attractions without the hassle of driving. Here are some popular destinations you can reach by bus or light rail:
Olympic National Park: Take a bus and immerse yourself in the stunning natural beauty of Olympic National Park. Explore the lush rainforests, hike to breathtaking waterfalls, and enjoy the pristine beaches.

Mount Rainier National Park: Hop on a bus or the Sounder train to experience the iconic Mount Rainier. Marvel at the majestic mountain, go hiking on scenic trails, and witness the vibrant wildflower meadows.

Whidbey Island: Catch a ferry and escape to Whidbey Island, known for its picturesque landscapes, charming small towns, and stunning coastal views. Take a leisurely stroll on the beach or visit the historic lighthouses.
Driving to scenic destinations outside the city
If you prefer the flexibility and freedom of driving, there are several scenic destinations you can reach from Seattle:
Leavenworth: Drive east to the Bavarian-style village of Leavenworth, surrounded by the breathtaking Cascade Mountains. Explore the charming town, attend festivals, and enjoy outdoor activities like hiking and river rafting.

San Juan Islands: Embark on a ferry journey to the San Juan Islands, a paradise for nature lovers. Discover the stunning landscapes, spot whales, go kayaking, and indulge in fresh seafood.

Mt. St. Helens: Drive south to witness the extraordinary aftermath of the volcanic eruption at Mt. St. Helens. Explore the visitor center, hike through the blast zone, and take in the awe-inspiring views.
Remember, whether you choose public transportation or decide to drive, be sure to plan your trips in advance and check the schedules to make the most of your adventures around Seattle.
Conclusion
If you're planning a trip to Seattle, navigating the city can sometimes be a challenge. However, with these helpful tips and information, you'll be able to get around efficiently and safely. From utilizing public transportation to exploring the city's bike-friendly infrastructure, there are various options available to suit your preferences. Take advantage of the convenient transportation services and make the most out of your time in Seattle.
Tips for efficient and safe transportation in Seattle
Use Public Transportation: Seattle has an extensive public transportation system, including buses, light rail, and streetcars. Using these modes of transport can be an affordable and convenient way to get around the city.

Explore Bike Options: Seattle is known for being bike-friendly, with many bike lanes and rental services available. Renting a bike can be a great way to explore the city at your own pace while enjoying its scenic views.

Consider Ride-Sharing Services: Ride-sharing services such as Uber and Lyft are readily available in Seattle. They provide a convenient and reliable way to travel around the city, especially if you're in a hurry or prefer door-to-door service.
Frequently Asked Questions about getting around Seattle
Q: Is parking difficult in Seattle?
A: Parking can be a challenge in busy areas of the city. It's recommended to use public transportation or park in designated parking garages.
Q: Are there alternatives to driving in Seattle?
A: Yes, Seattle offers various alternatives such as public transportation, biking, and walking. These options can be more cost-effective and environmentally friendly.
Q: Can I use my mobile phone for payment on public transportation?A: Yes, Seattle's public transportation system accepts mobile payment options. Using mobile wallets or apps makes it easy and convenient to pay for fares.
Remember to plan ahead, familiarize yourself with transportation options, and enjoy exploring the beautiful city of Seattle!
Some of the links provided are affiliate links that I earn a commission for, on any purchases made, at no extra cost to you. This helps me immensely to continue to do what I love.
I am a participant in the affiliate programs including CJ, AWIN and Amazon Services LLC Associates Program. Affiliate programs are designed to provide a means for creators and publishers to earn fees by linking to merchant websites. Thank you 🙏
Stress Free Travel Packing Are you planning your next big adventure? Whether you're heading off on a tropical vacation or a business trip, one thing…