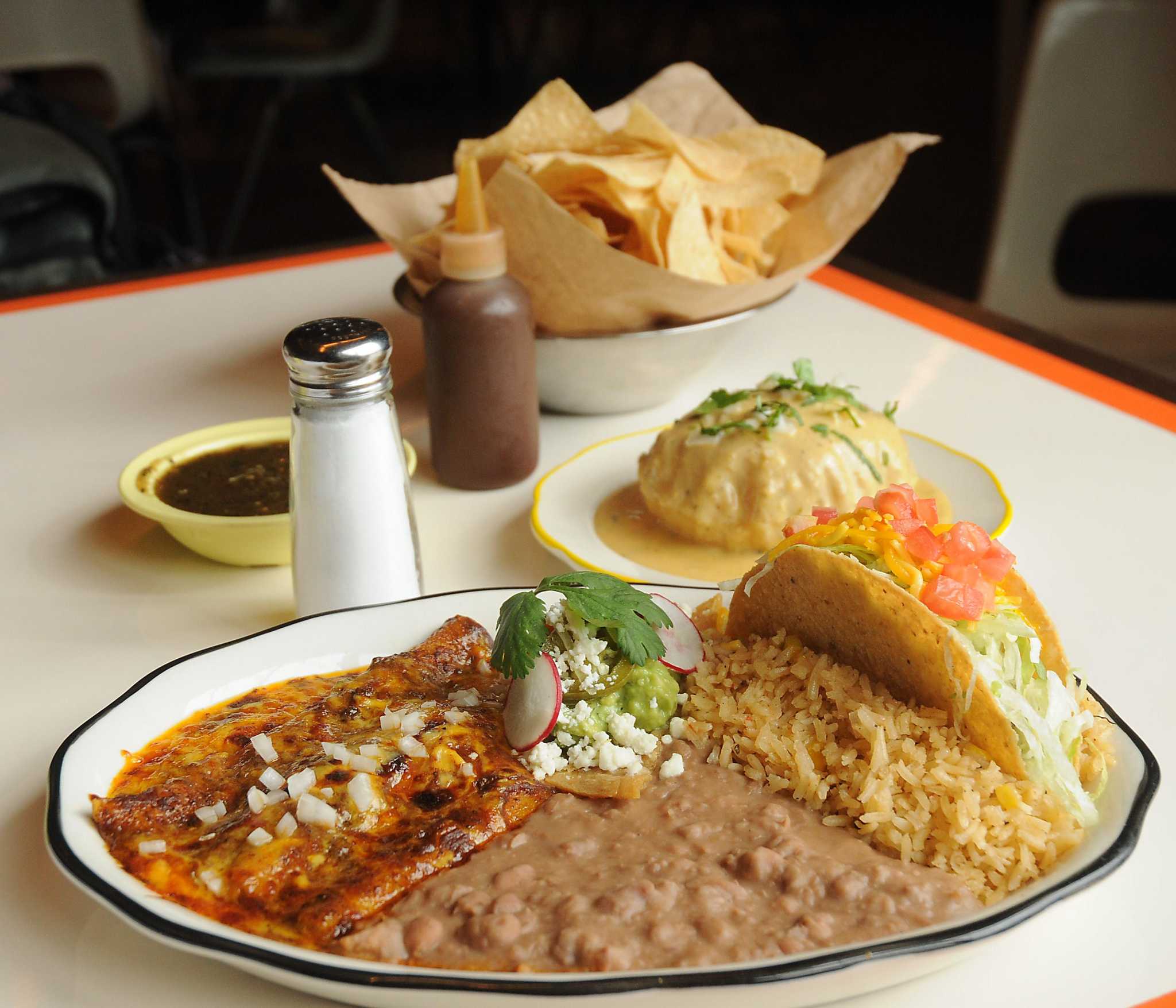 Tex-Mex Delights
Classic Tex-Mex Dishes to Try in Houston
If you find yourself in Houston, you're in for a treat when it comes to Tex-Mex cuisine. Here are some classic dishes you must try:
Tacos al Pastor: These delicious tacos are made with marinated pork cooked on a vertical spit, topped with pineapple, cilantro, and onion. The combination of flavors is simply mouthwatering.

Enchiladas: Houston is known for its enchiladas, and there are various types to choose from. Whether you prefer cheese, beef, chicken, or seafood, you won't be disappointed.

Fajitas: Fajitas are a Tex-Mex staple, and Houston offers some of the best. Grilled meat, peppers, and onions served with warm tortillas and all the fixings make for a satisfying meal.
Popular Tex-Mex Restaurants in the City
When it comes to Tex-Mex restaurants, Houston has plenty of options. Here are a few popular ones worth checking out:
Ninfa's: Known as the place that popularized fajitas, Ninfa's has been serving up delicious Tex-Mex since 1973. Their homemade tortillas and flavorful salsas are a must-try.

El Tiempo Cantina: With multiple locations in the city, El Tiempo Cantina is a Houston favorite. Their sizzling fajitas, cheesy enchiladas, and refreshing margaritas will leave you wanting more.

Hugo's: If you're looking for a more upscale Tex-Mex dining experience, Hugo's is the place to go. Chef Hugo Ortega creates stunning dishes using traditional Mexican flavors and ingredients.
Tex-Mex Food Trucks and Street Food Options
For those who prefer a more casual dining experience, Houston's Tex-Mex food trucks and street food options are a must-try. Here are a couple of recommendations:
Tacos Tierra Caliente: This food truck in the Montrose neighborhood is a local favorite. Their tacos, especially the barbacoa, are delicious. Don't forget to try their homemade salsas.

La Macro: Located in the EaDo district, La Macro offers a variety of street food options, including tacos, tortas, and quesadillas. Their creative flavor combinations will satisfy any Tex-Mex craving.
Houston offers a wide range of Tex-Mex delights that will satisfy even the most discerning palate. So don't miss the opportunity to indulge in this delicious cuisine while you're in town!
Seafood Extravaganza
Fresh Seafood Restaurants in Houston
If you're a seafood lover, you're in luck because Houston offers a plethora of fresh seafood restaurants. For a classic seafood experience, head to places like Pappadeaux Seafood Kitchen, Goode Company Seafood, or The Oceanaire Seafood Room. These restaurants source their seafood locally and offer a wide variety of delicious dishes, from shrimp and crab to fresh catches of the day. Don't forget to try their signature seafood gumbo, a true taste of the Gulf Coast.
Must-Try Seafood Specialty Dishes
When in Houston, there are a few seafood specialty dishes you simply can't miss. Start off with some delicious crawfish étouffée, a rich and flavorful Cajun dish made with crawfish, vegetables, and spices served over rice. Another popular choice is the famous Texas shrimp and grits, where succulent shrimp is paired with creamy grits and smothered in a savory sauce. For a truly indulgent experience, treat yourself to a platter of Gulf oysters on the half shell, best enjoyed with a squeeze of lemon and a dash of hot sauce.
Unique Seafood Dining Experiences
Houston also offers some unique seafood dining experiences that are worth trying. Take a trip to the Kemah Boardwalk and indulge in fresh seafood while enjoying waterfront views and amusement park rides. For a more intimate experience, book a dinner cruise on the Spirit of the Bayou and savor a gourmet seafood meal as you cruise along the scenic Houston Ship Channel. If you're adventurous, head to the bustling Hong Kong City Mall in Houston's Chinatown, where you'll find a variety of Asian seafood markets and restaurants offering delicacies like live fish and seafood hot pots.
Whether you're a long-time resident or just visiting Houston, exploring the city's seafood scene is a must. From mouthwatering dishes at fresh seafood restaurants to unique dining experiences, the seafood extravaganza in Houston will leave you craving for more. So grab your bib and dive in – you won't be disappointed!
Global Flavors
Houston's International Food Scene
If you're a food enthusiast with a love for exploring diverse flavors, Houston is the place to be. With its multicultural population, the city offers a vibrant and exciting international food scene that is sure to satisfy your taste buds. From authentic Mexican tacos to aromatic Indian curries, Houston has it all.
Top Ethnic Cuisines to Explore
Mexican Cuisine: Start your culinary adventure by indulging in mouthwatering Mexican cuisine. Don't miss out on trying tacos al pastor, enchiladas verdes, or chiles en nogada.

Thai Cuisine: If you're a fan of spicy and flavorful dishes, Thai cuisine is a must-try. Enjoy classics like pad Thai, green curry, and tom yum soup at one of Houston's many Thai restaurants.

Indian Cuisine: Houston is home to an array of authentic Indian restaurants serving delicious and aromatic dishes. Treat yourself to butter chicken, biryani, or masala dosa for a true Indian culinary experience.

Vietnamese Cuisine: Explore the vibrant flavors of Vietnamese cuisine, from pho (noodle soup) to banh mi (Vietnamese sandwich). Don't forget to try fresh spring rolls or a refreshing Vietnamese iced coffee.
Hidden Gems for Authentic International Dishes
Anatolia Turkish Grill: Located in the Rice Village area, this gem offers a delightful selection of traditional Turkish dishes like kebabs, baklava, and Turkish tea.

Taqueria Taconmadre: For authentic Mexican street food, head to Taqueria Taconmadre. Their tacos, tortas, and churros are sure to impress.

Crawfish & Noodles: This Vietnamese-Cajun fusion restaurant specializes in mouthwatering crawfish dishes. Their garlic butter crawfish is a crowd favorite.

Biryani Factory: Experience the flavors of India at Biryani Factory. Their flavorful biryanis, butter chicken, and samosas are a treat for your taste buds.
Houston's diverse culinary landscape offers a world of flavors waiting to be explored. So grab a friend, try out these top ethnic cuisines, and embark on a gastronomic adventure in the heart of Texas.
Sweet Treats
Indulgent Desserts and Bakeries in Houston
When it comes to satisfying your sweet tooth, Houston has plenty of options to tempt you. Treat yourself to delectable desserts and delightful pastries at some of the city's top bakeries and dessert shops. From classic favorites to creative and unusual flavors, you'll find something to satisfy every craving.
Indulge in rich and decadent chocolate cakes, creamy cheesecakes, and flaky croissants at renowned establishments like XYZ Bakery and ABC Dessert Shop. These establishments pride themselves on using high-quality ingredients to create mouthwatering treats that will leave you coming back for more.
Iconic Houston Sweets and Pastries
For a taste of Houston's food culture, be sure to try some of the city's iconic sweets and pastries. The city is famous for its pecan pie, and you can find some of the best versions at XYZ Cafe and PQR Bakery. The combination of sweet pecans and buttery crust will leave you craving for more.
If you're looking for something unique, try a kolache, a traditional Czech pastry filled with fruit, cheese, or even savory ingredients like sausage. Head to ABC Kolache House to enjoy these delightful pastries that are perfect for breakfast or a quick snack.
Artisan Ice Cream Shops and Frozen Treats
When the weather gets hot, cool down with a visit to one of Houston's artisan ice cream shops. Indulge in unique and flavorful combinations at XYZ Ice Cream Parlor, where you can find exotic flavors like lavender honey or homemade avocado. If you're a fan of classic favorites, try the rich and creamy chocolate and vanilla swirl at ABC Gelato Bar.
If you're feeling adventurous, explore the world of nitrogen ice cream at PQR Liquid Nitrogen Creamery. Watch as your ice cream is made right in front of you using liquid nitrogen, creating a smooth and creamy texture that is out of this world.
Whether you have a sweet tooth or simply enjoy indulging in delicious treats, Houston has something to satisfy every craving. Try some of these top sweet spots and explore the city's vibrant dessert scene.
Conclusion
Top Foodie Destinations in Houston
When it comes to food, Houston has something for everyone. From Tex-Mex and barbecue to international cuisine and gourmet delights, the city is a food lover's paradise. Be sure to check out these top foodie destinations:
The Original Ninfa's on Navigation: Known for its mouthwatering Tex-Mex and fajitas, this Houston institution is a must-visit for any food lover.

State Fare Kitchen & Bar: Indulge in comfort food with a twist at this local favorite, where you can try dishes like chicken fried lobster and mac 'n cheese egg rolls.
Tips for Exploring Houston's Culinary Delights
To make the most of your culinary adventures in Houston, keep these tips in mind:
Try the Local Specialties: Don't leave Houston without trying some authentic Tex-Mex dishes like enchiladas, tacos, and queso. Also, be sure to savor the city's famous barbecue and seafood.

Explore Different Neighborhoods: Houston is a diverse city, and each neighborhood has its own unique food scene. Don't limit yourself to one area – venture out and discover hidden gems throughout the city.
Frequently Asked Questions about Houston's Food Scene
Here are some common questions visitors have about Houston's food scene:
What is the best time to visit Houston for food? Houston is a year-round culinary destination, but if you want to experience food festivals and events, consider visiting during the fall when the weather is pleasant.

Are there vegetarian and vegan options available in Houston? Absolutely! Houston has a growing number of vegetarian and vegan-friendly restaurants that offer delicious plant-based options.

What is the average cost of dining out in Houston? The cost of dining out in Houston can vary depending on the restaurant and cuisine. However, on average, a meal at a mid-range restaurant can cost around $15 to $25 per person.
With its diverse culinary scene and delicious offerings, Houston is a food lover's dream. So come hungry and explore all the tasty delights this vibrant city has to offer.
Some of the links provided are affiliate links that I earn a commission for, on any purchases made, at no extra cost to you. This helps me immensely to continue to do what I love.
I am a participant in the affiliate programs including CJ, AWIN and Amazon Services LLC Associates Program. Affiliate programs are designed to provide a means for creators and publishers to earn fees by linking to merchant websites. Thank you 🙏
Stress Free Travel Packing Are you planning your next big adventure? Whether you're heading off on a tropical vacation or a business trip, one thing…