Top Attractions in Mumbai
Gateway of India and Taj Mahal Palace
As you explore Mumbai, a visit to the iconic Gateway of India and Taj Mahal Palace is a must. The Gateway of India is a striking monument that stands proudly on the waterfront, symbolizing the city's rich history and serving as a popular gathering spot. Just across the street from the Gateway, you'll find the Taj Mahal Palace, a luxurious hotel with a history dating back to 1903. Take a walk along the promenade, soak in the stunning views of the Arabian Sea, and capture that perfect Instagram-worthy shot!
Marine Drive and Chowpatty Beach
For a relaxing escape from the bustling city, head to Marine Drive and Chowpatty Beach. Marine Drive is a picturesque stretch of road along the Arabian Sea, with a beautiful promenade perfect for leisurely walks. As the sun sets, the twinkling lights of Mumbai's skyline create a magical atmosphere. Just a short walk away is Chowpatty Beach, where you can indulge in local street food like pav bhaji and bhel puri or simply enjoy a peaceful evening by the beach.
Elephanta Caves and Siddhivinayak Temple
A trip to Mumbai would not be complete without a visit to the Elephanta Caves and Siddhivinayak Temple. Located on Elephanta Island, the Elephanta Caves are a UNESCO World Heritage Site renowned for their ancient rock-cut temples dedicated to Lord Shiva. Take a ferry ride from Mumbai's Gateway of India to reach this mystical island and explore the intricate carvings and sculptures. Another significant religious site in Mumbai is the Siddhivinayak Temple, a famous Hindu temple dedicated to Lord Ganesha. This temple attracts thousands of devotees each day and is a testament to the city's deep spiritual roots.
Whether you're a history enthusiast, a beach lover, or seeking spiritual solace, Mumbai has something for everyone. Make sure to include these top attractions in your Mumbai travel itinerary for an unforgettable experience!
Mumbai's Vibrant Nightlife
Mumbai, the bustling city of dreams, is not only known for its skyscrapers and film industry but also for its vibrant nightlife. From trendy bars and clubs to late-night street food and night markets, Mumbai offers a plethora of options for those looking to experience the city after dark.
Popular nightlife spots in Mumbai
When it comes to nightlife, Mumbai has something for everyone. The city is dotted with popular hotspots where locals and tourists alike gather to unwind and have a good time. Places like Colaba Causeway, Bandra, and Juhu Beach are known for their energetic atmosphere and a wide range of bars, clubs, and restaurants.
Bars, clubs, and live music venues
Mumbai is home to numerous bars, clubs, and live music venues that cater to different tastes and preferences. Whether you're into EDM, Bollywood music, or live bands, you'll find a place that suits your musical inclination. The city's nightlife scene truly comes alive with energetic dance floors, live performances, and international DJs.
Late-night street food and night markets
One cannot talk about Mumbai's nightlife without mentioning its delicious late-night street food and vibrant night markets. If you have an appetite for local flavors, head to iconic places like Mohammed Ali Road or Juhu Chowpatty, where you can indulge in mouthwatering street food delicacies like pav bhaji, vada pav, and kebabs. Additionally, night markets like Crawford Market and Linking Road offer a unique shopping experience under the city's twinkling lights.
Whether you're a party animal, a food lover, or someone who enjoys exploring the city's cultural scene, Mumbai's nightlife has something to offer. So, the next time you find yourself in the city that never sleeps, make sure to experience the vibrant energy and excitement of Mumbai's nightlife.
Shopping in Mumbai
Mumbai is a vibrant and bustling city that offers a wide range of shopping experiences. Whether you are a shopaholic or just looking to pick up some unique souvenirs, the city has something to offer for everyone. Here is a guide to the different shopping options available in Mumbai.
High-end malls and designer boutiques
If you are looking for a luxurious shopping experience, Mumbai has a number of high-end malls and designer boutiques to cater to your needs. Places like Palladium, High Street Phoenix, and The Taj Mahal Palace offer a wide range of international and Indian designer brands. You can find everything from haute couture fashion to luxury accessories in these upscale shopping destinations.
Street shopping and flea markets
For those who enjoy the thrill of bargaining and finding unique items at affordable prices, Mumbai's street markets and flea markets are a must-visit. Places like Colaba Causeway, Linking Road, and Hill Road are famous for their trendy fashion, accessories, and home decor items. You can find a variety of products such as quirky t-shirts, bohemian jewelry, and handicrafts at reasonable prices.
Traditional markets for clothing, jewelry, and handicrafts
If you are interested in traditional clothing, jewelry, and handicrafts, Mumbai has a number of markets where you can find authentic Indian products. Places like Crawford Market, Zaveri Bazaar, and Chor Bazaar are known for their vibrant atmosphere and a wide range of products. From beautiful sarees and intricate jewelry to traditional artwork and antique pieces, these markets are a treasure trove for those who appreciate Indian craftsmanship.
Whether you prefer high-end shopping or love the thrill of bargain hunting, Mumbai has it all. So, get ready to explore the city's diverse shopping scene and indulge in a retail therapy session like never before. Happy shopping!
Day Trips from Mumbai
Visit to Elephanta Island and Caves
If you're looking for a day trip from Mumbai that combines history and natural beauty, a visit to the Elephanta Island and Caves should be on your itinerary. Located just a short ferry ride from Mumbai, this UNESCO World Heritage Site is home to ancient cave temples dedicated to Lord Shiva. Explore the intricate carvings and sculptures that date back to the 5th and 8th centuries, and marvel at the grandeur of the main temple, which houses a 20-feet high Trimurti sculpture.
Alibaug Beach and Fort
If you're in the mood for some sun, surf, and history, a trip to Alibaug Beach and Fort is a must. Located just a couple of hours away from Mumbai, this coastal town offers beautiful sandy beaches where you can relax, swim, or indulge in water sports. Take a walk along the fort built by Maratha warrior Chhatrapati Shivaji Maharaj, and soak in the panoramic views of the Arabian Sea.
Lonavala and Khandala Hill Stations
If you're craving some fresh mountain air and breathtaking views, head to the hill stations of Lonavala and Khandala. Just a short drive from Mumbai, these hill retreats are known for their lush greenery, misty waterfalls, and serene lakes. Take a leisurely stroll through the beautiful valleys, visit the famous viewpoints like Tiger's Point and Duke's Nose, and don't forget to try the local delicacies like chikki (a sweet snack) and vada pav (a popular street food).
No matter which day trip you choose, you're sure to have a memorable time exploring the diverse beauty and rich cultural heritage that surrounds Mumbai. So pack your bags, grab your camera, and get ready for an adventure-filled day trip from the bustling city!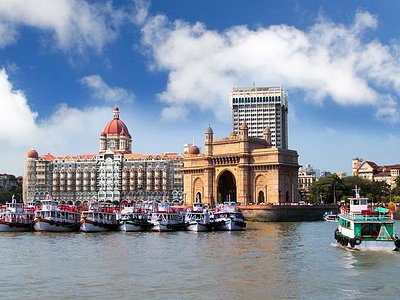 Practical Information
Transportation options in Mumbai
When visiting Mumbai, getting around the city is essential to make the most of your trip. Fortunately, there are several transportation options available to help you navigate the bustling streets.
Local Trains: Mumbai's suburban railway network is a lifeline for commuters. It is efficient, affordable, and connects various parts of the city. Make sure to check the train schedules and platforms to ensure a smooth journey.

Taxis and Auto-rickshaws: Taxis and auto-rickshaws are readily available in Mumbai. Ensure that the driver uses the meter or negotiate the fare before starting the journey.

Public Buses: Mumbai's bus network is extensive and covers almost every part of the city. While it may be crowded during peak hours, it is a cost-effective mode of transport.
Accommodation options in Mumbai
Mumbai offers a range of accommodation options catering to different budgets and preferences. Whether you're looking for luxury hotels or budget-friendly hostels, there's something for everyone.
Luxury Hotels: Mumbai has numerous luxury hotels offering world-class amenities and services. These hotels provide a comfortable stay with lavish rooms, fine dining restaurants, spa facilities, and more.

Budget Hotels and Guesthouses: If you're traveling on a limited budget, there are several budget hotels and guesthouses available. These accommodations offer clean and comfortable rooms at affordable rates.

Hostels: For solo travelers or those who enjoy a social atmosphere, hostels are a great option. They provide dormitory-style accommodation, often with communal spaces where you can meet fellow travelers.
Safety tips and important contact information
Mumbai is generally a safe city, but it's important to take some precautions during your visit. Here are some safety tips:
Stay vigilant: Keep an eye on your belongings, especially in crowded areas.
Use reliable transportation: Opt for registered taxis or app-based cab services for safe and secure travel.
Emergency contacts: Save the following numbers in your phone: Police – 100, Ambulance – 102, Fire Brigade – 101.
Remember to have a memorable stay in Mumbai by exploring its vibrant culture, delicious street food, and iconic landmarks.
Conclusion
Personal recommendations and highlights
Now that you've reached the end of this Mumbai travel guide, it's time to reflect on the incredible journey you've had in this vibrant city. As a local, I have a few personal recommendations and highlights that I would love to share with you.
Explore the street food scene: Don't miss out on the mouthwatering delicacies that Mumbai has to offer. From Vada Pav to Pani Puri, the street food in Mumbai is a culinary adventure that you must experience.

Visit the iconic landmarks: Take a stroll along Marine Drive and witness the city's beautiful skyline. Don't forget to visit the Gateway of India, a historic landmark that represents Mumbai's colonial past.

Immerse yourself in Bollywood: Mumbai is the heart of the Indian film industry. Catch a Bollywood movie at a local cinema or take a guided tour of the famous Film City to get a behind-the-scenes glimpse into the world of Indian cinema.

Experience the local culture: Attend a traditional dance performance like Kathak or Bharatanatyam, or visit one of the many art galleries in Mumbai to appreciate the local talent and creativity.
Ending note and farewell to Mumbai
As your time in Mumbai comes to an end, I hope this travel guide has helped you navigate the city and make the most of your visit. Mumbai is a city that never sleeps, with its bustling streets, vibrant markets, and warm-hearted people.
Remember to immerse yourself in the rich culture, savor the delectable food, and embrace the spirit of this cosmopolitan city. Whether you're a solo traveler, a family on vacation, or a group of friends seeking adventure, Mumbai offers something for everyone.
Farewell to Mumbai, but take with you wonderful memories and a deeper understanding of this incredible city. Safe travels and until we meet again, enjoy your next destination with the same enthusiasm and curiosity that you had in Mumbai
Some of the links provided are affiliate links that I earn a commission for, on any purchases made, at no extra cost to you. This helps me immensely to continue to do what I love.
I am a participant in the affiliate programs including CJ, AWIN and Amazon Services LLC Associates Program. Affiliate programs are designed to provide a means for creators and publishers to earn fees by linking to merchant websites. Thank you 🙏
Stress Free Travel Packing Are you planning your next big adventure? Whether you're heading off on a tropical vacation or a business trip, one thing…