The Top Thing to Eat: Prague
Public Transportation in Prague
Traveling around Prague can be a breeze if you know how to navigate the city's excellent public transportation system. Whether you're a tourist or a local, here are three convenient options for getting around Prague:
1. Prague Metro
The Prague Metro is a reliable and efficient way to travel across the city. It consists of three lines labeled A, B, and C, which intersect at various stations. This underground network covers most of the city's major attractions and neighborhoods, making it an ideal choice for longer distances.
2. Prague Trams
Prague's trams are a scenic and convenient mode of transportation. With over 25 tram lines, they provide extensive coverage across the city, including the outskirts. Trams operate both day and night, offering a great way to explore Prague's streets and enjoy the view.
3. Prague Buses
If you're venturing further into residential areas or places not covered by the metro or trams, Prague's bus system is the way to go. The city has an extensive bus network, ensuring that you can reach almost any destination. Buses in Prague are equipped with electronic displays and announcements, making it easy to keep track of your stops.
In addition to these three options, Prague also offers convenient ticketing systems, including single-ride tickets, day passes, and multi-day passes. You can purchase tickets at metro stations, newsstands, or using mobile apps. Remember to validate your ticket upon boarding and keep it with you during your journey.
With Prague's well-connected public transportation system, you can explore the city's historic sites, museums, and vibrant neighborhoods with ease. So sit back, relax, and enjoy your Prague adventures!
Using Prague Metro
1. Metro Lines and Stations
If you're visiting Prague and looking for an efficient and convenient way to get around the city, the Prague Metro is your best bet. The metro system consists of three lines – A, B, and C, and covers the majority of the city center and surrounding areas. Each line has its own color, making it easy to navigate. There are a total of 61 metro stations, so you're never too far away from one.
2. Tickets and Fares
To use the Prague Metro, you will need a valid ticket. Tickets can be purchased at vending machines located in each metro station. Options range from short-term tickets for a few hours to longer-term passes for multiple days. Ensure that you validate your ticket before entering the platform by using the validation machines. Fare evasion is heavily monitored, so make sure to have a valid ticket at all times.
3. Tips for using the Prague Metro
Plan your route: Before heading out, check the map and plan your route in advance. This will save you time and ensure you reach your destination smoothly.
Rush hour caution: Avoid using the metro during peak hours (7:30-9:00 am and 4:30-6:00 pm) if possible, as trains can be crowded.
Mind the gap: Be aware of the gap between the platform and the train when boarding or exiting.
Keep an eye on your belongings: Although Prague is generally safe, it's always a good practice to keep an eye on your belongings and be cautious of pickpockets.
With an extensive network and user-friendly system, the Prague Metro is the perfect way to explore the beautiful city of Prague, whether you're a tourist or a local. Enjoy the convenience and efficiency of this reliable mode of transportation.
Navigating Prague Trams
Prague is a beautiful city with a well-developed public transportation system, including trams. If you're visiting Prague and want to explore the city conveniently, here are some tips for navigating the tram system.
1. Tram Lines and Stops
Prague has an extensive tram network with numerous lines that cover the entire city. The trams run from early morning until midnight, making them a reliable mode of transport. Tram stops are clearly marked, and you can find maps at most stops to help you plan your journey. Remember to check the tram lines and schedules beforehand to ensure you catch the right tram to your destination.
2. Tram Tickets and Passes
To ride the trams, you will need a valid ticket or pass. You can purchase single-trip tickets from ticket machines located at tram stops or from selected shops. There are also options for daily, three-day, and longer-term passes, which can be more cost-effective if you plan on using the trams frequently. Make sure to validate your ticket upon entering the tram using the machines available onboard.
3. Tips for using Prague Trams
Trams can get crowded during peak hours, so try to avoid traveling during these times if possible.
Be cautious of pickpockets and keep your belongings secure.
Trams have designated seating areas for the elderly and disabled, so be mindful of giving up your seat if needed.
Pay attention to the stop announcements and use the buttons near the exits to request a stop.
If you're unsure about which tram to take or need directions, don't hesitate to ask the helpful locals or tram staff.
By familiarizing yourself with the tram system and following these tips, you'll have a smooth and enjoyable experience exploring Prague's beautiful cityscape. Happy travels!
Exploring Prague by Bus
Prague, the beautiful capital of the Czech Republic, is known for its stunning architecture, historic sites, and vibrant culture. Getting around the city is a breeze, and one of the best ways to explore is by bus. Here are some key points to help you navigate the Prague bus system.
1. Bus Routes and Stops
Prague has an extensive bus network that covers the entire city and its surrounding areas. It is important to familiarize yourself with the different bus routes and stops. You can easily find this information on the official Prague Public Transit website or by using apps like Google Maps or Citymapper.
2. Bus Tickets and Passes
To use the bus system in Prague, you will need a valid ticket or pass. Tickets can be purchased at ticket vending machines located at most bus stops, as well as at metro stations and some newsstands. There are different ticket options available, including short-term tickets for a specific number of stops or longer-term passes for unlimited travel within a certain timeframe. Make sure to validate your ticket upon boarding the bus using the validation machines inside.
It is worth noting that buses in Prague are equipped with electronic displays and announcement systems, making it easier for passengers to keep track of their stops. Additionally, most buses are wheelchair accessible, ensuring a comfortable and inclusive experience for all passengers.
Exploring Prague by bus not only offers convenience but also gives you a chance to admire the city's stunning sights while en route to your destination. So hop on board and enjoy the ride!
Getting to and from Prague Airport
1. Airport Shuttle
When you arrive in Prague, the most convenient way to get to your destination is by using the airport shuttle service. These shuttles are usually located just outside the terminal building and offer direct transportation to popular areas in the city. The advantage of taking an airport shuttle is that it is a hassle-free option and saves you the trouble of navigating public transportation with your luggage. You can book your shuttle in advance or find them at the airport on arrival.
2. Public Bus
Another affordable option to get to and from Prague Airport is by using the public bus service. The airport is well-connected to the city's public transportation network, making it easy to catch a bus to your destination. The bus stop is located just outside the terminal building, and you can use the ticket machines or buy a ticket from the driver. Buses operate frequently and are a cost-effective way to travel within the city.
Whether you choose the airport shuttle or public bus, both options provide convenient and reliable transportation to and from Prague Airport. It is recommended to plan your journey in advance and consider factors such as travel time, cost, and proximity to your accommodation.
Other Transportation Options in Prague
1. Cycling in Prague
Looking for an eco-friendly and efficient way to get around Prague? Why not consider cycling? Prague boasts a well-developed cycling infrastructure, with numerous bike lanes and paths throughout the city. You can easily rent a bike from one of the many rental shops and explore the city at your own pace. Cycling not only allows you to immerse yourself in Prague's beautiful scenery but also saves you time and money on transportation costs. Plus, it's a great way to stay active and fit while sightseeing!
2. Walking in Prague
If you prefer a more leisurely approach to exploring the city, walking is a fantastic option. Prague's compact size and rich history make it the perfect place to discover on foot. The city is filled with stunning architecture, charming streets, and hidden alleyways waiting to be explored. Walking allows you to soak in the vibrant atmosphere and discover hidden gems that you may not find through other modes of transportation. Additionally, walking gives you the freedom to stop and explore at your own pace, making it ideal for taking in the breathtaking views of Prague Castle or wandering through the picturesque Old Town Square.
Whether you choose to cycle or walk, both options provide an immersive experience in Prague's rich culture and history. So, grab a map, put on your comfortable shoes, and embark on an unforgettable adventure through the captivating streets of Prague!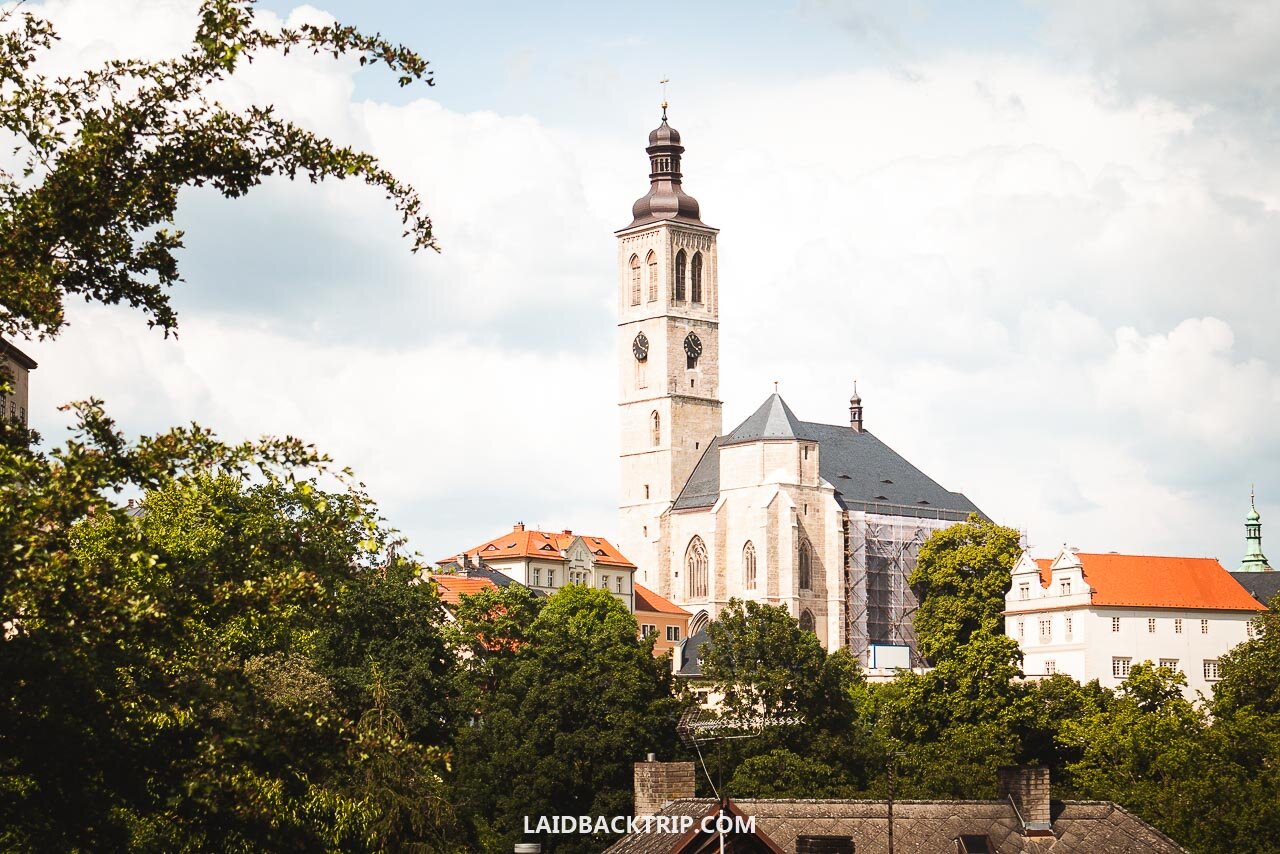 Day Trips from Prague
Prague is a beautiful city with a rich history and plenty of attractions to explore. However, if you're looking to venture out and see more of the Czech Republic, there are some amazing day trips you can take from Prague. Here are three recommendations that will make your trip even more memorable.
1. Kutná Hora
Just an hour away from Prague, Kutná Hora is a UNESCO World Heritage Site known for its stunning Gothic architecture and historical significance. Make sure to visit the Sedlec Ossuary, also known as the "Bone Church," where you can see unique decorations made entirely of human bones.
2. Český Krumlov
Located about two and a half hours south of Prague, Český Krumlov is a picturesque town that will transport you back in time. Its well-preserved medieval old town, impressive Český Krumlov Castle, and charming streets lined with colorful houses make it a must-visit destination.
3. Karlštejn Castle
If you're a fan of castles, a trip to Karlštejn Castle is a must. Situated about an hour outside of Prague, this magnificent Gothic castle offers breathtaking views of the surrounding countryside. Take a guided tour to learn about its fascinating history and explore the stunning interior.
Whether you're interested in history, architecture, or simply escaping the hustle and bustle of the city, these day trips from Prague will leave you in awe. Don't miss the opportunity to explore the beautiful Czech Republic beyond its capital city.
Conclusion
Now that you have explored the various transportation options in Prague, you are well-equipped to navigate this beautiful city with ease. Remember to plan your routes in advance, especially if you have limited time, and make use of the efficient public transportation system.
Summary of the transportation options in Prague and final tips for easy navigation
Metro: The metro is the fastest and most convenient way to travel around Prague. With three lines covering the city, you can easily reach most major attractions and neighborhoods.

Trams: Trams are another popular mode of transportation in Prague. They offer a scenic way to explore the city and reach destinations that may not be easily accessible by metro.

Buses: Buses are a reliable option for reaching destinations outside the city center. They are especially useful for visiting suburbs and nearby towns.

Taxis and ridesharing: Taxis and ridesharing services like Uber are also available in Prague. While they may be more expensive than public transportation, they can be convenient for late-night travel or when you have heavy luggage.

Walking and cycling: Prague is a compact city, and many attractions are within walking distance. Consider exploring on foot or renting a bike to enjoy the city at your own pace.
Remember to purchase a transportation pass or individual tickets, as they will grant you access to multiple forms of public transportation. Keep a map handy, use navigation apps, and ask locals for assistance if needed.
Enjoy your time in Prague and have a fantastic journey exploring all that this vibrant city has to offer!
Some of the links provided are affiliate links that I earn a commission for, on any purchases made, at no extra cost to you. This helps me immensely to continue to do what I love.
I am a participant in the affiliate programs including CJ, AWIN and Amazon Services LLC Associates Program. Affiliate programs are designed to provide a means for creators and publishers to earn fees by linking to merchant websites. Thank you 🙏
Stress Free Travel Packing Are you planning your next big adventure? Whether you're heading off on a tropical vacation or a business trip, one thing…