The Top Thing to Eat: Rome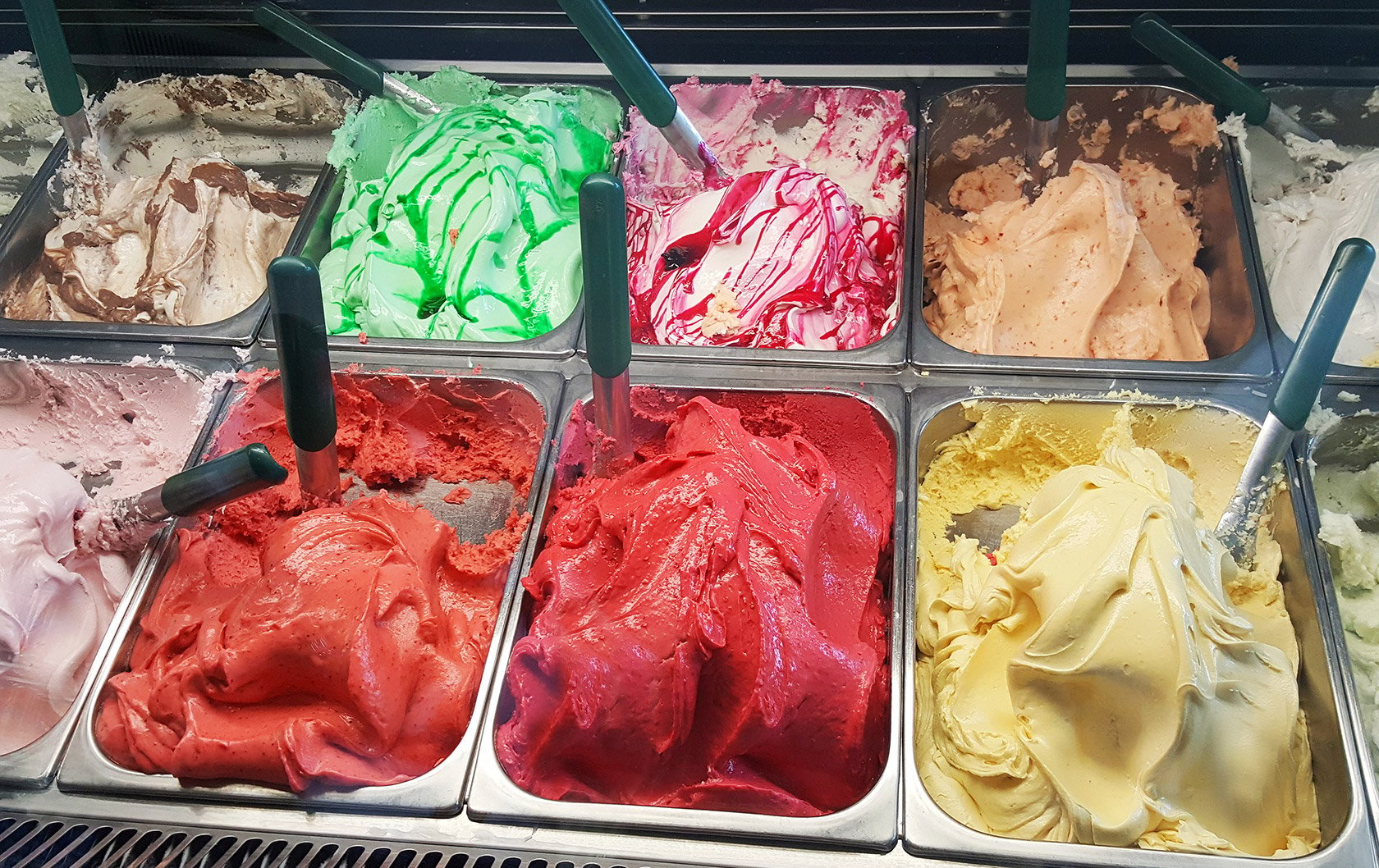 Gelato
Gelato: The Italian frozen treat
When you find yourself in Rome, one thing you absolutely must try is gelato! Gelato is a traditional Italian frozen treat that is rich, creamy, and absolutely delicious. It's the perfect way to cool down on a hot day and indulge in a sweet treat that Rome is famous for.
Unlike regular ice cream, gelato has a lower fat content and is churned at a slower speed, resulting in a smoother and denser texture. It's made with fresh, natural ingredients such as milk, cream, sugar, and various flavors like chocolate, pistachio, strawberry, and more. The flavors are often more intense and authentic compared to traditional ice cream, making gelato a true culinary delight.
Must-visit gelaterias in Rome
Giolitti: This historic gelateria has been serving gelato since 1900 and is a favorite among locals and tourists alike. With over 60 flavors to choose from, you're sure to find something that suits your taste buds. Be sure to try their signature flavors like crema pasticcera and stracciatella.

Il Gelato di San Crispino: Known for its simple and pure approach to gelato making, San Crispino offers a range of unique flavors made with high-quality ingredients. Their famous flavors include honey, wine, and fresh fruit varieties.

Fatamorgana: If you're looking for unusual and innovative flavors, Fatamorgana is the place to go. They pride themselves on using organic ingredients and creating gelato combinations like jasmine tea with lavender, dark chocolate with chili, and even beer-flavored gelato.

Gelateria del Teatro: Located near the famous Piazza Navona, Gelateria del Teatro is known for its artisanal gelato made with seasonal and organic ingredients. Their creative flavors include ricotta with sour cherry, white chocolate with basil, and fig with almonds.

Blue Ice: With multiple locations throughout Rome, Blue Ice is a popular chain that offers a wide range of classic and innovative gelato flavors. Their gelato is made fresh daily and is known for its creamy texture and delicious taste.
When in Rome, don't miss the opportunity to indulge in the heavenly experience of enjoying authentic Italian gelato. Whether you choose to visit one of the recommended gelaterias or stumble upon a hidden gem, you're in for a dessert experience like no other.
Pasta Carbonara
Pasta Carbonara: Origin and authentic recipe
If you're visiting Rome, one dish you absolutely must try is Pasta Carbonara. This traditional Roman pasta dish has gained popularity worldwide for its creamy and indulgent flavors. The dish has a fascinating history that dates back to World War II, where it was reputedly created by American soldiers using readily available ingredients such as eggs, bacon, and cheese.
To experience the authentic taste of Pasta Carbonara, look for restaurants that use guanciale, a type of cured pork cheek, instead of bacon. The dish is prepared by sautéing guanciale until crispy, mixing it with al dente pasta, and finishing it off with a rich mixture of eggs, pecorino Romano cheese, and black pepper. The result is a creamy and flavorful sauce that coats each strand of pasta.
Top restaurants for Pasta Carbonara in Rome
Trattoria Da Danilo: This cozy restaurant in the Testaccio neighborhood is known for its excellent homemade pastas, including a memorable Pasta Carbonara. The dish at Da Danilo is made with perfectly cooked spaghetti, guanciale from a local butcher, and a generous amount of pecorino Romano cheese.

Felice a Testaccio: Located in the charming Testaccio district, this historic restaurant serves up a delicious Pasta Carbonara that keeps locals and tourists coming back for more. Their version is made with rigatoni, guanciale, and a creamy sauce that's perfectly balanced and full of flavor.

Da Enzo al 29: Tucked away in the Trastevere neighborhood, this family-run trattoria offers a memorable dining experience. Their Pasta Carbonara is made with fresh ingredients, including high-quality guanciale and pecorino Romano cheese. The pasta is cooked to perfection and topped with a generous amount of cheese and black pepper.

Flavio al Velavevodetto: Located near the iconic Testaccio Market, this restaurant is known for its traditional Roman cuisine. Their Pasta Carbonara is made with homemade spaghetti, crispy guanciale, and a creamy sauce that will transport you to food heaven.

La Carbonara: As the name suggests, this restaurant is dedicated to perfecting the art of Pasta Carbonara. Their version is made with top-quality ingredients, and the dish is served piping hot with a rich and velvety sauce.
When in Rome, don't miss the opportunity to indulge in the city's culinary masterpiece – Pasta Carbonara. With its rich and creamy flavors, it's sure to be an unforgettable dining
Cacio e Pepe
Cacio e Pepe: A beloved Roman dish
When visiting Rome, there is one dish that you simply must try – Cacio e Pepe. This traditional Roman pasta dish is loved by locals and tourists alike for its simplicity and incredible flavors. The name Cacio e Pepe means "cheese and pepper" in Italian, and that's exactly what this dish is all about.
Imagine perfectly cooked al dente pasta tossed in a creamy sauce made from just three ingredients – pecorino Romano cheese, black pepper, and pasta water. The result is a rich and luxurious dish that will leave you wanting more. The sharpness of the cheese combined with the subtle heat from the pepper creates a flavor combination that is truly unforgettable.
Where to find the best Cacio e Pepe in Rome
Now that you're craving a taste of Cacio e Pepe, let's talk about where you can find the best versions of this dish in Rome. Here are a few popular spots recommended by locals:
Da Felice: Located in the Testaccio neighborhood, Da Felice is known for serving up one of the best Cacio e Pepe in the city. The pasta is perfectly cooked, and the sauce is creamy and flavorful.

Flavio al Velavevodetto: This charming restaurant tucked away in the Monti district is a hidden gem for Cacio e Pepe lovers. The dish here is made with the finest ingredients and is full of flavor.

Armando al Pantheon: For a truly authentic experience, head to Armando al Pantheon. This family-run restaurant has been serving up classic Roman dishes for over 50 years, and their Cacio e Pepe is a must-try.
Remember, when in Rome, indulge in the local cuisine and try the famous Cacio e Pepe. It's a dish that truly captures the essence of Roman flavors and is sure to leave you craving more.
Tiramisu
Tiramisu: The classic Italian dessert
If you're visiting Rome, one dessert you absolutely must try is Tiramisu. Tiramisu is a classic Italian dessert made with layers of espresso-soaked ladyfingers, rich mascarpone cheese, and a dusting of cocoa powder on top. It's creamy, indulgent, and absolutely delicious.
Must-try Tiramisu in Rome
When it comes to finding the best Tiramisu in Rome, you'll have plenty of options. Here are a few places you should consider:
Pompi: Pompi is a renowned pastry shop in Rome that specializes in Tiramisu. They offer a variety of flavors, such as classic, strawberry, pistachio, and more. Their Tiramisu is made with high-quality ingredients and is always freshly prepared.

Two Sizes: Located near the Vatican City, Two Sizes is a popular gelato shop that also serves amazing Tiramisu. Their Tiramisu is light, fluffy, and has the perfect balance of flavors. It's a must-try for any Tiramisu lover.

Roscioli: Roscioli is a famous bakery and restaurant known for its delicious Roman cuisine. Their Tiramisu is made with homemade ladyfingers, and they use the finest ingredients to create a dessert that is rich and full of flavor.

Le Levain: If you're looking for a unique twist on Tiramisu, head to Le Levain. This bakery offers a deconstructed version of the classic dessert, where you can assemble your own Tiramisu using freshly baked ladyfingers, mascarpone cream, and espresso syrup. It's a fun and interactive way to enjoy this beloved dessert.
Remember, Tiramisu is best enjoyed with a cup of freshly brewed Italian coffee. So, when you're in Rome, be sure to pair your Tiramisu with a delicious espresso or cappuccino for the ultimate dessert experience.
Now that you know where to find the best Tiramisu in Rome, make sure to indulge in this iconic Italian dessert during your visit. It's a sweet treat that you definitely don't want to miss out on.
Conclusion
Overview of the top foods in Rome
If you're planning a trip to Rome and want to experience the best of Italian cuisine, make sure to try these top dishes:
Pizza: Indulge in a slice of authentic Roman pizza topped with fresh ingredients and thin, crispy crust.

Pasta Carbonara: This classic Roman pasta dish is made with eggs, pecorino cheese, pancetta, and black pepper. It's rich, creamy, and incredibly delicious.

Gelato: Cool off with some gelato, Italy's famous frozen treat. Try flavors like pistachio, stracciatella, and tiramisu for a taste of true Italian indulgence.

Supplì: These deep-fried rice balls are filled with gooey mozzarella cheese and ragu sauce. They make for a perfect savory snack.

Roman-style Artichokes: Known as "carciofi alla romana," these artichokes are cooked with garlic, mint, and olive oil until tender and flavorful.
Additional recommendations and tips for foodies in the city
Here are a few more tips to enhance your culinary adventure in Rome:
Explore local markets: Visit places like Campo de' Fiori and Mercato Testaccio to soak in the vibrant atmosphere and discover fresh produce, meats, and cheeses.

Try street food: In addition to traditional restaurants, Rome offers a plethora of street food options. Don't miss out on staples like supplì, pizza al taglio, and porchetta sandwiches.

Take a food tour: Join a guided food tour to learn about the history and culture behind Rome's culinary traditions while sampling delicious dishes at local eateries.

Visit traditional trattorias: These family-run restaurants serve authentic Roman dishes in a cozy and welcoming atmosphere. Look for places frequented by locals for an authentic dining experience.

Pair your meals with local wine: Rome is surrounded by renowned wine regions like Frascati and Castelli Romani. Enhance your meals with a glass of regional wine to complete the experience.
Remember, when in Rome, eat like the Romans do! Embrace the local cuisine and immerse yourself in the flavors and traditions of this incredible city. Buon appetito!
Some of the links provided are affiliate links that I earn a commission for, on any purchases made, at no extra cost to you. This helps me immensely to continue to do what I love.
I am a participant in the affiliate programs including CJ, AWIN and Amazon Services LLC Associates Program. Affiliate programs are designed to provide a means for creators and publishers to earn fees by linking to merchant websites. Thank you 🙏
Traveling can be stressful, but having the right gear can make all the difference. One essential item for any traveler is a carry-on travel suitcase…