The San Francisco Travel Guide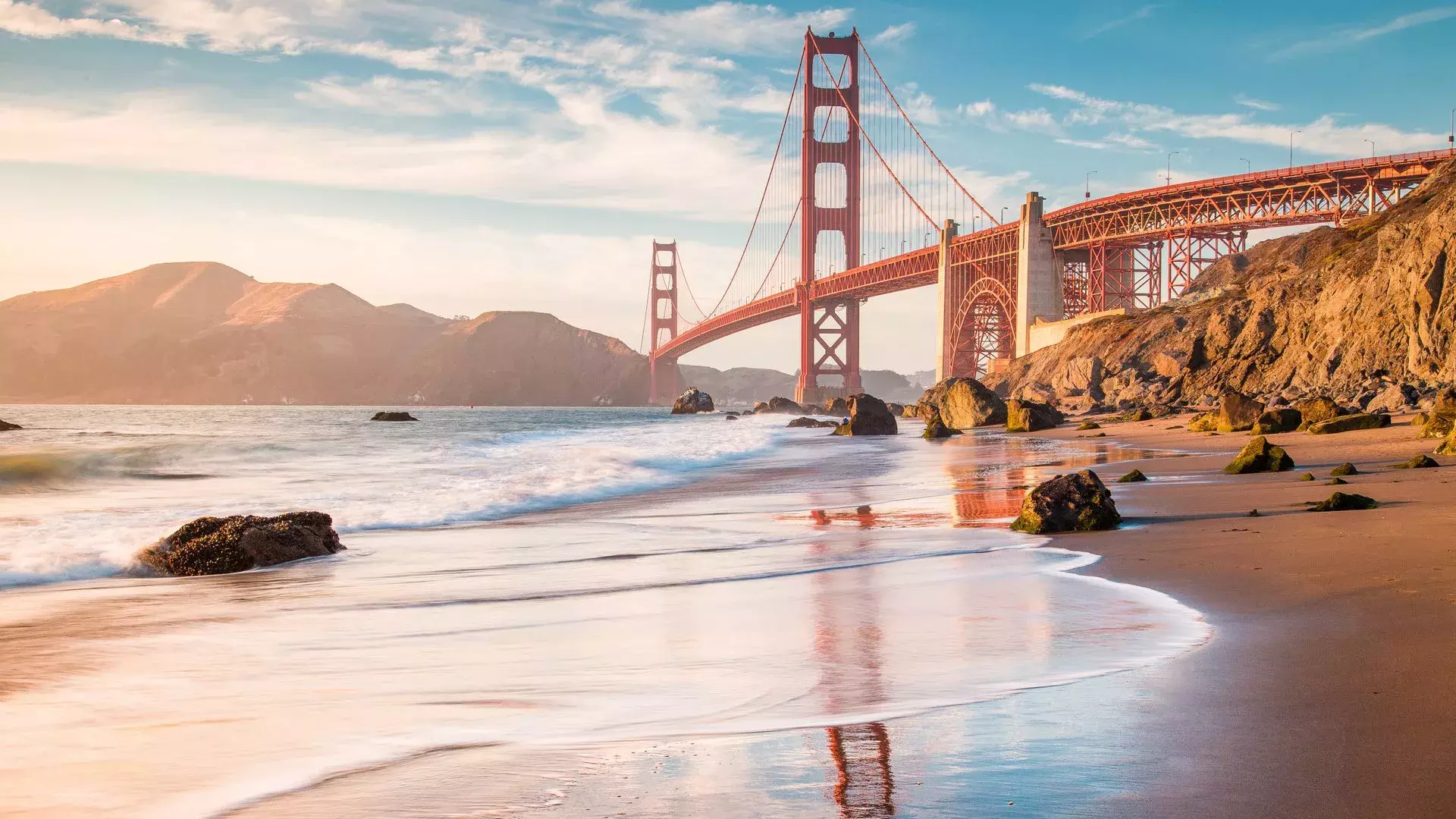 Exploring the City
Welcome to San Francisco, where there's an adventure around every corner! Whether you're a first-time visitor or a frequent traveler, this vibrant city has something for everyone. Get ready to immerse yourself in the culture, history, and beauty of San Francisco. Let's explore!
1. Landmarks and Icons
No visit to San Francisco would be complete without experiencing its iconic landmarks. Here are a few must-see attractions:
Golden Gate Bridge: A symbol of San Francisco
The Golden Gate Bridge is an architectural marvel and a symbol of the city. Take a stroll or bike ride across the bridge and soak in the breathtaking views of the bay and the city skyline. Don't forget to snap a photo to capture the memory!
Alcatraz Island: Discover the infamous prison
Step back in time and visit Alcatraz Island, home to the notorious Alcatraz Federal Penitentiary. Take a guided tour to learn about the history of this former maximum-security prison and hear captivating stories of its notorious inmates. The ferry ride to the island also offers stunning views of the city.
Fisherman's Wharf: Seafood delights and waterfront fun
Fisherman's Wharf is a lively waterfront neighborhood where you can indulge in fresh seafood, explore unique shops, and enjoy street performances. Visit Pier 39 to see the playful sea lions basking in the sun. Don't forget to try some clam chowder in a sourdough bread bowl – a San Francisco specialty!
2. Neighborhoods and Districts
San Francisco is known for its diverse neighborhoods, each offering its own distinct charm. Here are two neighborhoods worth exploring:
Chinatown: Dive into the vibrant Chinese culture
Step into the bustling streets of Chinatown and immerse yourself in the vibrant Chinese culture. Explore the colorful shops, taste authentic cuisine, and visit the Chinese Historical Society of America Museum to learn about the history and contributions of the Chinese community in San Francisco.
Mission District: Artsy vibe and trendy eateries
The Mission District is a lively neighborhood known for its street art, trendy boutiques, and delicious food. Take a stroll along Valencia Street, where you'll find an array of independent shops, cafes, and restaurants. Don't forget to try a Mission-style burrito, a local favorite!
3. Museums and Art Galleries
If you're an art enthusiast or history buff, San Francisco has a wealth of museums and galleries to satisfy your curiosity. Here are two notable ones:
San Francisco Museum of Modern Art (SFMOMA)
SFMOMA is a contemporary art museum that houses an impressive collection of modern and contemporary artworks. Explore the thought-provoking exhibitions and admire the works of renowned artists like Frida Kahlo, Andy Warhol, and Jackson Pollock.
de Young Museum: Fine arts and stunning views from its tower
Located in Golden Gate Park, the de Young Museum showcases a diverse collection of American art from the 17th through the 21st centuries. Climb to the top of the museum's tower for panoramic views of the city and the park.
San Francisco is a city that captivates and inspires. With its rich history, cultural diversity, and stunning landscapes, there's no shortage of things to see and do. So grab your camera, put on your walking shoes, and get ready to create unforgettable memories in the City by the Bay!
Outdoor Adventures
When it comes to outdoor adventures, San Francisco has plenty to offer. Whether you're a nature lover or just looking to soak up some fresh air, there are numerous parks, gardens, and al fresco experiences to enjoy in the city. Plus, if you're up for a day trip, there are stunning destinations just a short drive away.
1. Parks and Gardens
San Francisco is home to several beautiful parks and gardens that are perfect for a leisurely stroll or a picnic with friends. Some must-visit locations include:
Golden Gate Park: Stroll through nature and visit the museums within
Golden Gate Park is a sprawling urban oasis that spans over 1,000 acres. It offers a peaceful retreat from the hustle and bustle of the city with its lush greenery, tranquil lakes, and scenic trails. You can also explore attractions like the de Young Museum, the California Academy of Sciences, and the Japanese Tea Garden, all located within the park.
Presidio: Historic military base turned national park
Located at the northern tip of the San Francisco Peninsula, the Presidio is a former military base turned national park. It boasts stunning views of the Golden Gate Bridge, miles of hiking trails, and historic landmarks like the Presidio Officers' Club and the Walt Disney Family Museum. The Presidio is a great place to reconnect with nature while learning about the city's history.
2. Al Fresco Experiences
If you prefer to soak up the sun while enjoying some outdoor activities, San Francisco has plenty of options for you. Here are a couple of popular choices:
Pier 39: Sea lions, street performers, and souvenir shopping
Pier 39 is a lively waterfront attraction that offers a mix of entertainment, dining, and shopping. You can watch the adorable sea lions sunbathe on the docks, catch a street performer's show, or indulge in some retail therapy at the many souvenir shops. The pier also offers stunning views of the city's skyline and the iconic Golden Gate Bridge.
Dolores Park: Picnicking and people-watching in the heart of the city
Located in the vibrant Mission District, Dolores Park is a popular hangout spot for locals and tourists alike. The park features grassy slopes, palm trees, and panoramic views of the city. It's the perfect place to have a picnic with friends, play a game of frisbee, or simply relax and soak up the vibrant atmosphere of this diverse neighborhood.
3. Day Trips from San Francisco
If you have the time, venture beyond the city limits and explore the surrounding areas. Here are a couple of popular day trip destinations:
Napa Valley: Wine tasting in California's famous wine region
Just an hour's drive north of San Francisco, Napa Valley is a world-renowned wine region. It's home to hundreds of wineries and vineyards where you can indulge in wine tastings, take a scenic hot air balloon ride, or simply enjoy the picturesque countryside. Whether you're a wine enthusiast or not, Napa Valley offers a delightful escape from the city.
Muir Woods National Monument: Majestic redwood forest
For nature lovers, a trip to Muir Woods National Monument is a must. Located just across the Golden Gate Bridge, this protected area is home to majestic redwood trees that can reach heights of over 250 feet. Take a leisurely walk along the well-maintained trails and immerse yourself in the tranquility of this ancient forest. It's a place of serenity and awe-inspiring beauty.
No matter what outdoor adventure you're seeking, San Francisco has something for everyone. From stunning parks and gardens to al fresco experiences and nearby day trips, you'll find plenty of opportunities to connect with nature and create lasting memories in the City by the Bay.
Some of the links provided are affiliate links that I earn a commission for, on any purchases made, at no extra cost to you. This helps me immensely to continue to do what I love.
I am a participant in the affiliate programs including CJ, AWIN and Amazon Services LLC Associates Program. Affiliate programs are designed to provide a means for creators and publishers to earn fees by linking to merchant websites. Thank you 🙏
Stress Free Travel Packing Are you planning your next big adventure? Whether you're heading off on a tropical vacation or a business trip, one thing…