The São Paulo Travel Guide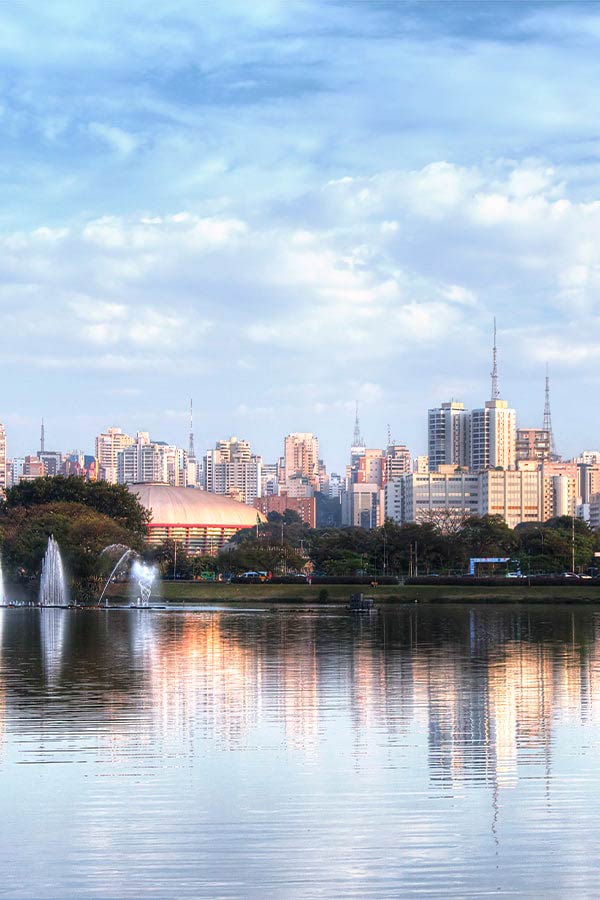 Introduction to Sao Paulo
Welcome to Sao Paulo! If you're planning a trip to Brazil, make sure to include this vibrant and bustling city in your itinerary. Sao Paulo is the largest city in Brazil and one of the most populous cities in the world. With its rich history, diverse culture, and endless activities, you're in for an unforgettable experience.
Sao Paulo Overview
Sao Paulo is known for its skyscrapers, bustling streets, and vibrant nightlife. It is a cultural melting pot that offers something for everyone. Whether you're a foodie, art enthusiast, shopaholic, or nature lover, Sao Paulo has it all. The city is home to a wide range of museums, art galleries, theaters, parks, and shopping centers.
Getting to Sao Paulo
Getting to Sao Paulo is fairly easy, as the city is well-connected to major international cities. If you're traveling from outside Brazil, you can fly into Sao Paulo-Guarulhos International Airport, which is the busiest airport in Latin America. From there, you can take a taxi or use the public transportation system to reach your desired destination within the city.
If you're already in Brazil, you can also reach Sao Paulo by bus or train. The city has a well-developed transportation infrastructure that allows for easy travel within the country.
Once you've arrived in Sao Paulo, getting around the city is convenient with its extensive public transportation system. You can use the metro, buses, or taxis to navigate the city and explore its various attractions.
In summary, Sao Paulo is a vibrant city with a rich culture and countless things to see and do. Whether you're a history buff, a food enthusiast, or an adventure seeker, this city has something for everyone. So pack your bags and get ready for an amazing experience in Sao Paulo!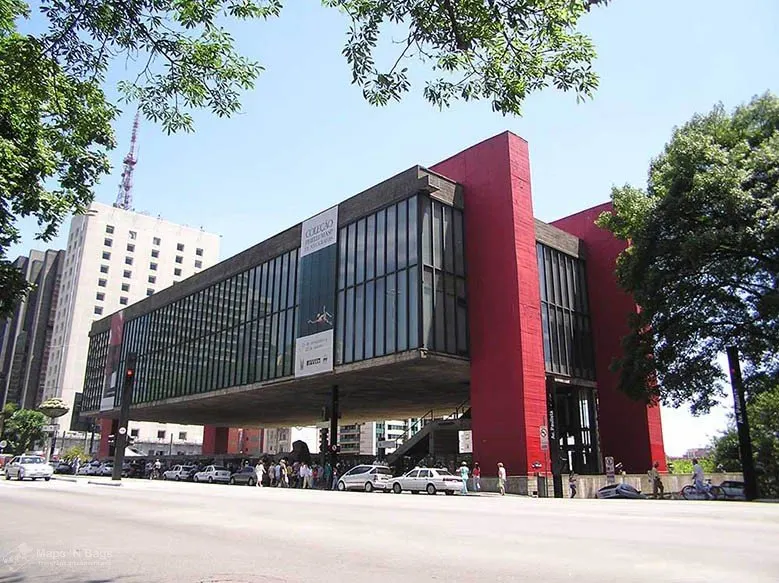 Must-visit Attractions in Sao Paulo
Sao Paulo Museum of Art
When you visit Sao Paulo, make sure to include a trip to the Sao Paulo Museum of Art in your itinerary. Located in the heart of the city, this museum is one of the most important cultural institutions in Brazil. It houses an impressive collection of artworks, including pieces by renowned artists like Van Gogh, Picasso, and Monet. The museum's iconic building, designed by Lina Bo Bardi, is also a sight to behold with its unique architectural design.
Ibirapuera Park
Nature lovers and outdoor enthusiasts should not miss a visit to Ibirapuera Park. This expansive urban park offers a peaceful escape from the bustling city. It is home to beautiful gardens, tranquil lakes, and lush green spaces where you can relax and unwind. The park is also a cultural hub, hosting various events and exhibitions throughout the year. Don't forget to check out the Afro-Brasil Museum and the Modern Art Museum, both located within the park's premises.
If you're a foodie, Sao Paulo has a vibrant culinary scene that you must explore. The city is known for its diverse gastronomy, offering a wide range of cuisines from around the world. From traditional Brazilian dishes to international flavors, you'll find something to satisfy your taste buds in the numerous restaurants and food markets scattered throughout the city.
To make the most of your trip, it's recommended to plan your visit during the city's cultural events and festivals. Sao Paulo hosts a variety of events throughout the year, showcasing music, dance, theater, and film. These events not only provide entertainment but also offer a glimpse into the city's rich cultural heritage.
So pack your bags and get ready to explore the vibrant city of Sao Paulo. With its diverse attractions and lively atmosphere, it's sure to be an unforgettable experience. Enjoy your trip!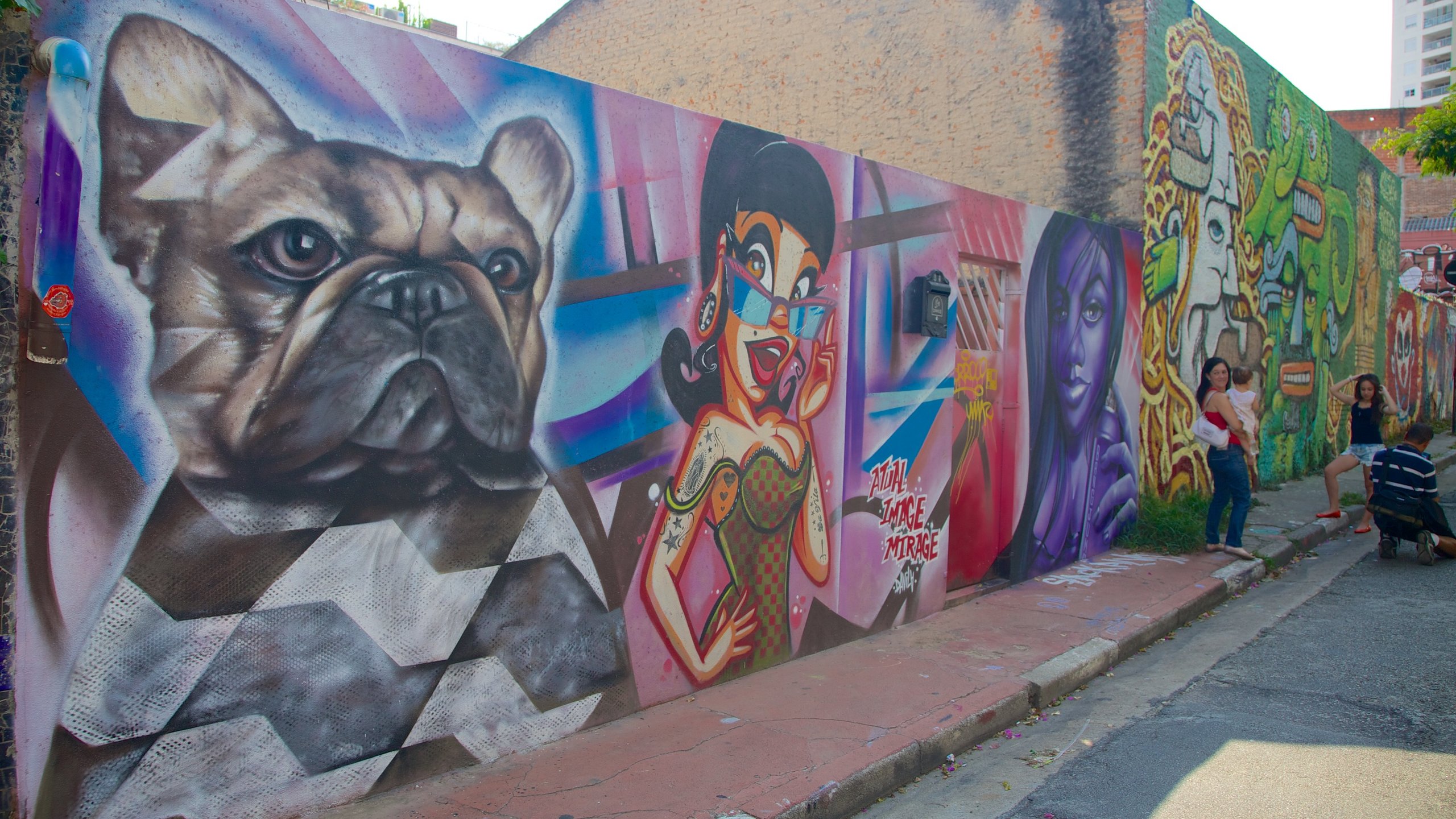 Exploring Sao Paulo Neighborhoods
Vila Madalena
When visiting Sao Paulo, be sure to explore the vibrant neighborhood of Vila Madalena. Known for its bohemian atmosphere and colorful graffiti-lined streets, Vila Madalena is a must-visit for art lovers and food enthusiasts alike. Take a leisurely stroll through the area and explore the numerous art galleries, boutiques, and street markets. Don't forget to stop by Beco do Batman, a famous alleyway adorned with stunning graffiti art.
Jardins and Avenida Paulista
Another must-visit neighborhood in Sao Paulo is Jardins, which is famous for its upscale shops, high-end restaurants, and stylish boutiques. Avenida Paulista, the main thoroughfare that runs through Jardins, is known as the financial heart of the city and boasts impressive skyscrapers, cultural centers, and a vibrant nightlife scene. Take a walk down Avenida Paulista and immerse yourself in the bustling energy of this cosmopolitan neighborhood.
While exploring Jardins, be sure to visit Rua Oscar Freire, a street lined with luxury brands, trendy cafes, and upscale shops. This is the perfect place to indulge in some retail therapy or enjoy a delicious meal at one of the many renowned restaurants in the area.
Whether you're wandering through the lively streets of Vila Madalena or immersing yourself in the upscale vibe of Jardins and Avenida Paulista, Sao Paulo has something for everyone. So, put on your walking shoes and get ready to explore the diverse neighborhoods of this vibrant city.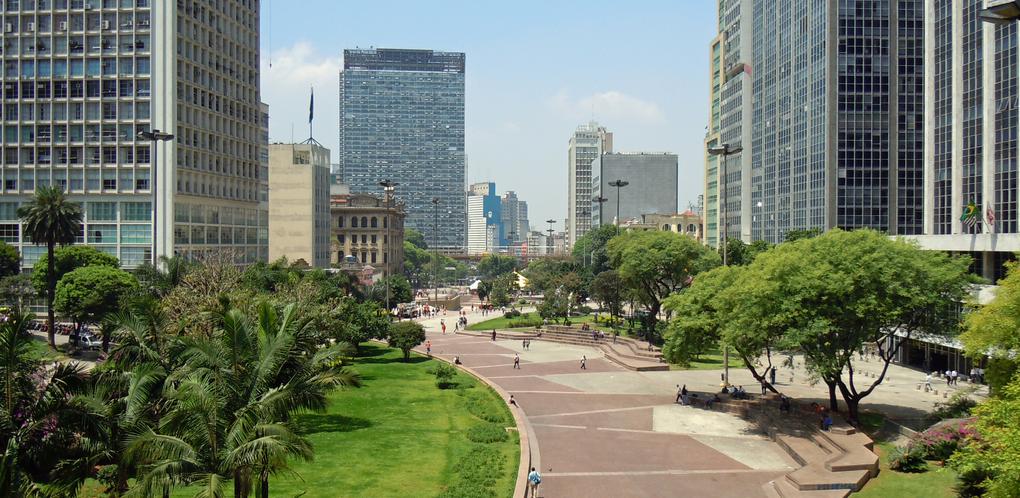 Shopping in Sao Paulo
Rua Oscar Freire
If you're a shopaholic, then Rua Oscar Freire is a must-visit destination in Sao Paulo. This street is known for its luxurious and upscale shopping experience. You'll find a wide range of international brands such as Louis Vuitton, Prada, and Chanel lined up along this iconic street. Not only will you be able to splurge on high-end fashion and accessories, but you'll also get a taste of the city's vibrant and cosmopolitan lifestyle. Take a leisurely stroll down this tree-lined avenue and soak in the chic ambiance while browsing through the exclusive boutiques.
Shopping Morumbi
For a more comprehensive shopping experience, head to Shopping Morumbi. This massive mall boasts over 600 stores, offering something for everyone. From popular international brands to local designers, you'll find it all here. Besides the extensive selection of shops, the mall also houses various entertainment options, including a cinema, an arcade, and a food court serving a range of delicious cuisines. Whether you're looking for the latest fashion trends, electronics, or simply want to indulge in some retail therapy, Shopping Morumbi is the perfect place to spend a day exploring and treating yourself.
So, whether you prefer luxury shopping or a diverse range of stores, Sao Paulo has got you covered. Indulge in a shopping spree and bring back stylish souvenirs from this vibrant city.
Nightlife in Sao Paulo
Vila Olimpia
When it comes to vibrant nightlife, Sao Paulo has it all. And one neighborhood that stands out is Vila Olimpia.
If you are looking for a lively and energetic atmosphere to party the night away, Vila Olimpia is the place to be. This neighborhood is packed with trendy bars, clubs, and lounges that cater to all tastes and preferences.
One popular spot in Vila Olimpia is the Skye Bar, situated on the rooftop of the Unique Hotel. This upscale bar offers breathtaking views of the city skyline while serving up delicious cocktails and a sophisticated ambiance. It's the perfect place to start your night out in Vila Olimpia.
For those who enjoy dancing, the Villa Mix is a must-visit. This nightclub features live music performances and a festive atmosphere that keeps the crowd moving all night long. With a mix of Brazilian and international music, there's something for everyone to enjoy.
If you're in the mood for a more laid-back evening, Bar do Juarez is the place to be. This traditional bar offers a cozy and welcoming atmosphere, where you can relax with friends and indulge in tasty traditional Brazilian dishes and cold beers.
When exploring the nightlife in Sao Paulo, be sure to check out Vila Olimpia for an unforgettable experience. With its wide range of venues and lively atmosphere, you'll find something to suit your taste and make your night one to remember.
Now, it's time to get ready and head out to Vila Olimpia for an incredible night of fun and excitement. Cheers!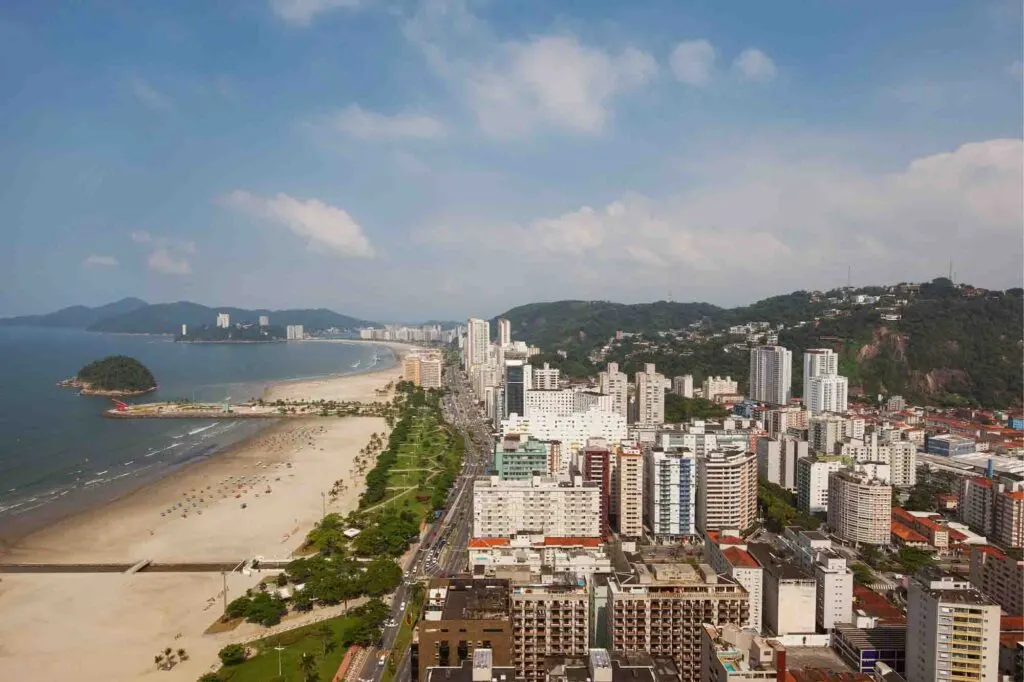 Day Trips from Sao Paulo
As a traveler in Sao Paulo, you may be looking for a break from the bustling city life and seeking some nearby destinations to explore. Luckily, there are several fantastic day trips that you can take from Sao Paulo to satisfy your wanderlust.
Santos Beach
If you're a beach lover, a visit to Santos Beach is a must. Located just about an hour away from Sao Paulo, this charming coastal city offers beautiful sandy beaches and a vibrant atmosphere. You can relax by the beach, take a dip in the refreshing ocean waters, or indulge in various water sports activities. Don't miss a stroll along the famous Santos promenade, lined with quaint cafes, restaurants, and shops. Santos is also known for its stunning aquarium, which is a great place to visit, especially if you're traveling with children.
Ilhabela
For nature enthusiasts and adventure seekers, a day trip to Ilhabela is highly recommended. This picturesque island, located a short distance from Sao Paulo, is home to lush forests, crystal-clear beaches, and scenic trails. You can hike through the stunning rainforest, explore beautiful waterfalls, or relax on the charming beaches. Ilhabela is also famous for its excellent snorkeling and diving spots, allowing you to discover the rich marine life in the surrounding waters.
Whether you choose to visit Santos Beach or venture to the enchanting island of Ilhabela, these day trips from Sao Paulo will provide you with an escape from the city and an opportunity to explore the natural beauty and attractions that Brazil has to offer.
Practical Information
Best Time to Visit Sao Paulo
If you're planning a trip to Sao Paulo, it's important to consider the best time to visit. The city experiences a subtropical climate, with hot and humid summers and mild winters. The months of December to March are typically the warmest, with temperatures reaching around 30 degrees Celsius (86 degrees Fahrenheit). These months are also known for occasional rainfall, so make sure to pack an umbrella or a raincoat.
Another popular time to visit Sao Paulo is during its vibrant carnival season, which takes place in February or March, depending on the year. The city comes alive with colorful parades, samba music, and lively street parties during this time.
Transportation in Sao Paulo
Navigating through the bustling city of Sao Paulo can be a challenge, but with the right transportation options, it can be a breeze. Here are some ways to get around:
Metro: The metro system is an efficient and affordable way to travel around the city. It operates from 5 am to midnight and covers a large portion of Sao Paulo, including major tourist attractions.

Buses: Sao Paulo has an extensive bus network that reaches almost every corner of the city. Buses are a popular mode of transport, but they can get crowded during peak hours.

Taxis and rideshares: Taxis are readily available in Sao Paulo, and ridesharing services like Uber and 99 are also popular. They provide a convenient and comfortable way to get around, especially for those traveling in groups or with luggage.

Bicycles: Sao Paulo has a bike-sharing system called CicloSampa, which allows you to rent bicycles for short trips around the city. This is a great option for exploring parks and neighborhoods at your own pace.
Whether you choose to explore Sao Paulo by metro, bus, taxi, or bicycle, be sure to plan your routes ahead of time and allow extra time for traffic, especially during rush hours.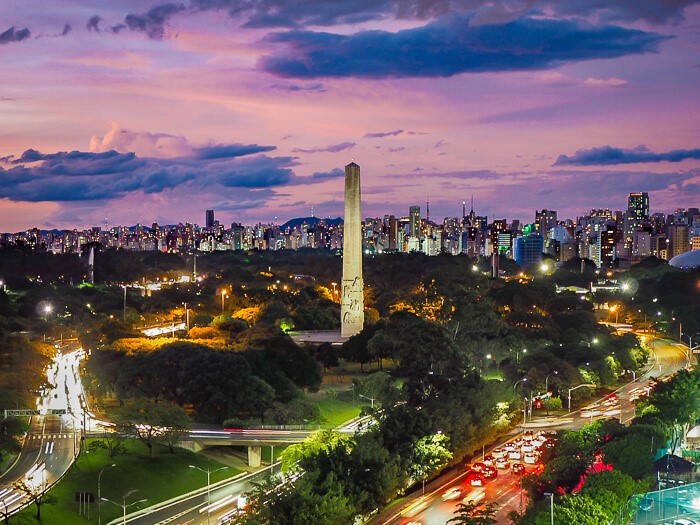 Conclusion
If you're planning a trip to São Paulo, you're in for a treat. This vibrant and diverse city offers a wide range of attractions, food, and cultural experiences that will leave you wanting more. By following the essential tips and recommendations provided in this guide, you'll be well-prepared to make the most of your time in São Paulo.
Essential Tips and Recommendations
Stay in a central location: São Paulo is a large city with heavy traffic, so it's best to choose accommodations in a central area to minimize travel time and maximize your exploration opportunities.

Try the local cuisine: São Paulo is renowned for its gastronomy, so make sure to sample traditional Brazilian dishes such as feijoada, coxinha, and brigadeiro. Don't forget to also try the city's famous coffee and fresh fruit juices.

Experience the cultural scene: Visit the São Paulo Museum of Art (MASP) to admire its impressive collection, explore the vibrant street art scene in neighborhoods like Vila Madalena, and catch a show at one of the city's many theaters or music venues.
Frequently Asked Questions
Q: What's the best time to visit São Paulo?
A: São Paulo has a mild climate year-round, but the best time to visit is during the spring (September to November) and fall (March to May) when the weather is pleasant and there are fewer crowds.
Q: Is it safe to travel in São Paulo?
A: While São Paulo is generally safe for tourists, it's important to take standard precautions such as avoiding isolated areas at night and keeping an eye on your belongings in crowded places.
Q: How do I get around in São Paulo?A: São Paulo has an extensive public transportation system including buses and the metro. Taxis and ride-sharing services are also widely available. However, be prepared for heavy traffic during peak hours.
Remember, São Paulo is a city full of energy and excitement. By following these tips and recommendations, you'll have an unforgettable experience exploring this vibrant Brazilian metropolis.
Some of the links provided are affiliate links that I earn a commission for, on any purchases made, at no extra cost to you. This helps me immensely to continue to do what I love.
I am a participant in the affiliate programs including CJ, AWIN and Amazon Services LLC Associates Program. Affiliate programs are designed to provide a means for creators and publishers to earn fees by linking to merchant websites. Thank you 🙏
Traveling can be stressful, but having the right gear can make all the difference. One essential item for any traveler is a carry-on travel suitcase…