Top Attractions in Tijuana
Exploring Avenida Revolucion
When you visit Tijuana, make sure to take a stroll down Avenida Revolucion, Tijuana's main tourist street. This vibrant and bustling street is lined with shops, restaurants, bars, and street vendors selling a variety of goods and souvenirs. You'll find everything from traditional Mexican crafts to trendy fashion items. Don't forget to taste some delicious street food like tacos, tamales, and churros while you explore the area.
Tijuana's main tourist street
Avenida Revolucion is not only a shopper's paradise but also home to many iconic landmarks. You can't miss the famous Arch of Tijuana, a symbol of the city, located at the entrance of Avenida Revolucion. Take some photos near the arch to commemorate your visit. You'll also find the Cultural Center of Tijuana, a modern architectural marvel that houses art exhibits, theaters, and a magnificent IMAX theater. The center offers a glimpse into the vibrant cultural scene of Tijuana.
Visiting the iconic Tijuana Cultural Center
If you're a history and art enthusiast, a visit to the Tijuana Cultural Center is a must. This iconic landmark is not only a hub for cultural activities but also offers breathtaking panoramic views of the city and the U.S.-Mexico border. Explore the art galleries, catch a live performance at one of the theaters, or simply enjoy the scenic beauty from the observation deck.
Enjoying the vibrant food scene in Tijuana
Tijuana is known for its diverse and delicious food scene. From street tacos to gourmet cuisine, this city has it all. Don't miss the opportunity to indulge in the famous "Baja Med" cuisine, which combines Mexican, Mediterranean, and Asian flavors. Visit food markets like Mercado Hidalgo to try local delicacies and enjoy the vibrant atmosphere.
Whether you're exploring the bustling streets of Avenida Revolucion, immersing yourself in the rich cultural heritage at the Tijuana Cultural Center, or savoring the mouthwatering cuisine, Tijuana has something for everyone to enjoy. Make sure to plan your trip and create lasting memories in this vibrant Mexican city.
Cultural Experiences in Tijuana
Whether you're a seasoned traveler or someone looking to explore a vibrant new city, Tijuana has an array of cultural experiences to offer. From local art and murals to historical museums and thrilling wrestling matches, here are a few must-visit attractions in Tijuana.
Discovering local art and murals in Pasaje Rodriguez
No visit to Tijuana is complete without taking a stroll through Pasaje Rodriguez. This pedestrian street is adorned with colorful street art and murals, showcasing the creativity and talent of local artists. As you wander through the vibrant alleyways, you'll encounter striking artwork that reflects the unique culture and identity of Tijuana.
Exploring the history of Tijuana at the Tijuana History Museum
If you're interested in delving into the rich history of Tijuana, a visit to the Tijuana History Museum is a must. This well-curated museum offers a fascinating glimpse into Tijuana's past, showcasing artifacts, photographs, and interactive exhibits that highlight the city's growth and transformation over the years. From its origins as a border town to its current status as a bustling cultural hub, you'll gain a deeper appreciation for the city's heritage.
Experiencing the excitement of Lucha Libre wrestling matches
For a thrilling and uniquely Mexican experience, head to a Lucha Libre wrestling match. Lucha Libre is a high-energy form of professional wrestling that originated in Mexico. The matches feature colorful costumes, acrobatic moves, and dramatic storytelling, creating an atmosphere unlike any other. Join the enthusiastic crowd as they cheer for their favorite masked heroes and villains, and immerse yourself in the electric energy of the arena.
In conclusion, Tijuana offers a myriad of cultural experiences that will leave you with unforgettable memories. Whether you're exploring the local art scene, delving into the city's history, or witnessing the excitement of Lucha Libre wrestling, Tijuana has something for everyone. Embark on a cultural adventure and discover the vibrant spirit of this Mexican city.
Day Trips from Tijuana
Tijuana is a vibrant city with a unique blend of culture, history, and culinary delights. While exploring Tijuana itself can be an adventure, there are also some amazing day trips you can take to nearby destinations. Here are a few recommendations for day trips from Tijuana:
Taking a trip to Rosarito Beach for sun and relaxation
If you're looking for a relaxing beach getaway, Rosarito Beach is the perfect destination. Located just 30 minutes south of Tijuana, this charming coastal town offers pristine sandy beaches, great surf spots, and beautiful ocean views. You can spend your day sunbathing and swimming, or for the more adventurous, try your hand at surfing or horseback riding along the shoreline. Don't forget to indulge in some delicious seafood at the local beachfront restaurants.
Exploring the Valle de Guadalupe wine region near Tijuana
For wine lovers, a trip to the Valle de Guadalupe is a must. This region, often referred to as the "Napa Valley of Mexico," is known for its world-class wineries and vineyards. Located just east of Ensenada, it's only a short drive from Tijuana. Spend your day tasting exquisite wines, exploring the beautiful vineyards, and enjoying breathtaking views of the valley. Make sure to also indulge in some delectable gourmet food at the local farm-to-table restaurants.
Visiting the historic city of Ensenada for seafood and marine activities
Ensenada is a historic coastal city located about two hours south of Tijuana. It offers a mix of cultural attractions, delicious seafood, and exciting marine activities. Take a stroll along the lively boardwalk, visit the iconic Ensenada sign, and explore the local markets for freshly caught seafood. You can also take a boat tour to see the stunning marine life, including whales and dolphins. Don't miss the opportunity to try the famous fish tacos and fresh ceviche while you're there.
No matter which day trip you choose, Tijuana has something for everyone. So pack your bags, hit the road, and embark on an unforgettable adventure exploring the beauty and culture of the surrounding areas.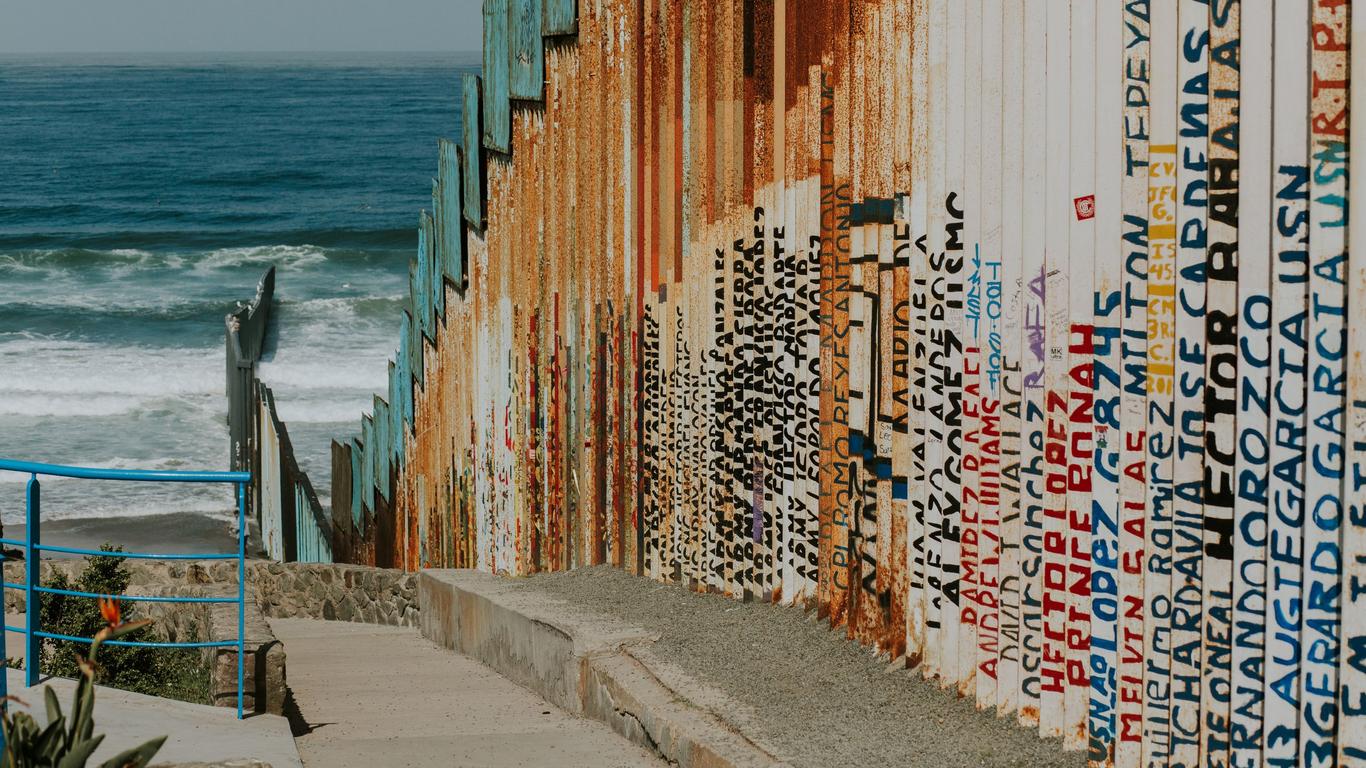 Practical Information for Travelers
Where to stay in Tijuana
When planning your trip to Tijuana, it's important to choose the right area to stay in. The Zona Centro, also known as Downtown Tijuana, is a popular choice for tourists due to its central location and proximity to major attractions. This area offers a wide range of accommodations, from budget hotels to luxury resorts.
Another popular neighborhood is the Zona Rio, located just across the border from San Diego. This area is known for its upscale hotels, casinos, and shopping centers. If you're looking for a more relaxed beachside experience, Playas de Tijuana is a great option. Here, you'll find beachfront hotels and restaurants with stunning ocean views.
Accommodation options
Tijuana offers a variety of accommodation options to suit every budget and preference. From luxury resorts to budget-friendly hostels, there is something for everyone. Some popular hotel chains in Tijuana include Marriott, Hyatt, and Best Western.
If you're looking for a unique travel experience, consider staying in a boutique hotel or guesthouse. These smaller, independent accommodations often offer personalized service and a more intimate atmosphere.
Tijuana's transportation system and how to get around
Tijuana has a well-developed transportation system that makes it easy to get around the city. The most common modes of transport include taxis, buses, and Uber. Taxis are readily available throughout the city, but it's important to negotiate the fare before getting in.
The local bus system, known as the "microbuses," is an affordable option for getting around Tijuana. The buses are color-coded and display their main routes on the front. It's a good idea to carry small bills or coins as exact change is often required.
If you prefer a more convenient and comfortable way to get around, Uber is widely available in Tijuana. Simply download the app and request a ride.
Essential Spanish phrases for travelers in Tijuana
While many people in Tijuana speak English, knowing a few basic Spanish phrases can go a long way in enhancing your travel experience. Here are some essential phrases to help you navigate the city:
"Hola" (Hello) and "gracias" (Thank you) are always a good start.
"¿Dónde está…?" (Where is…) can be useful for asking for directions.
"Por favor" (Please) is important for polite interactions.
"La cuenta, por favor" (The bill, please) will come in handy when dining out.
"No hablo español" (I don't speak Spanish) can be useful to let people know you need assistance in English.
Remember, locals appreciate the effort to speak their language, even if it's just a few phrases. Don't be afraid to give it a try!
Now that you have some practical information about Tijuana, you're ready to explore and make the most of your trip to this vibrant city. Enjoy your travels!
Conclusion
Whether you're a seasoned traveler or a first-timer looking for a unique experience, Tijuana has something to offer for everyone. The city's rich culture, delicious food, vibrant nightlife, and proximity to the U.S. border make it an exciting destination to explore. And with proper planning and a few travel tips, you can make the most of your visit to Tijuana.
Summary of Tijuana as a travel destination
Tijuana, located in Baja California, Mexico, is a bustling city known for its lively atmosphere and diverse attractions. From the famous Avenida Revolución, where you can shop for souvenirs and enjoy vibrant street performances, to the buzzing food scene that offers everything from mouthwatering street tacos to gourmet cuisine, Tijuana is a culinary paradise. The city is also home to museums, art galleries, and historic sites that showcase its rich history and culture.
Recommended itineraries for different lengths of stay
For a day trip to Tijuana, start by exploring Avenida Revolución and indulge in some delicious street food. Visit the Tijuana Cultural Center to learn about the city's history and art scene. If you have more time, take a day trip to the Valle de Guadalupe wine region and enjoy wine tasting at the region's famous wineries.
For a weekend getaway, add a visit to the Tijuana Wax Museum, the Tijuana Brewery, and the Mercado Hidalgo, where you can find a wide variety of local goods and souvenirs. If you're a nature lover, take a trip to the nearby beaches of Rosarito or Ensenada and experience the beauty of the Pacific coastline.
Frequently Asked Questions about traveling to Tijuana
Q: Is Tijuana safe to visit?
A: Like any city, Tijuana has its safety concerns. However, by taking common-sense precautions and following local advice, you can have a safe and enjoyable visit.
Q: Do I need a visa to visit Tijuana?
A: If you are a U.S. citizen, you do not need a visa to visit Tijuana. However, it's always a good idea to have a valid passport with you.
Q: Can I drink the tap water in Tijuana?A: It is recommended to drink bottled water in Tijuana to avoid any potential health issues.
Q: Can I use U.S. dollars in Tijuana?A: While some establishments may accept U.S. dollars, it's advisable to have Mexican pesos on hand for most transactions.
With these tips in mind, you're ready to embark on your Tijuana adventure and create unforgettable memories in this vibrant border city
Some of the links provided are affiliate links that I earn a commission for, on any purchases made, at no extra cost to you. This helps me immensely to continue to do what I love.
I am a participant in the affiliate programs including CJ, AWIN and Amazon Services LLC Associates Program. Affiliate programs are designed to provide a means for creators and publishers to earn fees by linking to merchant websites. Thank you 🙏
Stress Free Travel Packing Are you planning your next big adventure? Whether you're heading off on a tropical vacation or a business trip, one thing…