The Top Thing to Eat: Stockholm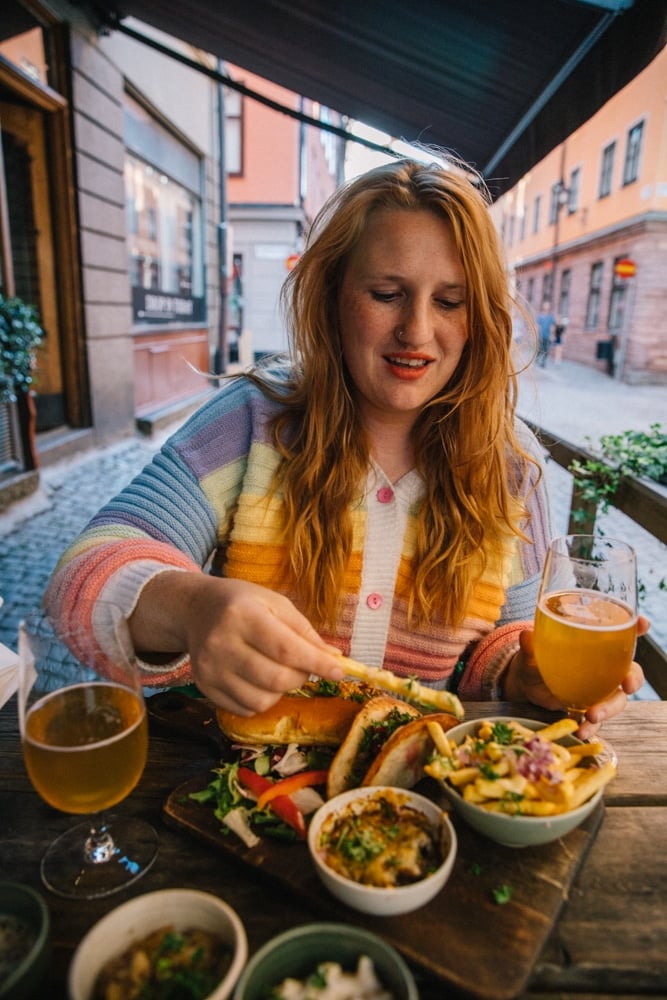 Traditional Swedish Dishes
1. Swedish Meatballs: A classic Swedish delicacy
When in Stockholm, you can't miss trying the iconic Swedish meatballs. Made with a mixture of ground beef and pork, these tender meatballs are seasoned with spices like allspice and nutmeg, giving them a unique flavor. Served with lingonberry sauce and creamy mashed potatoes, this dish is a true delight for your taste buds.
2. Gravlax: A must-try cured salmon dish
Gravlax is a traditional Swedish dish made with thinly sliced salmon that has been cured with salt, sugar, and dill. It is often served as an appetizer, either on its own or on rye bread with a mustard or dill sauce. The curing process gives the salmon a delicate and flavorful taste that pairs perfectly with the freshness of the dill.
3. Smörgåstårta: A unique savory sandwich cake
If you're looking for something truly unique, try the smörgåstårta. This dish is a savory sandwich cake made with layers of bread, fillings such as shrimp, smoked salmon, and eggs, and topped with creamy mayonnaise and garnished with vegetables. It's a popular choice for birthdays or special occasions in Sweden and is both visually stunning and delicious.
Whether you're a meat lover, a seafood enthusiast, or just looking for something different, these Swedish dishes offer a taste of traditional flavors you won't want to miss during your visit to Stockholm. So, make sure to try these mouthwatering dishes and indulge in the rich culinary heritage of Sweden.
Local Street Foods and Snacks
When visiting Stockholm, you simply cannot miss out on trying the delicious local street foods and snacks. Here are the top things you must eat during your trip:
1. Korv: Swedish-style hot dogs with various toppings
Indulge in the Swedish version of hot dogs, known as "korv." These tasty sausages come with a variety of toppings like fried onions, mustard, ketchup, and pickles. You can find korv stands scattered throughout the city, making it a convenient and delicious snack to enjoy on the go.
2. Raggmunk: Potato pancakes served with lingonberry jam
Raggmunk is another popular dish in Stockholm, consisting of potato pancakes served with lingonberry jam. These crispy and savory pancakes make for a satisfying meal or snack. The combination of flavors between the crispy potato pancakes and the tartness of the lingonberry jam is simply delightful.
3. Kanelbullar: Swedish cinnamon buns
Stockholm is known for its delicious cinnamon buns, or kanelbullar, as they are called locally. These sweet treats are made with a soft and buttery dough, filled with cinnamon and sugar, and topped with pearl sugar. Whether enjoyed with a cup of coffee or as a delightful afternoon snack, kanelbullar are a must-try when in Stockholm.
So, make sure to try these mouthwatering street foods and snacks during your visit to Stockholm. They will not only introduce you to the local culinary scene but also leave you craving for more!
Modern Swedish Cuisine
When visiting Stockholm, you don't want to miss out on the vibrant and diverse food scene that the city has to offer. From innovative and sustainable dishes to fresh seafood specialties, Stockholm is a foodie's paradise. Here are some top things to eat in Stockholm that you should try during your visit:
1. New Nordic Cuisine: Exploring innovative and sustainable dishes
Stockholm is at the forefront of the New Nordic Cuisine movement, which focuses on using locally-sourced ingredients and traditional cooking techniques in innovative ways. Some popular dishes to try include reindeer carpaccio, fermented herring, and lingonberry-infused dishes.
2. Seafood Specialties: Fresh catches from the Baltic Sea
Being surrounded by water, Stockholm offers a wide variety of fresh seafood dishes. From traditional Swedish delicacies like pickled herring and gravlax (cured salmon) to more adventurous options like smoked eel and crayfish, seafood lovers will be in heaven.
3. Swedish Fika Culture: Coffee, pastries, and socializing
Fika is a beloved Swedish tradition and a must-do experience in Stockholm. It involves taking a break to enjoy a cup of coffee or tea accompanied by pastries, cakes, or cinnamon rolls. This is not just about the food, but also a time to socialize and relax in cozy cafes throughout the city.
So next time you're in Stockholm, make sure to indulge in New Nordic Cuisine, savor the fresh seafood specialties, and take part in the delightful Fika culture. Your taste buds will thank you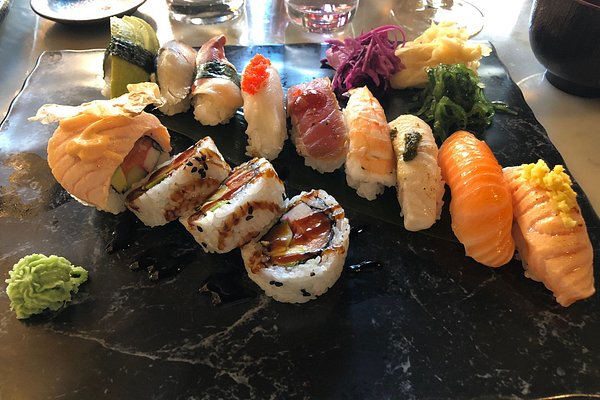 International Culinary Influences
Are you planning a trip to Stockholm and wondering what delicious dishes you should try? Look no further, because this vibrant city is a melting pot of international culinary influences. Here are two must-try cuisines that will leave your taste buds wanting more.
1. Thai Food: Stockholm's vibrant Thai restaurant scene
When it comes to Thai food, Stockholm has a thriving restaurant scene that will transport you straight to the streets of Bangkok. From fragrant curries to spicy stir-fries and mouthwatering street food, you'll find a wide range of options to satisfy your Thai food cravings. Be sure to try classic dishes like Pad Thai, Green Curry, and Tom Yum Soup. Don't forget to sample the refreshing and aromatic Thai iced tea or the zesty Mango Sticky Rice for dessert. With its bold flavors and vibrant spices, Thai cuisine in Stockholm is a culinary experience you won't want to miss.
2. Middle Eastern Cuisine: Discovering the flavors of the Levant
Another culinary gem in Stockholm is the diverse and flavorful Middle Eastern cuisine. From Lebanese to Turkish and Persian influences, the city offers a plethora of restaurants serving up delicious mezze spreads, juicy kebabs, and aromatic rice dishes. Try the savory falafel wraps, the rich and creamy hummus, or indulge in a succulent lamb shawarma. Don't forget to sample the heavenly baklava or the rose-flavored Turkish delight for a sweet ending to your Middle Eastern feast. Stockholm's Middle Eastern cuisine is a true delight for food enthusiasts looking to explore new flavors and indulge in a cultural dining experience.
So, when you find yourself in Stockholm, be sure to explore these international culinary influences and treat yourself to a gastronomic adventure that will leave you craving for more.
Unique Dining Experiences
When it comes to exploring culinary delights, Stockholm has something for everyone. From Michelin-starred restaurants to bustling food markets, this city offers a wide range of unique dining experiences that you should not miss.
1. Michelin-starred Restaurants: Fine dining at its best
If you're looking for a truly exceptional dining experience, Stockholm's Michelin-starred restaurants are the perfect choice. From innovative Scandinavian cuisine to international flavors, these restaurants are known for their exquisite dishes and impeccable service. Two-starred Esben Holmboe Bang's Maaemo and three-starred Frantzén are just a couple of the many extraordinary options available.
2. Food Markets: Sampling a variety of local and international delights
For a more casual eating experience, explore Stockholm's vibrant food markets. Here, you can sample a wide variety of local and international delights. Östermalm Food Market and Hötorgshallen Market are two popular options, offering everything from fresh seafood to traditional Swedish delicacies. Don't forget to try some Swedish meatballs or pickled herring.
Whether you prefer fine dining or exploring food markets, Stockholm has it all. So, take advantage of the city's unique dining experiences and indulge your taste buds in the flavors of this vibrant culinary scene.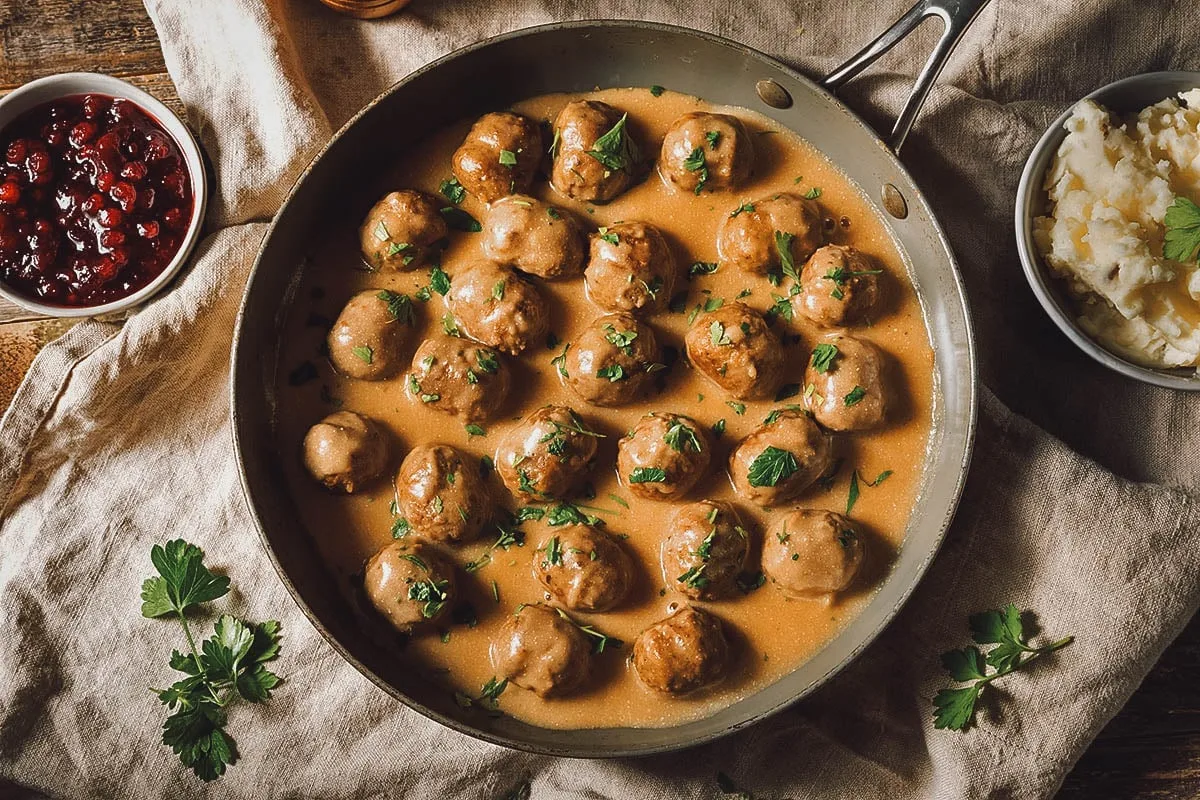 Vegetarian and Vegan Options
If you are visiting Stockholm and looking for some delicious vegetarian and vegan options, you're in luck! The city has a thriving veggie scene that offers a variety of mouth-watering dishes. Here are the top things to eat in Stockholm if you're following a plant-based diet:
1. Plant-based Swedish Dishes: Traditional flavors without the meat
One of the best ways to experience the local cuisine is by trying plant-based versions of traditional Swedish dishes. Start your culinary adventure with "veggie meatballs," made with lentils or mushrooms instead of meat. Another must-try is "Jansson's Temptation," a creamy potato casserole cooked with onions, pickled sprats, and plant-based cream.
2. Vegetarian and Vegan Restaurants: Stockholm's thriving veggie scene
When in Stockholm, be sure to check out the numerous vegetarian and vegan restaurants scattered throughout the city. Some popular options include Hermans and Chutney, both offering a wide range of plant-based dishes and indulgent desserts. Don't miss out on Urban Deli, a trendy spot that serves delicious vegan burgers and colorful bowls.
Whether you're a vegetarian or a vegan, Stockholm has plenty of options to satisfy your cravings. From plant-based versions of traditional Swedish dishes to a thriving veggie restaurant scene, you're sure to find something that will tantalize your taste buds. So, explore the city and treat yourself to the delightful flavors of Stockholm's vegetarian and vegan cuisine.
Desserts and Sweet Treats
When visiting Stockholm, you are in for a delightful culinary experience. One of the highlights of exploring this vibrant city is indulging in the local desserts and sweet treats. Here are two must-try delicacies that will satisfy your sweet tooth.
1. Prinsesstårta: Iconic Swedish cream and marzipan cake
If you are a fan of creamy and rich desserts, then Prinsesstårta is a must-try. This iconic Swedish cake features layers of fluffy sponge cake, vanilla custard, raspberry jam, and a generous amount of whipped cream. The crowning glory is the vibrant green marzipan layer that covers the entire cake. Its delicate appearance and delicious taste have made it a favorite among locals and visitors alike.
2. Chokladboll: Chocolate-coconut balls
For chocolate lovers, Chokladboll is a heavenly treat. These bite-sized chocolate-coconut balls are made with a blend of oats, sugar, cocoa powder, and butter, all rolled together and coated with desiccated coconut. Chokladboll is not only easy to find in Stockholm, but it's also a popular snack among the locals. Perfect for a quick pick-me-up during your exploration of the city.
So, whether you have a sweet tooth or simply enjoy discovering new flavors, be sure to try these two irresistible treats when you're in Stockholm. They are the perfect way to indulge and experience the delightful Swedish culinary scene.
Conclusion
Tips for exploring the city's culinary delights
When visiting Stockholm, there are several must-try dishes that will satisfy your taste buds and give you a true taste of Swedish cuisine.
Get a taste of tradition: Start your culinary adventure by trying traditional Swedish dishes such as meatballs, herring, and gravlax. These are classic dishes that locals love and are readily available in many restaurants and food markets.

Sample street food: Stockholm offers a vibrant street food scene with a wide variety of international flavors. From falafel and kebabs to gourmet hot dogs and Thai food, you'll find something to suit every palate.

Explore the seafood: Being a coastal city, Stockholm is known for its fresh and delicious seafood. Indulge in dishes like Swedish crayfish, Baltic herring, and smoked salmon. Don't forget to pair them with a side of lingonberry sauce.

Savor Swedish fika: Fika is a Swedish tradition of taking a break for coffee and sweet treats. Enjoy a cup of strong Swedish coffee accompanied by cinnamon buns, strawberry cake, or chocolate balls. It's a perfect way to relax and soak in the local culture.

Try the new Nordic cuisine: Stockholm has become a hub for innovative and modern Nordic cuisine. Experience the creativity of local chefs by dining at one of the city's many renowned Michelin-starred restaurants.
Remember to explore the city's food markets, such as Östermalms Saluhall and Hötorgshallen, where you'll find a wide selection of fresh produce, artisanal cheeses, and local delicacies.
With these tips, you're well-equipped to embark on a culinary journey through Stockholm and discover the flavors that make this city a food lover's paradise. Enjoy your gastronomic adventures!
Some of the links provided are affiliate links that I earn a commission for, on any purchases made, at no extra cost to you. This helps me immensely to continue to do what I love.
I am a participant in the affiliate programs including CJ, AWIN and Amazon Services LLC Associates Program. Affiliate programs are designed to provide a means for creators and publishers to earn fees by linking to merchant websites. Thank you 🙏
Traveling can be stressful, but having the right gear can make all the difference. One essential item for any traveler is a carry-on travel suitcase…