The Top Thing to Eat: Vancouver
Local Delicacies
Delightful seafood dishes in Vancouver
When it comes to seafood, Vancouver is a culinary paradise. With its stunning coastal location, the city offers a plethora of delicious options for seafood lovers.
Start your culinary journey with a plate of fresh, succulent oysters. Vancouver is known for its pristine oyster farms, which produce some of the finest oysters in the world. Whether you prefer them raw on the half shell or grilled to perfection, the briny taste of these bivalves is sure to satisfy your cravings.
Another must-try seafood dish in Vancouver is the iconic salmon. The city is renowned for its Pacific salmon, which is not only flavorful but also packed with nutrients. From grilled salmon steaks to delicate salmon sashimi, there are a myriad of ways to enjoy this local delicacy.
Indulge in Vancouver's famous sushi
Vancouver is often hailed as one of the best cities outside of Japan to indulge in sushi. The city's sushi scene is diverse and vibrant, offering a wide variety of options for sushi enthusiasts.
Visit one of Vancouver's many sushi restaurants and treat yourself to an array of rolls, sashimi, and nigiri. From classic favorites like California rolls and spicy tuna rolls to more adventurous options like uni (sea urchin) or toro (fatty tuna), there is something to satisfy every palate.
Experience the unique flavors of dim sum
Dim sum, a traditional Chinese style of cuisine, has become a beloved culinary tradition in Vancouver. Dim sum literally means "touch the heart" and that's exactly what these bite-sized delights will do.
Head to one of the city's bustling dim sum restaurants and prepare to feast on an assortment of steamed dumplings, buns, and other delectable treats. From shrimp dumplings and barbecue pork buns to custard tarts and egg tarts, each dish is a delicate balance of flavors and textures.
With its diverse culinary scene, Vancouver is a haven for food lovers. Whether you're craving fresh seafood, authentic sushi, or savory dim sum, the city offers a myriad of options to tempt your taste buds. So, go ahead and embark on a culinary adventure in Vancouver – you won't be disappointed!
International Flavors
Discover the best ethnic cuisine in Vancouver
Are you a food lover with an adventurous palette? Look no further than Vancouver, a city known for its diverse and vibrant food scene. Here are some of the top international flavors you absolutely must try:
Chinese: Vancouver's Chinatown is one of the largest and oldest in North America, making it the perfect place to indulge in delicious dim sum, Peking duck, and mouthwatering Chinese noodles.

Japanese: From sushi to ramen, Vancouver is a haven for Japanese cuisine. Head to the bustling neighborhoods of Downtown or Yaletown to find some of the best sushi restaurants in the city.

Korean: Vancouver's Koreatown, located on Robson Street, offers an array of authentic Korean BBQ, bibimbap, and deliciously spicy kimchi. Don't miss out on the opportunity to try some delicious bulgogi!
Savor authentic Italian dishes in the city
If you have a hankering for pasta, pizza, and all things Italian, Vancouver has got you covered. Here are some must-visit spots for satisfying your Italian food cravings:
Little Italy: Located on Commercial Drive, the vibrant Italian district of Vancouver is home to numerous trattorias and pizzerias serving up classic Italian dishes like lasagna, spaghetti carbonara, and tiramisu.

Gastown: This historic neighborhood is not only famous for its cobblestone streets and charming atmosphere but also for its fantastic Italian restaurants. Be sure to try the mouthwatering wood-fired pizzas and homemade pasta dishes.

Yaletown: Another neighborhood synonymous with great food, Yaletown offers a variety of Italian eateries where you can enjoy fresh seafood pasta, creamy risottos, and delectable cannoli.
Taste the vibrant flavors of Indian cuisine
Vancouver is home to a thriving Indian community, which means you can find a plethora of authentic Indian restaurants serving up flavorful and aromatic dishes. Here are some must-try Indian culinary delights:
Commercial Drive: This vibrant neighborhood is packed with Indian restaurants serving everything from butter chicken and tandoori to fragrant biryanis and crispy samosas.

West End: Head to Davie Street in the West End for an array of Indian dining options. Indulge in flavorful curries, naan bread, and try the famous butter chicken poutine, a fusion of Indian and Canadian flavors.

Punjabi Market: Located on Main Street, Punjabi Market is a treasure trove of Indian spices, groceries, and restaurants. Dig into delicious street food like chaat, pakoras, and seekh kebabs.
Experience the rich and diverse flavors of Vancouver's international cuisine. Whether you are in the mood for Chinese, Italian, or Indian food, this city has it all, so get ready to embark on a culinary adventure like no other.
Street Food Delights
Explore Vancouver's street food scene
If you're a food lover visiting Vancouver, you're in for a treat! The city's diverse culinary scene includes a vibrant street food culture that offers a wide array of delicious and unique dishes. Exploring Vancouver's street food scene is a must-do for anyone seeking an authentic and memorable gastronomic experience.
Try the mouthwatering food truck dishes
One of the best ways to dive into the street food culture is by indulging in the mouthwatering dishes served from food trucks scattered across the city. These mobile culinary havens offer a variety of options, from classic comfort foods like gourmet grilled cheese sandwiches and juicy burgers to global delights like Korean tacos and mouthwatering tacos al pastor. Don't forget to leave room for delectable sweet treats like artisanal ice cream sandwiches or fluffy mini doughnuts!
Experience the flavors of Asian street food
If you're a fan of Asian cuisine, you're in luck! Vancouver's street food scene boasts an incredible selection of Asian-inspired dishes. From steaming bowls of rich and savory ramen to flavorful Vietnamese banh mi sandwiches, you'll find a plethora of options to satisfy your cravings. Don't miss the chance to try tasty sushi rolls, crispy Korean fried chicken, and delectable Chinese dim sum. The fusion of traditional Asian flavors with a contemporary twist in Vancouver's street food will leave your taste buds begging for more.
Whether you're craving a quick bite on the go or looking for a unique dining experience, Vancouver's street food scene offers something for everyone. So grab a map, follow the delicious smells, and let your taste buds guide you through the city's culinary delights. Don't forget to snap some Instagram-worthy photos of your food adventures along the way!
Whether you're a local or a visitor, indulging in Vancouver's street food delights is an unforgettable experience that allows you to immerse yourself in the city's vibrant food culture. So embrace the culinary adventure that awaits you and prepare to treat your taste buds to a feast of flavors and textures that will leave you wanting more.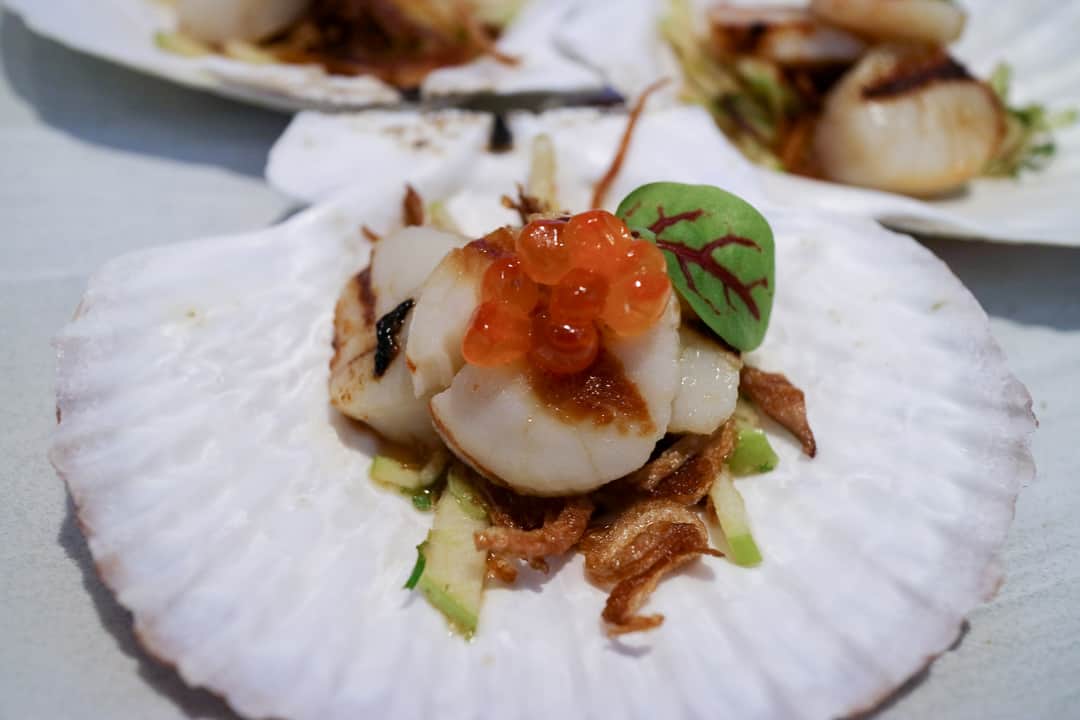 Conclusion
Unforgettable culinary experiences in Vancouver
Vancouver is a paradise for food lovers, offering a diverse and vibrant culinary scene. From fresh seafood to international flavors, the city has something to satisfy every palate. Whether you're a visitor or a local, exploring the culinary delights of Vancouver is a must-do experience.
Top recommendations for food lovers
1. Explore Granville Island Public Market: This bustling market is a food lover's paradise. Indulge in fresh produce, gourmet treats, and delicious street food while soaking in the vibrant atmosphere.
Savor sushi in the city: Vancouver is renowned for its sushi, with countless top-quality sushi restaurants scattered throughout the city. Don't miss the opportunity to try some of the freshest and most delectable sushi in the world.

Dine in Gastown: This historic neighborhood is home to a multitude of trendy and innovative restaurants. From cozy gastropubs to fine dining establishments, Gastown offers a diverse range of flavors and culinary styles.

Experience farm-to-table dining: Vancouver is blessed with a rich agricultural region surrounding the city. Many restaurants take advantage of the local produce, serving up farm-to-table dishes that are bursting with flavors and sustainability.

Indulge in Asian cuisine: Vancouver boasts a vibrant Asian community, resulting in a plethora of authentic and mouthwatering Asian restaurants. From Chinese dim sum to Korean barbecue, you'll find a wide variety of Asian cuisines to satisfy your cravings.
Frequently Asked Questions about Vancouver's dining scene
Q: Are there vegetarian and vegan options in Vancouver?A: Absolutely! Vancouver is known for its diverse dining options, including numerous vegetarian and vegan restaurants that cater to plant-based diets.
Q: What is the best time to visit Vancouver for food lovers?
A: Vancouver's culinary scene is thriving year-round. However, food festivals like the Dine Out Vancouver Festival, which takes place in January and February, offer an excellent opportunity to explore the city's culinary offerings.
Q: Can I find international cuisine in Vancouver?
A: Vancouver is a multicultural city, so you can expect to find a wide range of international cuisines here. From Italian and Mexican to Indian and Thai, the city offers an international food scene that is sure to satisfy your cravings.
In conclusion, Vancouver is a food lover's dream destination. With its diverse culinary offerings and vibrant dining scene, you're guaranteed to have unforgettable gastronomic experiences in this beautiful city. So, grab your fork and embark on a culinary adventure in Vancouver.
Some of the links provided are affiliate links that I earn a commission for, on any purchases made, at no extra cost to you. This helps me immensely to continue to do what I love.
I am a participant in the affiliate programs including CJ, AWIN and Amazon Services LLC Associates Program. Affiliate programs are designed to provide a means for creators and publishers to earn fees by linking to merchant websites. Thank you 🙏
Stress Free Travel Packing Are you planning your next big adventure? Whether you're heading off on a tropical vacation or a business trip, one thing…