Public Transportation in Zurich
Trains
When it comes to getting around Zurich, trains are a reliable and efficient mode of transportation. The city has an extensive train network, with frequent services that connect various neighborhoods. Whether you're heading to the airport, exploring the outskirts, or visiting nearby cities, trains are a convenient option. Plus, Zurich's train stations are well-equipped with facilities like ticket machines, information desks, and luggage storage.
Trams
Trams are another popular mode of transport in Zurich, offering a convenient way to navigate the city center. With over 20 tram lines, you can easily reach most attractions, shopping areas, and residential neighborhoods. Trams run frequently and are known for their punctuality, making them a reliable option for both residents and tourists. Don't forget to buy your ticket before boarding the tram, as ticket checks are common.
Buses
Zurich's bus network is comprehensive, serving areas that are not covered by trains and trams. Buses are a great option for reaching destinations outside the city center or exploring the suburbs. The buses are comfortable and equipped with modern amenities, ensuring a pleasant journey. Make sure to check the schedules and routes in advance, as buses may have less frequent services compared to trains and trams.
Overall, public transportation in Zurich is efficient, well-organized, and offers a wide range of options to suit your travel needs. With trains, trams, and buses readily available, getting around the city and its surroundings is a breeze. So, hop on board and enjoy the convenience and reliability of Zurich's public transportation system.
Cycling in Zurich
Bike Sharing Services
If you're looking for an eco-friendly and efficient way to get around Zurich, bike sharing services are a fantastic option. Zurich has several bike sharing programs that allow you to easily rent a bike for a short period of time. Simply download the app, locate the nearest bike station, unlock the bike, and you're ready to go! With hundreds of bikes available throughout the city, you can reach your destination quickly and conveniently.
Bike Lanes and Routes
Zurich is known for its extensive network of bike lanes and routes, making it incredibly bike-friendly. The city has over 450 kilometers of dedicated bike paths, allowing you to easily navigate through the bustling streets and scenic neighborhoods. Whether you're commuting to work, exploring the city's attractions, or simply enjoying a leisurely ride, you'll find plenty of well-maintained and clearly marked bike lanes to ensure a safe and enjoyable cycling experience.
With its flat terrain and well-planned infrastructure, cycling in Zurich is not only a convenient mode of transportation, but also a great way to explore the city. So hop on a bike and discover all that Zurich has to offer while enjoying the fresh air and beautiful surroundings. Whether you're a seasoned cyclist or just starting out, you're sure to have a memorable and enjoyable experience cycling in Zurich.
Walking in Zurich
When exploring the beautiful city of Zurich, there are various ways to get around. One of the most enjoyable and immersive methods is by walking. So put on your walking shoes, embrace the city's charm, and discover its hidden gems on foot.
Pedestrian-Friendly Zones
Zurich boasts numerous pedestrian streets, making it a walker's paradise. The city center is filled with car-free zones, allowing you to stroll at your own pace without the worry of traffic. Prominent areas like Bahnhofstrasse, one of the world's premier shopping streets, and Niederdorf, a lively neighborhood with quaint shops and cafes, are best explored on foot.
City Tours on Foot
To experience Zurich's rich history and culture, guided walking tours are a fantastic option. Knowledgeable local guides will lead you through the city's significant landmarks and share fascinating stories along the way. From exploring the charming old town with its narrow cobblestone streets to marveling at architectural marvels like the Grossmunster church, walking tours offer a deeper understanding of Zurich's past and present.
As you navigate Zurich on foot, take in the picturesque views of Lake Zurich and the surrounding mountains, and be captivated by the city's vibrant atmosphere. Whether you are meandering through the enchanting parks or discovering hidden alleyways, walking provides a unique perspective and an opportunity to fully immerse yourself in the beauty of Zurich.
So, embrace the city on foot and let Zurich weave its magic around you as you explore its charming streets and uncover its treasures at your own pace.
Taxis and Ride-Sharing Services
Taxi Services in Zurich
If you prefer a more traditional mode of transportation, taxis are readily available throughout Zurich. You can easily hail a taxi on the street, find one at designated taxi stands, or call a local taxi company for a pickup. Taxis in Zurich are generally safe and reliable, and drivers are knowledgeable about the city. However, keep in mind that taxi fares in Zurich can be quite expensive compared to other modes of transportation.
Ride-Sharing Apps
For a more convenient and affordable option, consider using ride-sharing apps such as Uber, Bolt, or Lyft. These apps allow you to request a ride with just a few taps on your smartphone. Ride-sharing services are typically cheaper than traditional taxis and often provide a range of options, including economy cars, luxury vehicles, and even larger vehicles for group travel. Plus, you can track your driver's location in real-time and pay for your ride directly through the app.
No matter which option you choose, getting around Zurich is relatively straightforward and efficient. The city has an excellent public transportation system, including buses, trams, and trains, which can easily take you to various destinations within the city and its surroundings. Don't forget to explore the beautiful sights of Zurich, such as Lake Zurich, the Old Town, and the vibrant shopping streets. Enjoy your time in this charming Swiss city!
Driving in Zurich
Are you planning a trip to Zurich? Navigating around a new city can be overwhelming, but fear not! Here's a guide to help you get around Zurich with ease.
Car Rental Services
If you prefer the convenience and flexibility of driving yourself, renting a car is a great option. Zurich has several car rental services available, both at the airport and in the city center. Companies like Avis, Hertz, and Sixt offer a wide range of vehicles to suit your needs. Just make sure to have your driver's license and a valid credit card ready when renting a car.
Parking in the City
Parking in Zurich can be a bit challenging, especially in the city center where space is limited. However, there are plenty of parking options available. Street parking is available, but it can be quite expensive and time restrictions may apply. It's best to look for parking garages or parking lots in the city. These often provide more affordable rates and longer parking durations. Parkhaus Opéra, Parkhaus Hauptbahnhof, and Parkhaus am Central are a few examples of parking garages conveniently located in Zurich.
Remember to familiarize yourself with the local traffic rules and regulations. Zurich has an efficient and well-maintained road network, making it easy to navigate. So buckle up, enjoy the scenic drives, and explore all that Zurich has to offer!
Navigational Apps and Maps
GPS Apps
When traveling around Zurich, having a reliable GPS app on your smartphone can be a game-changer. There are several popular options to choose from, such as Google Maps, Waze, and Apple Maps. These apps provide turn-by-turn directions, real-time traffic updates, and even alternative routes if there are any delays or road closures. They can help you navigate the city's intricate network of roads efficiently and confidently.
Online Maps
In addition to GPS apps, online maps can also be incredibly useful in getting around Zurich. Websites like Google Maps and Citymapper offer detailed maps of the city and its public transportation system. You can use these maps to plan your route in advance, whether you're traveling by bus, tram, or train. They can also provide you with information on nearby attractions, restaurants, and shops, making it easier to explore the city.
Remember to download the necessary maps or have an internet connection while using these apps and maps to ensure you have access to accurate directions and information throughout your journey. With the help of these navigational tools, you can confidently navigate Zurich's streets and public transportation system, making your travel experience enjoyable and stress-free.
Exploring Zurich's Surroundings
Day Trips from Zurich
If you're visiting Zurich and have some extra time to spare, why not take a day trip to explore the beautiful surroundings? There are several charming destinations that are easily accessible from Zurich, allowing you to experience more than just the city itself. Here are a few recommendations:
Lake Zurich: Just a short train ride away, Lake Zurich offers stunning views and a peaceful atmosphere. You can take a boat tour, go for a swim, or simply relax by the shore.

Rhine Falls: Known as the largest waterfall in Europe, Rhine Falls is located near the town of Schaffhausen. Witnessing the sheer power of the water is truly a memorable experience.

Lucerne: Situated on the shores of Lake Lucerne, this picturesque city is famous for its well-preserved medieval architecture and stunning mountain scenery.
Regional Trains and Buses
Getting around Zurich and its surroundings is convenient thanks to the efficient regional train and bus network. The Swiss Federal Railways (SBB) operates frequent train services to various destinations, allowing you to easily explore different parts of Switzerland. Additionally, there are also local buses that connect smaller towns and villages within the region.
To plan your day trips, you can use the SBB website or mobile app to check train and bus schedules. Tickets can be purchased at train stations or online in advance. Remember to validate your ticket before boarding the train or bus.
Exploring Zurich's surroundings is a great way to add diversity to your trip. Whether you're interested in stunning landscapes, historical towns, or outdoor activities, there's something for everyone just a short distance away from Zurich.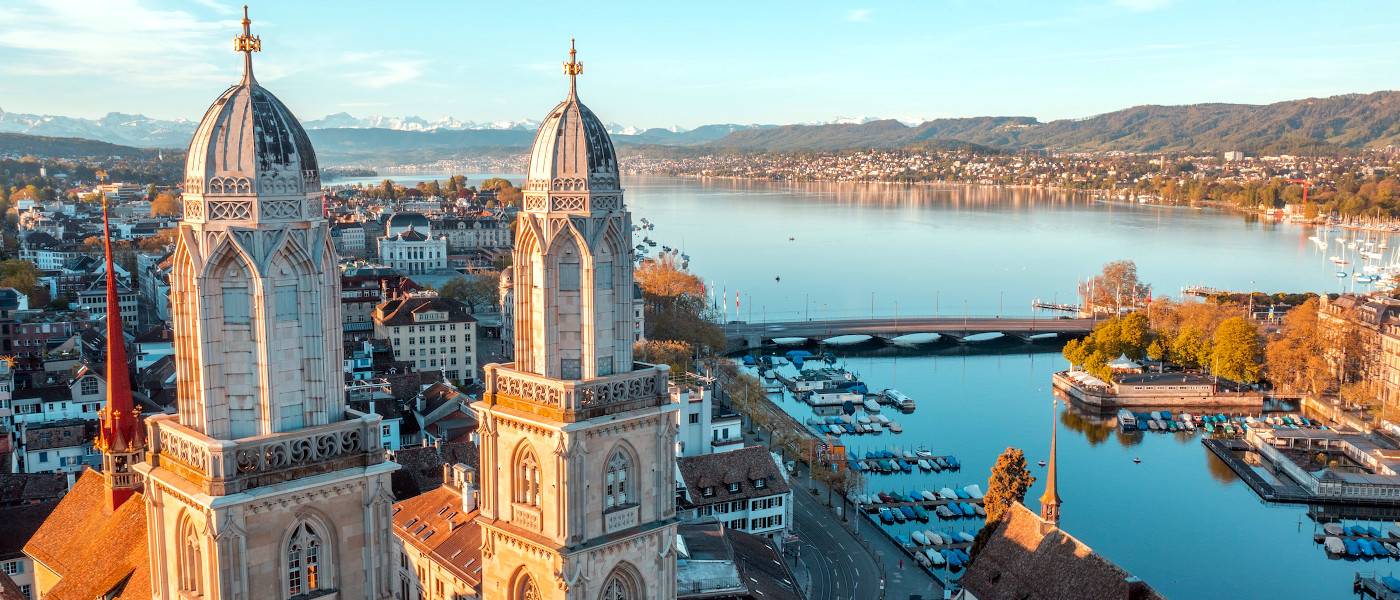 Accessibility in Zurich
Wheelchair Accessible Transportation
Zurich, the picturesque city in Switzerland, is not only known for its stunning landscapes but also for its commitment to accessibility. If you are a wheelchair user, navigating the city is made easy with its wheelchair accessible transportation options.
Public Transportation: The Swiss public transportation system is renowned for its efficiency and inclusiveness. Trams and buses in Zurich are equipped with ramps and designated spaces for wheelchair users, allowing for hassle-free travel around the city. Additionally, the majority of train stations in Zurich are accessible with elevators or ramps.
Taxis: Taxis in Zurich are also wheelchair accessible, providing a convenient and comfortable way to get around the city. It is recommended to book a wheelchair accessible taxi in advance to ensure a smooth and prompt service.
Travel Tips for People with Disabilities
Zurich aims to provide a seamless travel experience for people with disabilities. Here are some travel tips to make your visit to Zurich more enjoyable:
Plan Ahead: Research accessible attractions, restaurants, and accommodations in Zurich before your trip. This will help you make informed decisions and ensure a stress-free experience.

Use the Zurich Tourism Website: The official Zurich tourism website provides detailed accessibility information for various attractions and services in the city. This will give you a better understanding of what to expect and plan accordingly.

Seek Assistance: If you need assistance during your visit, don't hesitate to ask for help. The locals in Zurich are known for their friendliness and willingness to assist tourists.

Accessibility Pass: Consider getting the Zurich Accessibility Pass, which offers discounts on accessible attractions, public transportation, and more.
With its wheelchair accessible transportation options and commitment to accessibility, Zurich welcomes visitors of all abilities to explore its beauty and charm.
Some of the links provided are affiliate links that I earn a commission for, on any purchases made, at no extra cost to you. This helps me immensely to continue to do what I love.
I am a participant in the affiliate programs including CJ, AWIN and Amazon Services LLC Associates Program. Affiliate programs are designed to provide a means for creators and publishers to earn fees by linking to merchant websites. Thank you 🙏
Stress Free Travel Packing Are you planning your next big adventure? Whether you're heading off on a tropical vacation or a business trip, one thing…